The ErgoMotion Laser Mouse by Smartfish Technologies is Now Available!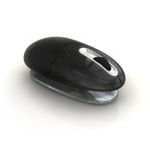 The ErgoMotion Laser Mouse by Smartfish Technologies helps users maintain bloodflow to the hand by having the mouse mounted on the base using a pivot mechanism. This ensures that the user is forced to use a dynamic, everchanging position. This pivot mechanism allows the mouse to be angled from side to side and from front to back (you cannot turn the mouse around at the base). This constant repositioning enables the user to manipulate the mouse from a variety of angles for that user. The ErgoMotion Laser Mouse has an ambidextrous shape that is not significantly different from a generic mouse, so that learning to use the mouse is quick and easy.
For more information on the The ErgoMotion Laser Mouse, see the Ergonomic Mice category in our online catalog.
What to look for in a Foot Rest
Many desk workers overlook foot rests as a solution to various kinds of workstation problems relating to posture and/or sitting. These problems can range from leg and lower back issues to blood clots, varicose veins, and excessive pressure on the Achilles tendon. A good foot rest is designed to prevent, alleviate, or even eliminate, such conditions.
Given the wide range of ailments that can result from poor management of the feet while working, it is not surprising that many different kinds of foot rest have been produced to target different users. Here is a short list of the main features which differentiate the currently available foot rests on the market:
1) Height adjustable foot rests. Instead of using just a simple box-like structure to raise the foot's resting position, which may or may not be adequate for a user at all times, consider getting a height adjustable model that can either be raised at the back or raised up while flat. Height adjustability is probably the minimal feature that you want in a good foot rest. Almost all commercially produced foot rests have this feature.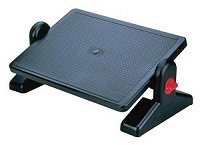 2) Tilt adjustable foot rests. For those users who need to rest their feet at an appropriate angle, whether for comfort or because the setup of their chair requires it, a tilt adjustable foot rest is available, usually in combination with one that has height adjustability. In the case of tilt adjustable foot rests, some are locking and some non-locking, depending on how much flexibility the user wants while resting (or moving) their feet. Many people prefer the locking variety to stabilize the foot at rest, but the non-locking foot rests can be beneficial, too. Non-locking tilt adjustable foot rests give the ankles and lower legs more blood circulation, which for some increases the comfort to their feet by preventing blood from pooling in the lower extremities. On the other hand, locking footrests can improve posture by ensuring there is a solid surface for your feet while seated (which is especially useful with many modern ergonomic chairs that encourage continuous movement and are themselves non-locking). There are benefits, therefore, to either type of tilt adjustable foot rest.
3) Textured vs. Non-textured foot rests. Some foot rests have a textured surface for users who will be resting their feet directly on the foot platform without wearing shoes. These textured foot rests thus provide a simple massaging mechanism to help increase blood circulation on the bottom of the feet by allowing the user to gently rub the feet on the surface of the foot rest. Textured surfaces also provide some grip force to the feet so that they do not constantly slip off the surface when they are at high angles. In fact, some foot rests, like the ErgoStretch foot rest from SunFlex (this month's featured promo product), have a built-in 'massage' bar that can also be used periodically to stimulate blood flow to the feet by massaging the back of your calves on the bar. The bar is made of a soft material and can also provide an additional resting spot for your feet. Depending on the product, the textured surface may be made of a soft or hard material.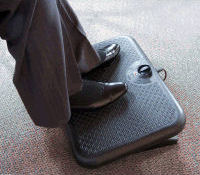 4) Heated foot rests. A brief list of the major types of foot rest would not be complete without mentioning heated foot rests, since these can provide added value to users who also have problems with 'cold feet'. Not only can a heated foot rest help those with poor circulation in the feet increase blood flood to this region of the body, but it can also provide comfort and pleasure at the same time. Many of these foot rests run on low power and have most of the other features already discussed above, for example, the Toasty Toes foot rest from Indus-Tool.