In this issue...
Featured New Products: Wow Pad Graphite Tech Pad Microthin Mousing Surface by Microthin
Featured Promo: U-Slope (Mini) by Ergonomic Cafe
New Products: Bluetooth Mobile Keyboard 6000 by Microsoft, Bluetooth Super Mini-Keyboard by SolidTek
Ergonomic Workstation Tip of the Month: Mouse Pad or no Mouse Pad, That is the Question
Upcoming Events: "Partners in Prevention 2010: Ontario Health & Safety Conference & Trade Show" and "ErgoCanada Toronto Road Show 2010" (May 3 - 5)
Bluetooth Mobile Keyboard 6000 by Microsoft is Now Available!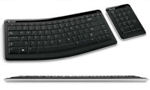 Say good-bye to cramped offices and dangling cords across your desk. The Microsoft Bluetooth Mobile Keyboard 6000 is a thinline keyboard that's only a few millimeters thicker than a AAA battery at the back. And, it fits exclusively with your Bluetooth mobile and desktop computers, so you get wireless freedom with superior connectivity performance—all without a transceiver. Other features include:
Microsoft Comfort Curve keyboard layout so you can keep your natural wrist posture
Bluetooth Number Pad — can be used with or without keyboard
Stay connected: This thinline Bluetooth keyboard offers superior connectivity performance
Made for Bluetooth-equipped laptops and PCs
Lets you stay portable and gets you where you want to go without carrying bulky accessories
Only a few millimeters thicker than a AAA battery at the back
For more information on the Bluetooth Mobile Keyboard 6000, see the Compact/Mini Keyboards category in our online catalog.
---
Bluetooth Super Mini-Keyboard
by SolidTek for PC (Bluetooth) is Now Available!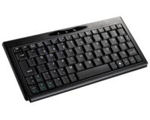 This compact super mini-keyboard from SolidTek is wireless, using bluetooth technology to connect with your computer, thus freeing up one more USB hub for an additional peripheral (Bluetooth dongle and pouch included). It has a connect button for quick and easy Bluetooth connection and comes with LED indicators for pairing, connecting and low battery (2 x AAA batteries included). Keyboard housing is black with black keys, with top, bottom, and side keys smaller than normal key size. Compatible with Windows 98, 2000, ME, XP and Vista, with plug-n-play capability.
For more information on the Bluetooth Super Mini-Keyboard, see the Compact/Mini Keyboards category in our online catalog.
Mouse Pad or no Mouse Pad, That is the Question
An obvious question for anyone using an optical or laser mouse is whether to get a mouse pad with it, that is, an optimized flat surface area on which to move the mouse smoothly. When your work conditions are such that the given surface for the mouse (e.g. desktop) is not ideally designed for such easy movement, a mouse pad is almost a necessity, not just an add-on. So when should you invest in a mouse pad? Or alternatively, who would benefit most from the use of a mouse pad? Is there any ergonomic value to a mouse pad?
There is no simple answer to these questions, since a number of factors will determine the appropriate answer to each. But one major factor is the type of activity one is engaged in while using the mouse. For example, gamers are mouse-intensive users, as their applications require quick and precise movements and exceptional responsiveness from their mouse. For this class of users, a good mouse pad enhances game performance significantly. Another type of user, like CAD, 3D software and graphical designers, can also benefit from mouse pads that have been optimized for smoothness of movement and precision. By making one's movements with the mouse more fluid and resistance-free, less energy and exertion are necessary to perform basic tasks, thereby contributing to less strain on the shoulder, arm and wrist. Mouse pads, therefore, allow you to realize the full benefits of all the inherent features of your mouse.

Everyone can get some ergonomic benefit out of a well-designed and well-made mouse pad, even if they are an ordinary user. There is even the added benefit of protection of your desk surface from scratches and markings produced by repeated mouse movements. Unfortunately, not all mouse pads are made equal. Here are a few simple points to consider before purchasing one. The key points are:
How thick is the mouse pad? In almost all cases the axiom 'Thinner is better' applies, since as you increase the thickness of the pad, you may elevate the mouse sufficiently to create a position of wrist extension. Your mouse should ideally be situated on the same worksurface as your keyboard.
What material is the mouse pad made of?Most optical and laser mice have teflon pads (or 'sliders') on the bottom of the mouse to facilitate the smoothest movement possible. The ideal surface, therefore, is hard, not soft. Soft mouse pads generally create more friction on the surface. In addition, users tend to 'dig' into the surface as well, causing more friction and hence more effort to move the mouse. Finally, fabrics tend to have a 'weave' which will provide further resistance and wear over time.

What is the texture of the mouse pad surface? Hard surfaces are clearly the best for mouse pads, however, completely smooth surfaces are not necessarily the best. Hard surfaces with tiny grooves are actually better, since the grooves mean that the true surface area on which the mouse 'glides' is less than a completely smooth surface, thereby producing less friction, not more.
How big is the mouse pad? Try to get the biggest mousing surface area possible for your situation, whether you are using a desktop or keyboard tray. This just means that you don't have to worry about constantly sliding off the mouse pad as you work, even if you don't think you need the extra space. It is always better to go larger than smaller. With some mouse pads - for example, those made of thin, hard plastic - you can easily cut and trim them to your actual space requirements, if need be. In addition, some mice are designed to be used over a wider surface area, so make sure that your mouse pad size accommodates the proper usage of the mouse you are working with.
Palm pads (often referred to as wrist rests) are another mousing accessory that are sometimes incorporated into a mouse pad. Do these provide any benefit? Since mouse pads are designed to provide more fluid and precise movements, it is not recommended to use palm pads with them, whether integrated into the mouse pad or not (in fact, they are not really recommended even without a mouse pad). This is especially true of ergonomic mice that require that the user rest the arm, or at least a large part of the arm, on the desktop (for example, the HandshoeMouse from Hippus). If all the weight of your arm is directed through your hand onto the mouse, you will have just increased the friction of the mouse on the mousing surface. The worksurface should be such that nothing prevents the arm from resting comfortably on the desktop. Palm pads used with your mouse may also hinder proper blood flow to the hand, or greatly reduce arm movements with the mouse. For these reasons, avoid palm supports when using your mouse on your mouse pad.
Mouse pads now come in such a wide variety of designs, shapes, and materials, that there is most likely one that will complement your mouse ideally. If you take into consideration the prices of some ergonomic mice, the additional cost of a mouse pad that optimizes the performance of that mouse is quite insignificant in comparison. In many cases, the difference between an ordinary desktop and a mouse pad for mousing is noticable. Factoring in the difference in energy expended and strain suffered by users while mousing, the benefits of having a good mouse pad greatly increase in the long term.
Wow Pad Graphite Tech Pad Microthin Mousing Surface
by Microthin is now available!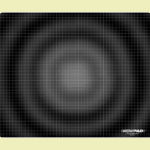 The Wowpad by Microthin is a superthin mouse pad made of one single ply of antibacterial, chemically inert polyvinyl chloride (PVC) just 15/1000th of an inch thick. The top is designed for perfect tracking of all ball, optical and laser mice. The patented sure grip bottom is great on any surface - just press down firmly and watch it stick without adhesive. There is minimal intrusion on the desk/table top, and the mouse pad is 100% washable in common household and even industrial cleaners and disinfectants.
For more information on the Wowpad, see the Mouse Accessories category in our online catalog.
---
Partners in Prevention 2010 : Ontario Health & Safety Conference & Trade Show (May 3 - 5) / ErgoCanada Toronto Road Show 2010 (May 4 - 5)
ErgoCanada is pleased to announce our Toronto Road Show at the International Center in Mississauga on May 4th to 5th, 2010. We hope you will take advantage of this opportunity to get 'hands on' with our products and talk to our product specialists face to face. The road show will feature presentations by our President Michael Craggs followed by a product exposition. Attendance is free but registration is required.
For more information or to receive a registration form to register for our Road Show, email us at roadshow@ergocanada.com
Subscribe to our new RSS feeds, which are updated regularly with the newest products added to our existing line of over 5000 products.
Add our newsletter to your RSS feed reader:
Add our new products to your RSS feed reader:
Check out our archived newsletters below: