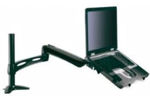 EZ Adjust Notebook Arm, Desk-Mounted from 3M is Now Available!
Free up space on your desk and turn your notebook screen into a flat panel monitor positioned at just the right ergonomic height. Highly adjustable arm moves up, down, forward and back.
The EZ Adjust system uses patented technology to let the user change the height of their display and the display stays where it's positioned! The benefit of the EZ Adjust technology versus gas spring based arm technology is the reliability and robustness of the design. 3M EZ Adjust monitor arms can last for thousands of cycles without failing.
For more information on the EZ Adjust Notebook Arm, see the Laptop Stands category in our online catalog.
Creating a Portable Laptop Workstation
More workers are incorporating laptops into their working environment, especially those who travel extensively or work both at home and in the office. However, formulating a strategy for how to work on a laptop without the potential for injury can be challenging, since laptops have been designed primarily for compactness and portability and not for ergonomics. In order to work around these design limitations, users require accessories which can compensate for these inherent deficiencies. This month we will cover the two portable categories: Ultra-Compact and Compact Portable Laptop Stands; next month we will cover other laptop stands.
NOTE - One critical additional accessory required to improve the ergonomics of most laptop accessories is an external keyboard and pointing device. While the top of the display should be level with your eyes, the keyboard and mouse should be almost on your lap so that there is a slight downward slope to your forearms while typing and mousing. Consequently, as there are no laptops which allow for the display to separate from the keyboard, an external mouse and keyboard is often a critical addition towards creating an ergonomic laptop workstation.
Ultra Compact Portable Laptop Stand Category
Primary Purpose: Elevate Laptop Screen to a More Appropriate Height
Ergonomic Basis: The recommended height for the top of the viewable portion of a computer monitor is level with the eyes of the user. Use a stand to elevate the back of the laptop in a stable fashion while maintaining the position (or lowering i.e. cantilevering) the front of the laptop. This creates a greater height differential between the laptop's keyboard and screen than is otherwise possible, improving the ergonomics when not using an external keyboard and mouse.
Additional Features to Consider: 1) Ability to cantilever the laptop over the edge of the surface the laptop is sitting on. 2) Multiple angles of adjustment (yielding more range of laptop display height).
Sample Products in this Category: Aviator Laptop Stand, Cricket Laptop Stand
Compact Portable Laptop Stand Category
Primary Purpose: Elevate Laptop Screen to the Correct Height
Ergonomic Basis: In order to achieve the correct height, multiple positions or settings are required and compact stands usually have 5 or more 'angles' which ensure that users can adjust the laptop to the optimal height. However as you increase the height of the screen, you also increase the positive inclination of the keyboard which increases the attractiveness of an external keyboard.
Additional Features to Consider: 1) An in-line document holder which offers an easel to cover up the laptop keyboard and position reference documents (this can be built-in to the laptop stand or be a completely separate accessory (such as the Compact Microdesk, our Featured Promo of the Month) 2) How compact the unit is during transport 3) Cooling Fans, Hubs and other 'plug-in' accessories
Sample Products in this Category: Ergo-Q Notebook Stands, Go! Travel Notebook Stand, Lap Lounge
Convenience vs. Ergonomics
It is important to keep in mind that laptops are essentially combination devices designed with convenience in mind. These 'all-in-one' devices house a monitor, a CPU, a keyboard and (usually) a touchpad, and have all the disadvantages one typically encounters with combination devices. This is why it is equally important to offset these disadvantages when creating a workstation with a laptop by delegating the most used functions to accessory devices that perform optimally for that function. The goal is to find the appropriate balance of portability (convenience) and comfort (ergonomics) that meets your needs. Ultra-Compact Laptop Stands are usually more convenient and less ergonomic, and Compact Laptop Stands are usually less convenient and more ergonomic.
Choosing the Right Laptop Stand
Laptop stands are probably the single most important accessory needed to construct a good laptop workstation. Laptops, however, are used in a greater variety of situations than desktops are. As a consequence, there are a variety of stands designed specifically for each different situation, depending primarily on whether the setup will be semi-permanent (where the laptop basically replaces the desktop computer on the desk) or transient (for example, at school, or on an airplane while traveling). Here is a good selection of the variety of portable stands available today:
1. The Ergo Q series of stands by Bakker-Elkhuizen: The Ergo-Q is the most stable and durable portable laptop stand on the market. Features include as much as 13 cm (over 5") of height adjustment, an inline document holder (pivotable on the model 260), and the ability to fold to between 7 and 13 mm for transport/storage. The 220 and 260 series is composed of Hylite Aluminum and the more economical 330 series is composed of ABS Plastic. The widest range of adjustment and features available on the market today!
2. The Go! Travel Notebook Stand by Goldtouch: This new laptop stand is our Featured Product for April (top of column at right). It is the first in a new line of products from Goldtouch, which will soon include the Go! Travel Keyboard, a compact and portable adjustable keyboard that is the perfect companion to the Go! Travel Notebook Stand.
3. The Laptop Lounge with Integrated USB Fan by XBrand: The Lap Lounge from XBrand is a USB powered cooling platform for any laptop up to 19" wide, allowing you to safely use your laptop on your lap or other work surface without the problems associated with overheating. It can also angle your laptop at four settings to elevate screen height or to make typing more comfortable, depending on your body's positioning. Ideal for those who want to use their laptop in their lap!
4. The Cricket by IOP: The Cricket Laptop Stand from IOP is a flexible, height-adjustable stand which allows you to raise your screen to an ergonomic viewing height. Add a full-size keyboard and mouse to recreate the comfort and productivity of a desktop computer, or use Cricket to share your screen for presentations and meetings. Cricket also enhances airflow around your computer, keeping it cool. Best of all, Cricket is extremely portable - it collapses to fit in your pocket or your computer bag. In addition, Cricket adjusts to support laptops of all widths, and supports weights up to 12 pounds. You can even use Cricket with tablet PC's, by raising the screen to a more comfortable writing and viewing angle. Ideal for travellers who require compactness.
5. The Aviator Laptop Stand by Keynamics: The Aviator Laptop Stand by Keynamics is a great product for anyone needing to use their laptops while travelling. It extends the laptop towards you and angles it to increase the height and improve the angle of the screen. This greatly improves the comfort of using a laptop while flying - even when the seat in front of you is reclined! When folded for transport it is only 12.62" x 0.5" x 3.35", and with the Aviator only weighing 250 grams, taking it everywhere you take your laptop is fast and convenient. This product works with all laptops and also elevates the laptop, improving airflow. Ideal for travelling, especially on airplanes.