In this issue...
Featured Product: DocuGlide by FM Industries
Featured Promo: CarGo Desk by Bright Idea Group
New Products: Multi-Monitor Hand Crank System, CopyFlex IV
Ergonomic Workstation Tip of the Month: Wrist Rests and Palm Supports
Ergonomic Product Tip of the Month: Document Holders from Vu-Ryte
News: Moving into our New Office/Warehouse
Upcoming Events: ACE Conference and Ottawa/Gatineau Road Show - October 2008
RSS Feeds
Multi-Monitor Hand Crank System from Ergotech Group is Now Available!
Ergotech's DMS 500 System was created with the idea of ease of installation, expandability and adaptability. All of the DMS 500 models can be installed to any type of slatwall or flush mount using Ergotech's unique ratchet clamp bracket, which requires no tools. Ergotech's multi mount solutions are deployed in Financial trading, Command and Control, Security and medical applications.
This unique product series allows blocks of information to move in and out and up and down on a single plane without alignment issues which affect independently adjustable multi-monitor configurations. Once the mounting bracket is in place, the monitors are simply snapped on to the horizontal adjustment bar using the "In-A-Snap" Quick Release mechanism. The Dual Mount System, Model 500-02 can hold one to two monitors. The dual unit may be expanded to hold three or four monitors by adding adjustable parabolic wings. The monitor cables are fed through the Cable Management System on the unit creating a clean, functional and expandable monitor system.
See the Multi-Monitor Hand Crank System in our online catalog.
---
CopyFlex IV from Sun-Flex is Now Available!
The CopyFlex IV is a freestanding version of the CopyFlex II and III, with the same rugged steel construction, and a new silver metallic matte finish, which prevents reflective glare. Features include a line guide with magnification strip, rubber-coated document ledge, infinite angle adjustment (includes a wrench for adjusting angle), and a capacity for an almost 1" thick stack of paper, or a non-reference book with up to 2" spine.
See the CopyFlexIV in our online catalog.
Wrist Rests and Palm Supports
In the vast majority of cases, wrist rests do not provide any significant ergonomic benefit and in fact will usually increase the number of risk factors for injury in your computer workstation. The reason is that if you 'rest' your 'wrist' on any type of support, be it foam, gel, webbing, cloth, etc. you are applying pressure to the underside of your wrist which will compress the tissues, resulting in decreased blood flow.
More specifically, you can compress the carpal tunnel and possibly pinch the median nerve, which can lead not only to long term injury, but short term symptoms such as tingling, numbness or coldness in the hands, and finger muscles which fatigue quicker due to reduced circulation.
Palm supports are usually ergonomic in that they provide support for your palm during periods of inactivity (i.e. when you are not typing or mousing), which assist in reducing the tendency to 'drop' your hands, which can lead to a position of wrist extension (or dorsiflexion). However it is critical that the support has a low enough profile so that your wrist does not get 'caught' on the rest when you move the mouse forward (i.e. move the cursor up) or reach for the upper rows on the keyboard. In other words, the palm support when uncompressed should be level and not be higher with the front edge of the keyboard housing or the mousing surface to prevent any pressure on the underside of the wrist.
Many people argue that a palm support which is attached to the keyboard will increase the distance that the user has to 'reach' to get to the keyboard. This is not the case as the position of the palm when typing is typically 1-3" in front of the keyboard (depending on which row of keys you are typing on). The presence (or absence) of a palm support will not increase the distance you are having to 'reach' to get to the keyboard. The only exception would be for individuals with very small hands or extremely limited reach (i.e. atrophied limbs) in which case the palms of their hands are likely over the keyboard at all times when typing as the traditional typing posture is not an option for these individuals.
Document Holders from Vu-Ryte
Document holders generally come in one of two forms: the stand-alone model or the under-monitor model. Your choice of either will be determined largely by your workspace configuration, or lack of workspace. Space considerations are not the only reason to consider a document holder, however. Document holders are able to meet more than one ergonomic need, since not only are they able to optimize your workstation so that all of your essential devices are close to hand, but they also help to eliminate any problems due to straining or twisting in order to read documents while typing. These are the two main ergonomic benefits of document holders.
---
Vu-Ryte Document Holders meet these two needs. The Under Monitor Mount Document Holder,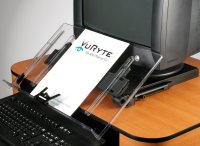 for example, saves desk space by taking advantage of the unused area between your monitor and keyboard. By being held stable under your CRT or LCD monitor, this document holder utilizes space efficiently while placing any documents you are reading in direct line of sight with your monitor - thus making reading and copying text easier and faster. With vertical, horizontal, tilt and depth adjustments, it can also be customized to fit your exact requirements, giving you the most ergonomic positioning possible. No more bending or straining your neck to read flat documents!
---
The Vision Vu Free Standing Document Holder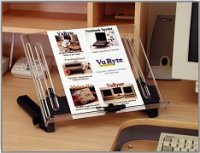 is a free standing model of similar design but has the added capability of being placed either to the side of your monitor and keyboard or inline between your monitor and keyboard. Now you have even more choices for configuring your workstation for the greatest ergonomic benefits. Obviously, those who type in a lot of text will greatly benefit from any of these document holders, reducing overall neck strain from twisting their head to read documents that are not positioned perpendicular to their line of sight. Both models come in an 18" or 14" easel.
---
You can find out more about our selection of Vu-Ryte (and other) document holders by clicking here.
DocuGlide by FM Industries
Designed as both a writing surface and a document holder, the DocuGlide fits between your monitor and keyboard, encouraging better posture and improving workflow. It can be pulled forward over the keyboard to allow document editing or note-taking, thus increasing efficiency and reducing the need for reaching or twisting. The inclined surface also creates the correct angle for reading your documents. A storage space for pens and other supplies is built in under the writing surface.

See the DocuGlide in our online catalog.
This is an exciting time for ErgoCanada (aka Micwil Group of Companies Ltd) ! On July 4, we are moving to our new office/warehouse complex which is located at 102 Wheeler Street in Saskatoon, Saskatchewan. Although we don't anticipate any interruptions to customer service, we do recognize that unavoidable delays may occur and we apologize in advance for any resulting inconveniences.

In preparation for our move to larger facilities, we are also expanding our staff complement to ensure we continue to meet all your needs with the best possible service.

Please note that our phone number and fax number are not changing and you will be able to reach us as usual at:
Phone (306) 382-5995
Fax (306) 382-4995
Toll-Free (866) 335-3746
ErgoCanada is pleased to announce our upcoming Ottawa / Gatineau Road Show Event at the Chateau Cartier on October 8th and 9th, 2008. We hope you will take advantage of this opportunity to get 'hands on' with our products and talk to our product specialists about any questions you have. We will have over 150 products on display, including the new Kinesis FreeStyle Convertible keyboard, the Deluxe LCD Monitor Mount with Internal Cable Management, Mousetrapper Advance Central Pointing Device and the Ergonomic Articulating Forearm Support with Gel Pads. Attendance is free.
For more information go to our events page, or to receive an RSVP form, email us at roadshow@ergocanada.com


Subscribe to our new RSS feeds, which are updated regularly with the newest products added to our existing line of over 5000 products.
Add our newsletter to your RSS feed reader:
Add our new products to your RSS feed reader:
Check out our archived newsletters below:

June 2008
May 2008
April 2008
March 2008
February 2008