In this issue...
Featured Product: The LEVO Bookholder Desktop Model from LEVO
Featured Promo: 3D Game O2 by Sandio
New Products: Mobile Workstation Carts from AIData, 4 Port Video Splitter from Aten
Ergonomic Workstation Tip of the Month: Ergonomic Pros and Cons of Combination Devices
Ergonomic Product Tip of the Month: Workstation Configurations with Freestyle Solo
News: Our New Office/Warehouse Grand Opening
Upcoming Events: ACE Conference and Ottawa/Gatineau Road Show - October 2008
Customer Feedback/Comments
RSS Feeds
Mobile Workstation Carts from AIData are Now Available!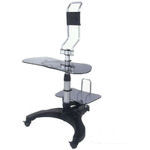 ErgoCanada is pleased to announce the introduction of a new line of mobile workstation carts from AIData. This new line consists of both PC and LCD supported mobile workstations manufactured in a variety of materials to suit your personal needs, from MDF (medium density fiber board) to ABS plastic to tempered glass (LCD mobile glass model shown on right).
All workstations offers exceptional portability, allowing you to store monitor, CPU, keyboard, and mouse all on one convenient, fully mobile unit. The stand has a stylish, yet practical design including height adjustable trays for keyboard/mouse and LCD monitor (up to 20"), easy to grab handles, and locking wheels. Other features:
May be used as an ergonomic laptop stand, using the monitor shelf for the laptop and keyboard shelf for an external keyboard and mouse. (PC mobile version only)
Made with ABS high impact plastic, tempered glass, or MDF board.
Stability steel shelf supporters.
Easy height-adjustable aluminum extruded pole.
Durable polypropylene base, with 3 built-in locking casters.
Knock-down, flat-packed, easy assembly.
Holds monitor and CPU up to 20 kg.
Multiple colours (depending on cart materials)
See the Mobile Workstation Carts from AIData in our online catalog.
---
4 Port Video Splitter from Aten is Now Available!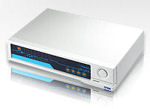 The VS134 4 Port Video Splitter from Aten is a boosting device that duplicates a video input signal to 4 video outputs each at 350 MHz, and is ideal for any monitor using analog signals. The VS134 also extends the transmission distance up to 65m (210 ft), making them excellent for public broadcast systems. Useful applications include: financial display of stock market information, educational remote display of lectures to lecture halls and classrooms, or business display for video conferencing and/or demos. In addition, the VS134 is daisy chainable and includes an AC 9 volt adapter.
Go to our online catalogue to see or order this product
Ergonomic Pros and Cons of Combination Devices
Ergonomic keyboards and mousing devices come in all shapes and varieties. Sometimes, these different devices are combined into one unit, with a keyboard containing an integrated touchpad, for example, or an integrated numeric keypad.
These combination or combo devices can be useful under certain circumstances but often appeal to users because they appear to be a one-in-all solution to a cluttered workspace, or are just cheaper than purchasing separate items. From an ergonomic standpoint, however, they are often not the ideal solution at all. In the end, even cost is not a factor, since the failure of one component usually means scrapping the entire product altogether. This is especially true if the component parts are cheaply made.
The appeal of a combination device is deceptive precisely because it appears to solve several problems at once (space and cost), while it may in fact make them worse. Compact all-in-one design can be an ergonomic benefit in cases where having separate devices would create a potential hazard or not be feasible. An example of this would be the case of a work surface that must be stored in a vertical orientation when not in use (dental/medical applications).
In most cases, however, it is better to have modular devices that can be configured to suit the particular needs of an individual. Configuring separate devices means you can purchase quality devices and ensure they are arranged in the optimal position based on your needs and workspace limitations. Although the initial cost of purchasing these quality devices may be more than the cost of a combination device, over the long term it is an investment that will more than pay for itself in comfort and the pocketbook.
Workstation Configurations with Freestyle Solo
One of the great ergonomic benefits of a keyboard like the Kinesis Freestyle Solo is that it has been designed with modularity in mind.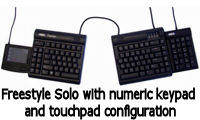 This means that it is designed to work in conjunction with other accessories and devices so that the user can determine his or her own workspace configuration to maximize productivity and comfort. Even when used without any tenting accessories, the Freestyle Solo can be used with a separate touchpad or numeric keypad in various configurations, which makes the Freestyle Solo one of the most versatile products on the market today (see picture at right, for example).
Because of its splaying and separation capabilities, the Freestyle Solo can have pointing devices placed either to the left or right of the keyboard, and even in the center when used correctly. Thus, there is really no need to purchase combination devices, since they lack the versatility of a modular design. It also allows you to choose which devices you want to use at any particular time, freeing up that space at other times when not in use.
In general, it is best to position devices around your keyboard so that you eliminate potential problems like overreaching for your mouse, or excessive bending at the wrist (ulnar deviation). A touchpad, for example, should be angled slightly if used in the center of the Freestyle Solo so that your wrist remains properly aligned with the rest of your forearm (forming a straight line through the fingers). With a numeric keypad then positioned to the right of the keyboard, you can eliminate both overreaching and wrist-bending at the same time.
To view an interactive photo gallery showing possible configurations of the Freestyle Solo with touchpad and numeric keypad, click here.
The LEVO Bookholder Desktop Model from LEVO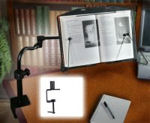 You've never experienced reading like this! The Levo BookHolder Desk Model offers 5 unique movements to perfectly place your book in the most comfortable, ergonomic reading position at your desk or table. From 5 pound novels to lightweight paperbacks, the Levo BookHolder's revolutionary design and sturdy construction can hold it all. The Desk Model easily clamps to your desk or table, and holds your reading material while you take notes, type, or relax with your favorite author.
See the LEVO Bookholder Desktop Model in our online catalog.
Come Celebrate Our Grand Opening!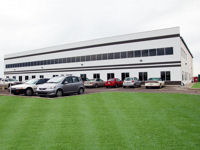 On Saturday, November 1st we are holding a Grand Opening Event. Please join us as we celebrate our recent move into our new warehouse facility. At the opening you will be able to view our most popular products in our newly designed, 1400 sq. ft showroom. You will also have the opportunity to meet our staff and win great prizes! Refreshments will be provided for this event so come hungry!
The Grand Opening Event takes place at 1:00 pm at our new location: 102 Wheeler Street, Saskatoon, SK (across from Silverwood Golf Course)

For more information please call us at (866) 335-3746 or send an email to events@ergocanada.com.
We hope to see you there!
ErgoCanada is pleased to announce our upcoming Ottawa / Gatineau Road Show Event at the Chateau Cartier on October 8th and 9th, 2008. We hope you will take advantage of this opportunity to get 'hands on' with our products and talk to our product specialists about any questions you have. We will have over 150 products on display, including the new Kinesis FreeStyle Convertible keyboard, the Deluxe LCD Monitor Mount with Internal Cable Management, Mousetrapper Advance Central Pointing Device and the Ergonomic Articulating Forearm Support with Gel Pads. Attendance is free.
For more information go to our events page, or to receive an RSVP form, email us at roadshow@ergocanada.com


"I wanted to let you know that the LEVO Bookholder (Free-Standing Model) is awesome! I can lie on my back or my side in bed and read with perfect ease. It has turned out to be one of the best things I've done for myself! Now I even find myself heading to bed early so I can read for a long time before I go to sleep. The casters allow it to move easily on my laminate floor, so I can just push it aside when it's time to snuggle down to sleep. The gig-light helps a lot when the angle of the Bookholder is facing away from my bedside lamp, so I'm glad I ordered that, too. "
- Andrea


Subscribe to our new RSS feeds, which are updated regularly with the newest products added to our existing line of over 5000 products.
Add our newsletter to your RSS feed reader:
Add our new products to your RSS feed reader:
Check out our archived newsletters below:

September 2008
August 2008
July 2008
June 2008
May 2008
April 2008
March 2008
February 2008