In this issue...
Featured New Products: The New BlueRay Track HandshoeMouse from Hippus
Featured Promo: Compact Microdesk by Good Use Company
New Products: The DigiNest Laptop Stand from Bili, Left Handed 'A' Style Keyboard from A4Tech
Ergonomic Workstation Tip of the Month: Wisdom from the Front Lines
Upcoming Events: "Partners in Prevention 2010: Ontario Health & Safety Conference & Trade Show" and "ErgoCanada Toronto Road Show 2010" (May 3 - 5)
Left Handed 'A' Style Keyboard from A4Tech is Now Available!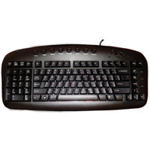 A4 Tech's exclusive 'A-shape' key layout provides a visual cue which for some users help to reduce ulnar deviation. A4Tech's design features a 'partially mirrored' numeric keypad layout (the enter, plus keys are on the left side of the keypad, but the layout of the keypad is still standard i.e. as though you moved it from the right side of the keyboard). The wrist rest is detachable.
This economical inexpensive keyboard can help to balance out the user's workload, allowing the user's left-hand to operate the numeric keypad while the right hand operates the mouse. Many right handed individuals will also find this keyboard ideal as they can put the mouse where the numeric keypad would normally be, and still have access to the numeric keypad with their left hand when needed. The keyboard also comes with eight convenient hot keys to further improve your efficiency. Warranty: Limited 1 year warranty
For more information on the Left-Handed 'A' Style Keyboard, see the Left Handed Keyboard category in our online catalog.
---
The DigiNest Laptop Stand from Bili is Now Available!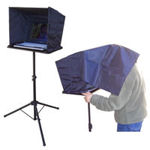 The DigiNest Laptop Stand from Bili is a portable, tripod-based stand with a detachable hood to protect your laptop from direct sunlight when outdoors or any excessively bright light when indoors. The sturdy metal tripod and metal laptop platform are easily disassembled and compacted, making it highly transportable (it comes with its own light-duty free carry bag), while the hood, when attached, can be augmented with an additional curtain to give even more protection or shade. It's ideal for photographers (indoors or outdoors), field workers, trade show exhibitors, trainers, or anyone who wants to be able to use a laptop anywhere.
For more information on the DigiNest Laptop Stand, see the Laptop Products category in our online catalog.
Wisdom from the Front Lines
There are many misconceptions surrounding ergonomic products and their appropriate applications. Users will often think that they are using common sense when choosing an ergonomic product - but what looks to be the right solution at first glance may not actually be the right solution for your situation. Below are a few of the most common mistakes users make when trying to buy an ergonomic product to match their particular ailment.
1) "If my right hand is hurting me, i'll just use my left hand instead". This line of reasoning makes some sense, but the logic can be deceiving. The potential problem here is that the injured hand is most likely the dominant hand, and so simply switching to the other hand means that your workload is now shifted to the weaker hand. We have heard from our clients that their non-dominant hand has less muscle mass, flexibility and endurance than the dominant hand. As a result, if a person switches to using their left hand they will experience fatigue and discomfort more quickly than with their dominant hand. In addition, the hand will have no 'muscle memory' and in the process of 'learning' to do tasks that your regular hand performed in the past it may require significantly more effort and exertion than you expect. The net effect of these factors is that you will likely find your 'new' hand will fatigue and even experience pain before your right hand has a chance to recover. Instead of one injured hand, you will end up with two! The superior strategy is to try to phase your usage of the other hand in over a period of time, allowing it to 'learn' the new tasks you are assigning it, by using it say 10% of the time and slowly working up to 50%. Another option which can assist is to offload the clicking actions to your palms or feet instead of your fingers.

2) "If I only have the use of one hand, I should get the smallest keyboard available". This line of reasoning, too, seems to make good sense, but it will quickly become apparent to the new user that this is not the best way to address the issue. What's the problem? Most smaller keyboards get smaller by making many, if not all, of the keys smaller in size. Smaller keys are harder for the fingers to target, and so, unless you have very small hands, you will often type the wrong key. This will become frustrating to the user sooner than he can type 'aarrgg!!' A better solution would be to learn to use a keyboard designed specifically for one-handed use. These keyboards have regular-sized but half the number of keys. Each key is layered with two letters, so that to access all letters the user simply toggles between the two layers to type the full alphabet. Although it does take some time to learn to type this way, for long-term one-handed users this solution avoids the frustration of constantly typing the wrong keys.
3) "If my mousing hand hurts, the problem is caused by my mouse". The simplicity of this conclusion is hard to find fault with...however, the reasoning is flawed. Hand injuries can be caused by any number of factors, including improper use of the mouse, an mousing surface which is at a different height than your keyboard, 'wrist rests' that cut off normal circulation to the hand at the wrist, or too wide a keyboard on your mousing side (usually one with a built-in numeric keypad), etc. It could be that these other risk factors are insufficient to cause pain, but mousing activity pushes the pain 'over the edge' to the level where it is identifiable. Each of these factors needs to be taken into account through a process of elimination, before one can conclude that the mouse itself is (partially or solely) to blame. Unless you know for certain what is causing your mousing hand to hurt, be wary of simply switching mice. An ergonomic professional or assessor is best able to diagnose cases where a multitude of these factors are at play and need to be addressed individually.

4) "I want the same keyboard as my colleague at work, because it solved his RSI issues, and so it will also solve mine". Of course, it may be true that your colleague's well-designed ergonomic keyboard will also help improve your RSI issues, but that is really just a stab in the dark approach, if you think about it. Would anyone take a colleague's prescribed medication for a problem just because you appear to, or have had, the same problem? We all know the risks of taking that leap in logic. Why would an ergonomic issue really be any different? One form of RSI in one person is not necessarily to have the same source in others, even in similar work environments. Each person is different enough that one solution is rarely fit for all - ergonomics is all about finding the right product for the right person at any given time.
The key thing to remember about ergonomic products, whether keyboards or mice, is that those products will only do their intended jobs and be effective, if they are the right products to address the root cause of your problem. Any good product can be used inappropriately, and so won't be 'good' in such cases. Before buying that product you think will solve your problem, do some research on the product and what it is designed to address, or get an ergonomic professional's opinion on what course of action is best for you; in that case you are more likely to find that 'ideal' product that will also match your needs.
The New BlueRay Track HandshoeMouse from Hippus is now available!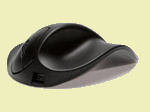 The brand new HandShoe Mouse is fitted with a BlueRay Track Engine, which is based on a double lens optical system in combination with a blue LED. The resulting precision provides the user with a simple but top quality optical solution. In other words: a Blue Ray keeps Track of your precision work with every application you may think of.
This is an important development for a growing number of people who want to prevent getting RSI (repetitive strain injury) problems but still want to use the latest technology.
Extensive testing
The HandShoeMouse has been developed by engineers and medical specialists who reported that the traditional computer mouse and other ergonomic mice were still causing excessive strain for the arm and hand (www.HandShoeMouse.com/Research.html ). The special design and shape of the HandShoeMouse prevents this and gives the best protection against NSAH (Neck, Shoulder, Arms and Hands complaints) and carpel tunnel syndrome.
"As the developer of HandShoeMouse, in close co-operation with the University Medical Centre, Rotterdam, the Netherlands (Erasmus MC), I have always made sure that we spent enough time to measure in order to certify our results. This new cutting edge BlueRay Track technology will take the HandShoeMouse forward in a different league, where ergonomic and technological claims can be proven and supported by research and field reports" says Drs. Ing. Paul Helder, Chief Technical Officer of Hippus.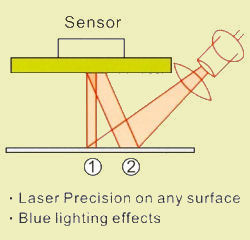 For more information on the BlueRay Track HandshoeMouse, see the Ergonomic Mice category in our online catalog.
Partners in Prevention 2010 : Ontario Health & Safety Conference & Trade Show (May 3 - 5) / ErgoCanada Toronto Road Show 2010 (May 4 - 5)
ErgoCanada is pleased to announce our Toronto Road Show at the International Center in Mississauga on May 4th to 5th, 2010. We hope you will take advantage of this opportunity to get 'hands on' with our products and talk to our product specialists face to face. The road show will feature presentations by our President Michael Craggs followed by a product exposition. Attendance is free but registration is required.
For more information or to receive a registration form to register for our Road Show, email us at roadshow@ergocanada.com
Subscribe to our new RSS feeds, which are updated regularly with the newest products added to our existing line of over 5000 products.
Add our newsletter to your RSS feed reader:
Add our new products to your RSS feed reader:
Check out our archived newsletters below: