In this issue...
Featured Product: Euro Office Trackbar Emotion
Featured Promo: TypeMatrix Keyboard
New Products: Professional Keyboard Platform, ShuttleXpress
Ergonomic Workstation Tip of the Month: Preventing Forearm Twisting
Ergonomic Product Tip of the Month: Evoluent VerticalMouse 3
RSS Feeds
Professional Keyboard Platform by Allsop is Now Available!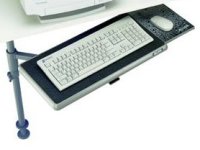 Many workstations have limited space and need a keyboard tray that is storable and quick and easy to set up. Not only does the Professional Keyboard Platform fit this description, it also does not require any drilling or screws to install. The pole the keyboard platform attaches to is positioned between the bottom of the desk top and the floor and can be set up in less than a minute.
It also has ergonomic features, like a swiveling platform (360°) with both tilting (22°) and telescoping (22") mechanisms to give virtually unlimited adjustment for ultimate comfort. When not in use, the platform can be stored out of sight, and includes a mousing platform with pad.
See the Professional Keyboard Platform in our online catalog.
---
ShuttleXpress by Contour Design is Now Available!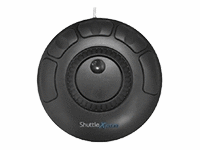 The ShuttleXpress is a 5 button Jog and Shuttle Multimedia Control Surface. The ShuttleXpress comes pre-configured for many of the leading Audio and Video applications. You can easily customize the ShuttleXpress for virtually any application. The ShuttleXpress is designed for ergonomic integrity and maximizing productivity, allowing one-hand access to the five (5) fully programmable buttons and jog/shuttle knob. The inner ring or 'jog' rotates through 360° and provides precision frame by frame control. The outer black ring or 'shuttle' is rubberized and spring-loaded. It facilitates fast forward and rewind. You can also use the jog and shuttle for many other purposes such as scrolling, volume control, and sequencing.
See the ShuttleXpress in our online catalog.
Preventing Forearm Twisting
The natural rotation of your hands is not flat but rather between 10 and 20 degrees from the horizontal (with the thumbs side of the hand being higher than the side with the fifth finger), or vertical (i.e. a 'handshake' position). When typing on a conventional keyboard (or using a conventional mouse) an individual is required to force his hands to be flat to remain in full contact with the input device. This is called pronation (one's pronates one's hands from a vertical, 'handshake' position to a horizontal 'palms down' position). As the muscles required to force one's hands into this position fatigue quickly, improper pronation can not only lead to discomfort but also act as a potential source of injury.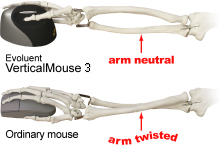 While the vertical alignment of the hands is the 'best' position as it eliminates fatigue for most people, many will find that a pronation of between 10 and 20 degrees (from the horizontal) will also provide almost the same benefit without the potential difficulties in using vertical input devices. When practical, a fully vertical input solution (i.e. both keyboards and mice) can provide relief by eliminating pronation when other ergonomic accommodations are insufficient - the main drawbacks of a vertical keyboard are that you must be a touch typist (as you can't see the keys) and if you routinely access more than the traditional alpha section of the keyboard, you will have to move your hands from one keyboard section to another.
Using the Evoluent VerticalMouse 3
A common problem suffered by many mouse users is excessive twisting of the wrist and upper arm. Most traditional mice require that your hand remain in a horizontal position when moving the device, and this horizontal position causes the wrist and forearm to twist into an unnatural position. This twisting of the wrist and forearm is called "'pronation".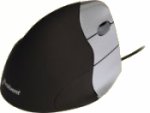 The Evoluent VerticalMouse 3 solves the problem of pronation by keeping your hand in a natural, vertical position, often called the "handshake" position. Its unique shape ensures that you will be able to perform all normal mousing functions while keeping your hand in an ergonomically ideal posture.
To take advantage of the ergonomic design of the VerticalMouse 3, make sure that your forearm slopes down in the direction of the mouse and that you grip the mouse by placing the area between your thumb and first finger on its upper backside. This angle will ensure the mouse is held securely yet ergonomically. You can then make smaller movements with the mouse by moving just your finger tips, wrist or hand, while larger movements can be done by moving your arm and elbow.
You can find out more about the VerticalMouse 3 online here.
Euro Office Trackbar Emotion
Traditional mice are usually placed on the left- or right-handed side of your keyboard, often making them hard to reach. The Trackbar Emotion eliminates this reach by locating your mousing device immediately below your keyboard, right where your hands are while typing. Winner of the NECE 2008 Award for Best New Product, the Trackbar Emotion is the latest version of a mousing device that uses a rollerbar to navigate your cursor.
Because it is designed to work with your keyboard, the Trackbar Emotion functions like an extension of your keyboard without overextending your arms. It comes with six tactile buttons to perform frequent actions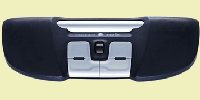 like right click, left click, double click, etc. It also has two plastic wrist supports on either side of the rollerbar to cushion your wrists while keying and using the rollerbar. There is a clickable scroll wheel just below the rollerbar, and the entire unit is small enough to be easily transported when changing locations.
See the Trackbar Emotion in our online catalog.
If you have any comments to make about any of our products, especially our newest ones, please let us know by emailing us at

feedback@ergocanada.com
Subscribe to our new RSS feeds, which are updated regularly with the newest products added to our existing line of over 5000 products.
Add our newsletter to your RSS feed reader:
Add our new products to your RSS feed reader:
Check out our archived newsletters below:

March 2008
February 2008