In this issue...
Featured New Products: The Sit/Stand Laptop Stand and BeanBag Deluxe Laptop Table from InsTand
Featured Promo: Dexterity Platforms Teardrop Mouse Tray by Dexterity Platforms
New Products: The Slimblade Trackball from Kensington
Ergonomic Workstation Tip of the Month: Creating a Laptop Workstation, Part III
Ergonomic Product Tip of the Month: Choosing the Right Laptop Stand, Part III
Website Update: We have lowered prices on most products effective June 2009!
RSS Feeds
The Slimblade Trackball from Kensington is Now Available!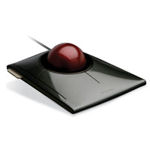 The new Slimblade Trackball from Kensington emphasizes design over function with the elimination of the scroll ring technology. Perform cursor movement normally as you would with any trackball, and when you want to scroll vertically, grab the trackball and twist. This trackball uses a heavy ball (making it vastly different than the Expert Mouse Optical) which in order to allow you to scroll extrudes almost 80% out of the housing. In addition, only gravity keeps the ball in the housing (there is no retention clip).
Choose navigation mode to control cursor and scrolling. Media mode controls volume, play/pause, stop, and track forward/backward, while view mode zooms in/out, and pans. The sleek and low-profile design allows you to save space. It also keeps an eye on which application you are in and which function is being performed with the heads-up display on your monitor. Warranty: Manufacturer Direct 5 years.
For more information on the Slimblade Trackball, see the Trackball category in our online catalog.
Creating a Laptop Workstation, Part III
In the last installment of our three-part series on creating a laptop workstation, we will discuss external keyboards that are suited for mobile laptop users. We will also mention some special laptop stand applications.
Why External Keyboards are Necessary
The addition of an external keyboard to your laptop workstation is not, ergonomically speaking, an optional luxury anymore but a necessity. Why? Because most laptop stands are designed to elevate the height of the laptop's monitor and so end up angling the laptop keyboard at an excessively high angle. This requires that one use an external keyboard, since the angle of the laptop's keyboard would be too steep to allow any kind of typing (and for those laptop stands with in-line document holders, it would also be impossible to do so). External keyboards are therefore an essential part of any dedicated laptop workstation.
The same point can be made by looking at two basic ergonomic principles relating to computer workstations. First, the height of one's monitor should be at eye level, so that one's viewing angle is slightly looking downward (to the center of the screen). Second, one's keyboard should be almost on one's lap, so that arms and wrists are angled slightly downward at the elbow on a negative incline. Given the compact design of laptop computers where screen and keyboard are physically joined together, following these two sound ergonomic principles is virtually impossible. Hence the requirement of an external keyboard.
Features to Consider in an External Keyboard
What should you look for in an external keyboard for your laptop? Of course, that will depend in part on how much importance you wish to give portability (especially for mobile laptop users) versus ergonomics. In many cases, you do not need to compromise too much, since there are many compact keyboards on the market that also have good ergonomic features. Some particular features to consider include:
1. Do you require a numeric keypad? Since only a small number of people use a numeric keypad with any regularity, there is no good reason to purchase a keyboard that does have one. If this is the case with you, simply get a 'compact' keyboard that does not have a discrete keypad integrated into the keyboard. Not only will it be more portable and compact, but you will also have more space to use your mouse without overreaching. If you do need a numeric keypad and still want portability, consider getting the Matias Folding Keyboard.
2. Do you require tenting or splaying? If you need portability yet still want an ergonomic keyboard, that is, one that either splays or tents (or both), consider a keyboard like the new Goldtouch Go! Travel Keyboard. If portability is not an issue because you intend to use your laptop as a desktop substitute, then almost any adjustable or separated keyboard should still work fine - for example, the Kinesis Freestyle Solo Keyboard. In either case, one no longer needs to sacrifice ergonomic features in a keyboard when using a laptop computer as one's primary computer. Ergonomic products are all about giving you more options to make better choices for you!
Special Laptop Stand Applications
Given the relative portability and compactness of laptop computers versus desktop computers, there may be some novel applications for them where even conventional laptop accessories won't work adequately: for example, when lying down or in a reclined position. While most people would not choose these positions as their normal mode of working, certain injuries or conditions may require them. In these cases, special devices have been created to achieve the best results from an ergonomic point of view. These include not only specially designed laptop stands, but arms which actually articulate and are comparable to many monitor arms. There are even devices designed to allow you to create a laptop workstation in a vehicle, although they are obviously not meant to be used while driving.
Given the wide range of new products available now for laptop computers, there is most likely one that can be adapted to your unique situation. Again, more ergonomic products means more options, which in turn means better choices for you.
Choosing the Right Laptop Stand, Part III
Here is a good selection of the variety of external keyboards and special application laptop stands available in our online store:
1. Goldtouch Go! Travel Keyboard (GTP-0055) from Goldtouch: At a mere 1.5 lbs, the Go! Travel Keyboard allows road warriors and mobile professionals to safely work wherever their jobs take them and enjoy all the benefits of the standard Goldtouch when away from their office workstations.
It uses keys approximately the size of those found on 14" notebooks and a 3.2 mm travel distance light touch scissor-switch membrane keyswitch. Other 'mini' or 'compact' keyboards have key travel that is too short or hard, and causes significant pain from bottoming out.
The compactness of the Go! Travel Keyboard makes better use of limited space environments, and allows for external mice to be placed even closer to the keyboard, reducing shoulder pain and increasing comfort.
The Go! comes with two protective covers that support the Go! during use while reducing exposure to impacts that could lead to damage of the exposed keys when stored and/or traveling.
2. Folding Keyboard (FK205) from Matias: If you are looking for a full-size keyboard with numeric keypad that is still portable as a laptop accessory, then the Folding Keyboard from Matias is the keyboard you want. When opened it measures 18" wide, 5" deep, and 0.87" thick, and when closed only 10.08" wide, 5" deep, and 1.18" thick.
The keyswitches are high-quality dome switches (low travel); the Matias Fn key also allows quick and easy access to keys that normally require a long reach – Arrow keys, Page Up, Page Down, Delete, and others can now be typed right from home row, without moving your hand.
The keyboard also has the standard volume controls: Volume Up, Volume Down, and Mute – as well as function keys, page navigation keys, and cursor keys.
3. Ultra-Lite Laptop Laidback (Ver 3.0) (LL-V3-RET, LL-V3-BULK) from Laidback We "R" : If you are looking to use your laptop in a reclined position in bed, an easy chair or the sofa, the Ultra-Lite Laptop Laidback Version 3 is the only product that accommodates a wide range of body sizes, arm lengths, and hand sizes, fitting people with up to a 60" waist line. This flexibility is achieved with a simple, effective adjustment system for angle and height. The unit is a strong, durable and lightweight injection-molded plastic device. At just 2.0" thick, and weighing under 3 lbs, it will support a 22 lbs payload. It is easily packed into a briefcase or knapsack - or carried by its built-in handle. The Laptop Laidback also works with all laptop brands as the front ledge stoppers adjust to provide access to drives, controls and ports on the front edge of the computer case.
4. The LapTraveler RWHD Series Mobile Desk (RWHD-ND) from Interactive Products Corporation: This laptop arm is a heavy duty mobile desk with virtually unlimited flexibility for ergonomic positioning, and uses a gear lock (not a cheap friction lock) tilt and rotate mechanism at the base of the pedestal. The desktop has forward and backward tilt, as well as side to side tilt and is permanently mounted to the pedestal. This unit is universal and guaranteed to work in your vehicle. The stand comes in one of 2 bases: the Non-Drill model which attaches to your vehicle without any special tools and the Drill model which permanently attaches it to your vehicle.
The Sit/Stand Laptop Stand from InsTand is Now Available!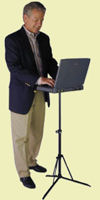 This taller version of the InsTand lets you stand or sit at will. High-tech materials provide a stable platform free from wobbling or vibration. The non-skid 11" x 13" tray-top holds every size laptop and connects instantly and securely to the fully adjustable tripod. This product incorporates a patented ergonomic tilt feature to adjust keyboard angle for comfort. Composed of black anodized aircraft-quality aluminum and composites, the stand also includes a sturdy tripod with handy leatherette carry bag and 11" x 13" aluminum tray. Notable features:
Adjusts from 19.0" to 41.0" high
Non-skid 11" x 13" tray-top holds all size laptops including the new wide-screen laptops
Sets up in seconds
Durable construction - designed for years of daily use.
Folds really small - like a small umbrella. Fits in most laptop cases... folds to 2" x 18 1/2"
Ultra-light tripod weighs just 26 oz.
Sturdy enough to support your laptop comfortably.
Anodized aircraft-quality aluminum tripod
Easily and quickly adjusted for maximum comfort.
Includes tripod, standard 11" x 13" tray, and carry bag.
For more information on the InsTand Sit/Stand Laptop Stand, see the Laptop Stands category in our online catalog.
---
BeanBag Deluxe Laptop Table from InsTand is Now Available!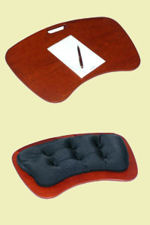 The BeanBag Deluxe is luxurious, comfortable, and convenient! This contoured portable desk for your lap lets you work or play from the comfort of your favorite chair, sofa, or bed. Expertly crafted, this unique product features a soft, silky, pleated & buttoned beanbag pillow bottom filled with special, durable micro-beads. It is not only comfortable, but stays in place on your lap for writing, reading, paying bills, maybe even playing solitare! Made of beautifully finished hardwood.
For more information on the BeanBag Deluxe Laptop Table, see the Laptop Accessories category in our online catalog.
Subscribe to our new RSS feeds, which are updated regularly with the newest products added to our existing line of over 5000 products.
Add our newsletter to your RSS feed reader:
Add our new products to your RSS feed reader:
Check out our archived newsletters below:

May 2009
April 2009
March 2009
February 2009
January 2009
December 2008
November 2008
October 2008
September 2008
August 2008
July 2008
June 2008
May 2008
April 2008
March 2008
February 2008