In this issue...
Featured New Products: The StudyPod Ultra-Portable Book Holder from Genio
Featured Promo: Flip N Find Products from AIData, SwingSeat Pro Chair from SmartMotion Technologies
New Products: Dual Horizontal Articulating Arm Monitor Mount from ErgoTech Group
Ergonomic Workstation Tip of the Month: Book Reading at Home or in the Office - Part II
Ergonomic Product Tip of the Month: Choosing the Right Book Holder
Website Update:

We have lowered prices on most products effective August 2009!
Our new website ErgoLaptop has been launched!
Dual Horizontal Articulating Arm Monitor Mount from ErgoTech Group is Now Available!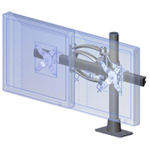 The Dual Horizontal Articulating Arm Monitor Mount is ideal when you require two monitors in a side by side configuration. This monitor mounting solution is perfect for computer workstations or environments with limited desk space. The articulating arms give computer users the ability to adjust monitor height and distance for optimum comfort and well being. When the monitors are not in use, the user can fold the articulating arms back toward the pole which provides greater work space. Desk clamp model available only.
For more information on the Dual Horizontal Articulating Arm Monitor Mount, see the LCD/CRT Arms category in our online catalog.
Desktop Stationary Book Holders and Portable Book Holders
Last month we briefly discussed book holders that were mobile and/or articulating. This month we'll take a look at ones that are stationary on the desktop, or portable and lightweight. These latter types of book holder are generally more popular, not only because they are relatively less expensive than the mobile or articulating types, but also because they are simply designed yet sufficient to meet the requirements of a book holder.
It may be recalled that a good book holder allows its user to read without having to support the book. When doing certain tasks, this greatly increases productivity without stressing your hands and arms. Most book holders have additional features, such as line guides, page fasteners, and height and angle adjustability. These features make the book holder more versatile, and hence more useful.
The Desktop Stationary Book Holder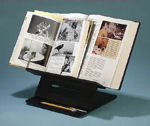 For most people, a desktop book holder that is stationary is enough to fulfill its purpose: holding a book open-faced at an easily viewable angle. For those who need to read while typing at a keyboard, this is ideal, whether the book holder is placed to the left or the right of the typist. A product like the Standard Atlas Book Holder from Dainoff Designs is one of the best examples of such a book holder. It is a solidly built stationary device that can hold your book (and its pages) in place; it can be raised and angled appropriately, and contains a line-guide for easier reading of the lines on a page. It is essentially like a document holder but can support more weight.
The Portable Book Holder
If you are a student who does a lot of notetaking on a laptop or at a desktop computer, having a book holder that is lightweight and portable can make studying so much easier. Transferring text from book to computer is made less cumbersome when you don't have to constantly lean over to read the next line in a book or hold down a page. It can come in handy at other times, too: for example, when you are cooking or doing something that requires careful attention to numbered instructions. At these times, your hands and arms are busy doing one thing, but you don't have the time or patience to stop, fiddle with your book of instructions, and resume what you were doing a minute before. A book holder can definitely help in such circumstances, especially if it's portable. An example of such a book holder is the StudyPod Ultra-Portable Book Holder from Genio, this month's featured product. In addition to being a lightweight and portable book holder, it also can store school supplies, like pens, pencils, calculators, etc. The applications for such book holders are only limited by your imagination.
Choosing the Right Book Holder
Here are some helpful hints to consider when deciding which kind of book holder is required for your special circumstances, using the products discussed in this month's newsletter: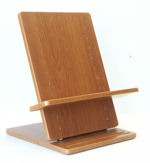 1. Standard Atlas Book Holder from Dainoff Designs: The Standard Atlas holds large, oversize books and documents with ease! The deep shelf comfortably accommodates three-ring binders, reference texts, manuals as well as short documents. The attractive finish, rounded, user-friendly edges and convenience pencil well make this book holder a professional addition to any office. Page stoppers ensure that books and binders stay open and pages don't turn unintentionally. The Atlas is made out of vinyl coated medium density fiberboard in wood grain (birch, cherry or mahogany) or black finishes.
2 StudyPod Ultra-Portable Book Holder from Genio: See this month's Featured Product.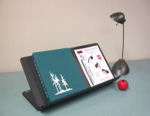 3. Ultra Large Book / Document Holder and Writing Surface from Foxbay: Looking for a document holder for ultra large documents and binders? The Ultra Large Book / Document Holder from Foxbay ensures your documents are where you need them. This product is ideal for architects, engineers, anyone who needs to access and refer to large double wide documents and books while working at the computer.

4. Atlas Ultra from Dainoff Designs: The Atlas Ultra is a portable, foldable version of the Standard. It has 2 fixed settings of 15° and 30° off the vertical, and is easily assembled and disassembled in 30 seconds. It is composed of Trespa or Formica.
SPECS
Weight Capacity: 25 lbs
Shelf Height Adjustment: 11.5"
Angle Adjustability: 15° to 30°, 2 increments
Footprint: 11" x 11"
Shelf: 14" x 3"
Easel: 11" x 14.5"
Weight: 5.5 lbs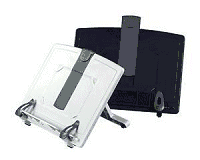 5. Book Stand / Copy Holder from AI Data: This is an economical product which is a book stand, copy holder and photo frame all in one. The non-skid stand has 3 viewing angle adjustments, and the sturdy plastic construction holds up to a 1.5" (3.8 cm) thick book. Two adjustable page holders keep your book open to the desired pages. The extendable document clip accomodates 8.5" x 11" papers, and the built-in picture frame holds a 4" x 6" picture. Available in Black or Light Gray.
The StudyPod Ultra-Portable Book Holder from Genio: Great for Students!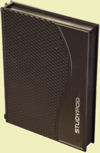 The STUDYPOD book holder from Genio is a versatile and portable book holder for everything from textbooks to sheet music to cookbooks. When closed, it's small enough to fit in a backpack or laptop bag, and can be used for storing pens, pencils, calculators and other essential items. It opens quickly and easily, providing ergonomic positioning superior to laying documents on a flat surface. The page holders are sturdy enough to keep hardcover textbooks open, and will securely anchor single sheets of paper as well.
Available in black, light blue, or bright pink
Holds books up to 2.25" thick, hardback or softcover
Organizes workspaces and study areas
For more information on the StudyPod, see the Book Holder category in our online catalog.
---
Subscribe to our new RSS feeds, which are updated regularly with the newest products added to our existing line of over 5000 products.
Add our newsletter to your RSS feed reader:
Add our new products to your RSS feed reader:
Check out our archived newsletters below:

September 2009
July 2009
June 2009
May 2009
April 2009
March 2009
February 2009
January 2009
December 2008
November 2008
October 2008
September 2008
August 2008
July 2008
June 2008
May 2008
April 2008
March 2008
February 2008