In this issue...
Featured New Products: Medium Reach Lateral LCD Arm on Euro Series Pole from IOP
Featured Promo: Ultra-Lite Laptop Laidback (Ver 3.0) from Laidback-R-We
New Products: The InsTand SuperStand Laptop Stand from Carliss Industries, the Left Handed Wireless 'A' Style Keyboard with Mouse from A4Tech
Ergonomic Workstation Tip of the Month: The Benefits of Adding Variety to your Work Routine
Upcoming Events: "Partners in Prevention 2010: Ontario Health & Safety Conference & Trade Show" and "ErgoCanada Toronto Road Show 2010" (May 3 - 5)
The InsTand SuperStand Laptop Stand from Carliss Industries is Now Available!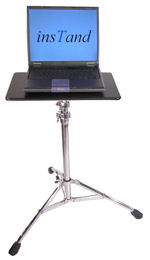 When you are more concerned about strength, durability, and serious stability, and less concerned about light weight and high portability, the InsTand SuperStand is just the ticket. The SuperStand is made of highly polished chrome plated steel. Much heavier than the regular InsTand, the SuperStand weighs in at 8 lbs. Strong and stable - use it outdoors, indoors, industrial settings, or hospitals. Use it at trade shows or in crowded places. Attractive enough to use on stage or in the courtroom.
Other configurations of the SuperStand include the SuperStand with Mouse Shelf (SS-MS) and SuperStand with Mouse Shelf and Hood (SS-MS-H). All SuperStand models have a 12.0" x 18.0" Polyethylene Tray for extra strength, and/or a swing-out Mouse Shelf and/or Hood to protect your laptop from the elements or excessive lighting.
All InsTands include a sturdy tripod, a tray which fits all laptops and a leatherette carry bag.
For more information on the InsTand SuperStand, see the Laptop Products category in our online catalog.
---
The Left Handed Wireless 'A' Style Keyboard with Mouse from A4Tech is Now Available!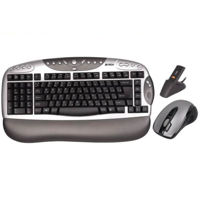 The G6 Saver Wireless Desktop from A4Tech is a keyboard and mouse combination that provides smooth wireless operation in busy environments with a range of about 10 meters. It has 19 Hot Keys for internet and multimedia functions, a partial mirrored left-hand numeric keypad built-in and detachable palm supports, and contains a specially designed ID code button, so that you may use mouse and keyboard with any A4Tech receiver. The mouse also has a patented 2X Button for Double Click (one click on the 2X Button will generate a Double Click), so that you can access files and programs easily (No driver necessary). Available in silver housing with black keys.
For more information on the Left Handed Wireless 'A' Style Keyboard with Mouse, see the One/Left Handed Keyboard category in our online catalog.
The Benefits of Adding Variety to your Work Routine
Constant repetitive activities are the bane of the average office worker's existence. Many repetitive tasks are often associated with the use of particular devices, like keyboards and mice, but some also have to do with being stationary for long periods of time, whether sitting in a chair or standing in front of a desk. Regardless of the repetitive activity, serious injuries may result over the long term if preventative measures are not taken before one begins to manifest the symptoms of repetitive stresses. Often called 'Repetitive Stress Injuries' or 'RSI', these injuries can significantly reduce one's ability to perform even casual tasks, aside from being quite painful or discomforting. In conjunction with good ergonomic equipment, there are a few common sense strategies for avoiding the hazards connected with constant repetitive tasks. These include:
1. Alternating between left and right hands when mousing. A frequent complaint of computer users is that, if they use a traditional mouse intensively, either their left or right hands will begin to experience fatigue or develop pains, sometimes radiating all the way up to the shoulder, neck, or back. The specific causes and symptons will vary, of course, but the general cause in these cases appears to be an over-worked hand and arm. In order to avoid or minimize such pains, use an ambidextrous mouse that you can alternate between different hands. For example, try using a touchpad on the right-hand side of your keyboard for part of the day, then switch positions to the left-hand side for the remainder of the day, so that the hands and arms on either side can adequately rest throughout the work period. You may find that this will reduce the severity of the pains in either hand and arm enough to allow you to function normally again. Just make sure that you do not simply switch hands to the non-dominant hand, which can cause the same problem in the other hand if there is no alternating between hands over regular intervals of time.
2. Alternating between hands and feet when mousing. If the pains in your hand are connected to the fingers, especially if your fingers are used mostly to click the buttons on your mouse, consider getting a footswitch to offload the stresses from your finger to your foot, so that you can now 'click' with your foot and move the cursor on your monitor screen with the mouse on your desk. This division of labour will help minimize any build up of stresses on the fingers that lead to painful clicking without overwhelming the muscles in the feet. With a good quality footswitch, you can program the foot pedals to do any kind of clicking action a mouse would normally do, such as a Left Click, Right Click, or Middle Click. Because footswitches are also ambidextrous, you may even alternate between different feet throughout the day to further reduce any build up of stresses. Variety of positioning and muscle activity is the key idea here.
3. Alternating between sitting and standing. Another long term complaint from computer users has to do with sitting or standing for long periods of time with little variation in positioning. For those fortunate enough to obtain one, the sit/stand workstation will remedy this particular complaint by allowing the user to sit at his or her desk for part of the day while standing at the same desk for another part of the day. Special ergonomic equipment is usually required for the set up, which transforms the standard workstation (desk and chair) into a more ergonomic one (the sit/stand workstation with height adjustable keyboard tray and arm with or without a height adjustable monitor arm). Another option are chairs that provide but do not restrict motion and allow one to vary one's position and posture as they perform different tasks at their workstation, such as the Swing Seat Pro.
4. Taking frequent breaks throughout the day. This last tip may seem the most obvious, but it should obviously work well in almost any situation, and so should be incorporated into every work routine. Not only does your body benefit from frequent resting periods, but so does your mind. Specific kinds of breaks include taking eye breaks from staring at your monitor screen for long periods of time. It helps to do this if you have access to a window that you can look through. Another kind of break involves stretching the muscles in your hands, arms, legs, and back. Get up and walk around the office for a few minutes, or combine this with a much deserved coffee break (the added benefit of coffee breaks is that they often necessitate frequent bathroom breaks). You will then go back to work a little more refreshed and focused.
Medium Reach Lateral LCD Arm on Euro Series Pole from IOP is now available!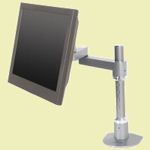 Experience the unique, practical and stylish EURO Series of LCD Arms. This LCD Arm features foldable arms which adjust vertically up and down a 12" pole (8" range of vertical adjustment). The arms can fold up to fit in about 3" of space and extend out 14". Various pole lengths and extensions are available or can be designed to fit any application you may be looking for. Unique cable management allows cables to be tucked under the forearm extensions. The Euro Series pole features eight notches at 1" increments which will provide a solid positive connection to position and secure the sliding adjustment clip. This clip prevents the arm extensions from sliding down, securely fastening the extension at the desired height.
Other features include:
Rotates 360° at three joints
Monitor tilter mechanism can tilt over 200°
Adjustable tension at joints - ideal for touch-screen applications
For more information on the Model 9114, see the LCD Arms - Other category in our online catalog.
Partners in Prevention 2010 : Ontario Health & Safety Conference & Trade Show (May 3 - 5) / ErgoCanada Toronto Road Show 2010 (May 4 - 5)
ErgoCanada is pleased to announce our Toronto Road Show at the International Center in Mississauga on May 4th to 5th, 2010. We hope you will take advantage of this opportunity to get 'hands on' with our products and talk to our product specialists face to face. The road show will provide one on one access to our Product Specialists including our Senior Product Specialist, Michael Craggs. Attendance is free but registration is required.
For more information or to receive a registration form to register for our Road Show, email us at roadshow@ergocanada.com
Subscribe to our new RSS feeds, which are updated regularly with the newest products added to our existing line of over 5000 products.
Add our newsletter to your RSS feed reader:
Add our new products to your RSS feed reader:
Check out our archived newsletters below: