In this issue...
Featured Product: Mousetrapper Advance
Featured Promo: Perific Wireless Dual Mouse
New Products: Matias Folding Keyboard, Sandio 3D Game O2
Ergonomic Workstation Tip of the Month: Preventing Overextension of the Arm
Ergonomic Product Tip of the Month: Freestyle Separated Keyboard
Customer Stories/Feedback
Matias Folding Keyboard is Now Available!
If you are looking for a full-size keyboard with numeric keypad that is still portable as a laptop accessory, then the Folding Keyboard from Matias is the keyboard you want. When opened it measures 18" wide, 5" deep, and 0.87" thick, and when closed only 10.08" wide, 5" deep, and 1.18" thick.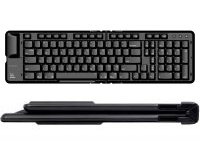 The keyswitches are high-quality dome switches (low travel); the Matias Fn key also allows quick and easy access to keys that normally require a long reach – Arrow keys, Page Up, Page Down, Delete, and others can now be typed right from home row, without moving your hand.
The keyboard also has the standard volume controls: Volume Up, Volume Down, and Mute – as well as function keys, page navigation keys, and cursor keys.
See the Folding Keyboard in our online catalog.
---
Sandio 3D Game O2 is Now Available!
While designed originally for 3-D gamers, this mouse has proven itself to be suprisingly effective for any 3-D Application including Google Earth and Microsoft Virtual Earth. It has 6 degrees of freedom (DOF) with 16 programmable keys, and the DPI settings can be adjusted on the fly from 400 DPI to 2000 DPI. It also comes with a removable ergonomic wrist support.

Because using 2-D input devices for 3-D software is cumbersome and inefficient, Sandio's 3D Game O2 was designed to enhance the user experience and increase productivity by providing a more powerful and intuitive interface than the ordinary 2-D mouse.
The operation of the 3D Game O2 is easy to use. Objects and camera views change in the same direction as simple finger gestures. The object or camera view moves forward when the user pushes, backward when they pull, and turns when they twist their fingers.
See the 3D Game O2 in our online catalog.
Preventing Overextension of the Arm
To reduce problems associated with overextension of the arm, particularly when reaching for mousing devices, consider eliminating devices that have unnecessary or unused parts. For example, if you do not enter a lot of data using a numeric keypad, replace your keyboard that has a numeric keypad on the right-hand side with one that has either no numeric keypad or an embedded one.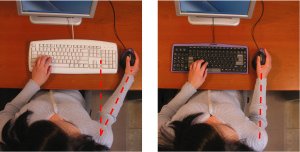 Compact keyboards are ideal in this case, since most are able to retain standard size keys while reducing the size of the keyboard by eliminating the numeric keypad altogether. With a compact keyboard you can now bring mousing peripherals like vertical mice or touchpads closer to you, thus reducing overextension of your arm.
If you are able to use your left-hand for typing in numbers, you may also consider getting a left-handed keyboard (with the numeric keypad on the left, as shown in the right photo); this will still free up the space on your right-hand side. Since numeric keypads can take almost 6"-8" of extra space, you can now use that space for mousing.
Using the Freestyle Separated Keyboard
Most adjustable keyboards allow splaying of the keyboard at a fixed point where the two halves are joined. The Freestyle Solo does the same, but it is also capable of having its two halves completely separated, joined only by a 8" cable. This extra extension allows you to keep your keyboard configured so that your hands and arms are parallel to your sides and in a more natural and comfortable position. This feature of the Freestyle is of great ergonomic value.
Use the 8" cable, therefore, to maximize the value of the Freestyle by placing the two halves of the keyboard in alignment with the side of your body, with your elbows at your sides (not bent outwards or forced inward due to rotation of the arms). When combined with the VIP accessory--which tents the keyboard halves from 10° to 15°--you will have one of the most versatile ergonomic keyboards available anywhere.
Mousetrapper Advance
As an alternative to traditional hand-held mice, the Mousetrapper Advance eliminates the need to reach for your pointing device by placing a steering pad (not a touchpad) immediately below your keyboard next to your hands.
Because it is designed to work with your keyboard, the Mousetrapper functions like an extension of your keyboard without overextending your arms. It has an easy to manoever steering pad along with five buttons to perform frequent actions like right click, left click, double click, etc. It also comes with wrist supports to cushion your wrists while keying and using the steering pad.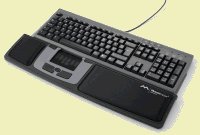 The unit comes in black housing with an attached flexible gray mat to place your keyboard on. It can be used with the Adeva Keyboard Riser accessory.
See the Mousetrapper Advance in our online catalog.
"I have been using the products and like them.

The book holder [Atlas Book Holder] is excellent. The pins for holding a book open are very useful, and the line guide is ingeniously simple.

I also like the mouse [Perfit Mouse Optical]. The location of the scroll wheel is much more convenient than on the top, as had been the case with my former mouse. The toggle switch is much easier to use."

--Ben K.


---
Add our newsletter to your RSS feed reader:
Add our new products to your RSS feed reader:
Check out our archived newsletters below:

February 2008