In this issue...
Featured Product: Transporter Mobile Computer Cart from CompX
Featured Promo: Mobile PC and LCD Carts from AIData
New Products: Ovation Low Profile Leverless Arms from CompX, Tilting Mobile Sit/Stand Workstation from Foxbay
Ergonomic Workstation Tip of the Month: Mobile Cart Workstations
Ergonomic Product Tip of the Month: Choosing a Mobile Cart Workstation
Upcoming Events: IAPA Conference/Toronto Road Show 2009
RSS Feeds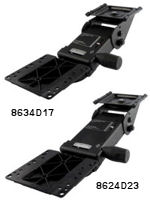 The New Ovation Low Profile Leverless Arms from CompX is Now Available!
This arm is very similar to the Bravo arm but uses the 'Dial a Tilt' large knob instead of a T-Pull Release to adjust the tilt. Its design is also 'low profile', allowing for more clearance for the legs and knees. The standard 360 degree swivel is available for side to side movement and a 17" (8634D17) or 23" (8624D23) storage track lets you get the arm out of your way when not in use. With the tilt angle indicator, the desired angle is easily reproduced. Accepts all standard trays.
For more information on the Ovation Low Profile Leverless Arms, see the Keyboard Arms category in our online catalog.
---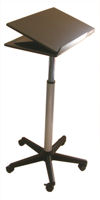 The Tilting Mobile Sit/Stand Workstation from Foxbay is Now Available!

Dimensions: 27.0" W x 16.0" D x 30.5" to 42.5" H
Base: 26.0"
Ledge Width: 0.5"
The Tilting Mobile Sit/Stand Workstation from Foxbay is extremely rugged, with lots of adjustability. The tilting top has five settings from 0° to 55°. The hinged ledge extends partially across the front of the work surface and can be flipped up when not in use.
For more information on the Tilting Mobile Sit/Stand Workstation from Foxbay, see the Sit/Stand Solutions category in our online catalog.
Mobile Cart Workstations
The modern workplace is constantly shifting and changing. The traditional workplace, with its permanent workstation and fixed location, is quickly being transformed into a more versatile and dynamic working environment where employees are forced to quickly adapt while on the go. This trend can already be seen in the modular-style keyboards and office equipment readily available in the marketplace. As a consequence of this development, the next natural step of innovation is the emergence of a truly mobile workstation, where all such equipment can be combined and mounted on a device that is equally mobile and modular. Hence the Mobile Cart Workstation.
The primary purpose of the Mobile Cart Workstation is to provide a device that is movable and that can also bring together all the necessary equipment for a functioning working environment. Whether you are working from home and want the ability to work around the house, or travel frequently to different locations to do your work, a mobile cart provides the ideal platform to help accomplish that goal. Many different models exist, depending on the kind of equipment you have, the durability of material desired, or the budget requirements of the home or office.
Typically, the mobile cart is set on caster wheels for easy movement, and has platforms designed specifically to accommodate keyboards, mice, CPUs, laptops, and/or monitors (either CRT or LCD). There are usually mechanisms in addition to adjust for different height requirements, and routing systems designed to manage all the cables and wires connected to the equipment being used. Mobile carts are useful accessories which help extend your working environment so that your workstation can adjust to the increasingly dynamic needs of the modern workplace. As the modern worker is constantly 'on the move', it only makes sense to allow their computing solution to keep up with them.
Choosing a Mobile Cart Workstation
One of the most important questions to ask yourself when deciding which mobile cart to purchase is "in what environment is it to be used?" This question will largely determine your choice of cart, since your decision should be mostly based on the durability of the materials used to make the unit: generally speaking, for office, hospital or any other similiar environment, you want the most durable cart possible, due to potentially higher usage rates over longer periods of time by a variety of different individuals. At home, usage may be more intermittant and equipment handled like other pieces of furniture, and so the issue of wear and tear is not as acute.
Also, higher end models, made of better material, usually have the greatest amount of features and accessories, which makes them better suited again to non-home environments where multiple users need to get the maximum functionality out of a device for it to cover all the potential applications that may arise. The two varieties of mobile carts thus described are well covered by the two product lines of mobile carts featured in this month's newsletter (featured product and featured promo). Here is a recap of the differences between them: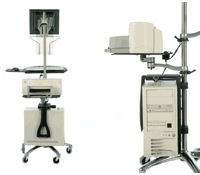 1. Transporter Mobile Computer Cart from CompX. This high-end mobile cart is constructed of an all-metal frame to give it the strength and durability to meet the requirements of demanding users. It also comes with standard attachments that can be variously arranged on the base unit, with add-ons possible if needed. Hence the Transporter Cart is a truly modular device, capable of being adapted to your specific needs. For example, if you require a tray other than the standard one, another can be substituted; or if two monitors need to be mounted, another monitor mount can be added. This modularity makes this cart the ideal Mobile Cart Workstation. It is especially useful in cases where change of location is frequent, like in a medical office or laboratory. In addition, the 27" aluminum base with five 3" high-quality casters (2 lockable) ensure a smooth movement of the cart over any hard surface or commercial carpet.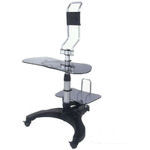 2. Mobile PC and LCD Carts by AIData. These two different lines of mobile carts are essentially what-you-see-is-what-you-get workstations, with the mobility added via caster wheels on the base, making it transportable to any room around the house, for example. The user has the choice of material out of which the trays are made, etc. Lacking the various add-ons of the Transporter Cart, however, limits the possible applications of these mobile carts - but for home use this is not such a limiting factor as, for example, pricing. The stylish design also allows the cart to easily blend in with any home or office decor, making it a highly useful piece of furniture/equipment. It is easily storable too. Also, the economical 2.0" casters on the AIData carts are suitable for hard surfaces.
Transporter Mobile Computer Cart from CompX is Now Available!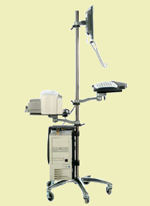 The Transporter cart offers a space-saving solution for mobile PC use. It accepts all the components of your workstation, including keyboard, mouse, LCD display, CPU, laptop, printer, and power supplies. Its modular design increases efficiency and adjustability, and facilitates sit/stand use. The Transporter's construction is rugged yet lightweight, suitable for a variety of environments, from hospital and lab use to office or home. Components of the cart include:
60" Stainless steel pole with monitor mount (75 mm and 100 mm VESA compliant), with tilt and swivel
27" Aluminum base with five 3" casters (2 lockable)
Keyboard extension arm
Lockable CPU holder
Peripheral shelf (for laptop or printer)
Power and cable management
Catch-all tray
Harmony keyboard tray: Mousing surface can be positioned on the right or left, and rotates forward up to 20°. Anti-skid pads hold keyboard in place. 23" wide (32" wide with mousing surface extended) x 12.3" deep. Gel-like foam snap-in palm rest. Tray is black and composed of ABS plastic.
For more information on the Transporter Mobile Computer Cart, see the Mobile Carts category in our online catalog.
IAPA Conference (April 20-22)/Toronto Road Show 2009 (April 22-23)
ErgoCanada is pleased to announce our Toronto Road Show at the Metro Toronto Convention Center on April 22nd and 23rd, 2009. We hope you will take advantage of this opportunity to get 'hands on' with our products and talk to our product specialists face to face. The road show will feature a presentation by our president Michael Craggs followed by a product exposition. As at our previous road shows, we will have some of our manufacturers at the event including SmartMotion Technologies, Contour Design, Innovative Office Products and Kinesis. Attendance is free but registration is required.

For more information go to our events page, or to receive an registration form, email us at roadshow@ergocanada.com
Subscribe to our new RSS feeds, which are updated regularly with the newest products added to our existing line of over 5000 products.
Add our newsletter to your RSS feed reader:
Add our new products to your RSS feed reader:
Check out our archived newsletters below:

January 2009
December 2008
November 2008
October 2008
September 2008
August 2008
July 2008
June 2008
May 2008
April 2008
March 2008
February 2008