Happy New Year from ErgoCanada! We hope 2009 will be a prosperous year for all...
In this issue...
Featured Product: Slant Boards by Health By Design
Featured Promo: U-Slope (large and small) by Ergonomic Cafe
New Products: Microdesk Compact by Good Use Company
Ergonomic Workstation Tip of the Month: Working with Writing Surfaces
Ergonomic Product Tip of the Month: Finding the 'Write' Writing Surface
Upcoming Events: IAPA Conference/Toronto Road Show 2009
RSS Feeds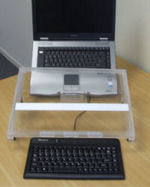 The Compact Microdesk from the Good Use Company is Now Available!
The Compact Microdesk from the Good Use Company is a narrower version of the Standard Microdesk, designed for use with compact keyboards. Its smaller footprint saves additional space on any workstation, while its newer design combines better legs and feet (more rubbery for better traction) with greater aesthetic appeal. Also, there are now two sizes of lip on which to rest documents, depending on thickness desired, and each Microdesk comes with the usual line guide.
For more information on the Compact Microdesk, see the Document Holders category in our online catalog.
Working with Writing Surfaces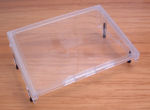 Sometimes writing on your desk is either impractical or impossible - there may be limited or no space available at your desk, or the document you wish to write on is also the document you must refer to as you work at your computer. In the former case, what is needed is a writing surface which effectively increases the amount of available desk space. In the latter case, your document will ideally be placed on a document holder specifically designed to be positioned inline with your field of vision. However, not all document holders are designed to be written on, since many lack the stability and range of angle adjustment appropriate for writing. What is needed in these situations, then, is a writing surface that is solid and stable, within easy reach while positioned in your line of sight, and appropriately angled to support the document you wish to write on.
Products such as the Compact Microdesk from the Good Use Company or the U Slope Document Holder by Ergonomic Cafe are good examples of the variety of useful writing surfaces available today. Both can also be used as document holders. In the case of the Compact Microdesk, the design is space-saving, while still providing enough space beneath the writing surface to use or store a compact keyboard. This makes using such a writing surface ergonomic and efficient, since it improves both good posture and comfort level, and at the same time increases efficiency and prevents twisting of the neck and head during use. In the case of the U Slope, the design offers a greater range of adjustment but because of the opacity of the surface, does not permit the use of the keyboard under the writing surface.
In some cases, it is more important to have a stable, sturdy and portable writing surface with multiple angle settings than it is to save space. For students, writers, teachers or artists, a product like the Desktop Slant Board is ideal, since it is primarily designed for those needing an angled surface to better read and write on documents, even while standing; typing on a keyboard is of secondary importance. Those doing mostly data entry at a computer, however, may prefer the Compact Microdesk, or the U Slope Document Holder, both of which can be used inline with the monitor and have storage space beneath to keep a keyboard (the Compact Microdesk is even made of clear plastic, so that you can view your keys as you type). All these devices still have all the benefits a regular document holder possesses - in addition to being stable writing surfaces.
Overall, writing surfaces are an important part of a well-designed and ergonomic workstation, providing for economical use of space while helping minimizing awkward and stressful postures related to neck and body twisting or forward leaning. Given the variety of products available, once you identify your unique needs and requirements, there is usually a product which will provide you with the all the features you need.
Finding the 'Write' Writing Surface
Before choosing a writing surface that is best suited for your situation, you must first determine what your most critial issue is. For example, will you be writing on the same document you will be reading from? Will you be typing intermittently with a keyboard? How portable does the writing surface have to be (e.g., the product will be placed on a moving cart or moved from room to room)? Your answers to these questions will determine which product is most likely to satisfy your requirements. Here are a list of some of the main types of writing surfaces available and the advantages of each: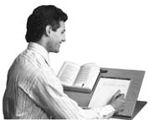 1. Stationary basic writing surface for writing only (not concurrent with typing). Example: the Desktop Slant Board from Health by Design (featured product for this month). If your main task is simply to write on a surface and you require angled adjustment, this is the ideal product. The Slant Board's specially designed ledge allows documents, including paper or thin notebooks, to be position on the surface, even at high angles (up to 70°), while writing is unobstructed by the ledge's tapered ledge on the right and left sides. The unit sits flat on a table or desk and is made from birch plywood, giving you an all-round stable writing surface.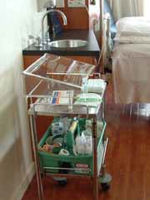 2. Portable writing surface for space limited applications (with or without using a keyboard). Example: the Compact Microdesk from Good Use Company (new product for this month). This is one of the best all-round document holders/writing surfaces available. Good Use Company's latest entry in their Microdesk line saves even more space due to its smaller footprint while retaining all the advantages of the standard Microdesk - the clear plastic body (allowing you to see underneath the surface), adjustable leg height (with angles up to 25°), and raised surface area. You can use it inline with your keyboard and monitor, moving it to and fro, depending on the task at hand, or you can use it wherever portability is needed, for example, on cluttered medical carts (see picture) for recording routine information on charts, etc.
3. Dedicated document holder/writing surface for computer-related data entry (especially office use). Example: the U Slope from Ergonomic Cafe (featured promo for this month). Sometimes you just need a place to write in between typing on a keyboard, and since you do this often enough, you need an ergonomically designed device to help you do that easily and effectively. The U Slope provides a great answer: made of sturdy metal with multiple angle adjustments (up to 40°), it can easily be positioned between the keyboard and monitor while typing but can just as easily be moved over the keyboard when you need to write on a document. It can save space, time, effort, and best of all, pain and suffering from constantly turning, twisting or bending to find a place to write what you need to. There is even a mini version of the U Slope for really space restrictive workstations.
In the end, finding the 'write' ergonomic product for you comes down to getting the product to work for you, so that you don't have to waste valuable time being unproductive, whether it's by working more efficiently or preventing lost time due to injury or pain.
The Adjustable Writing Slant Board from Health by Design is Now Available!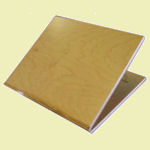 Traditional document holders don't work well as writing surfaces because the ledge that supports the documents gets in the way of the user's forearm during writing. The Adjustable Writing Slant Board serves as both a document holder and a writing surface because of the design of the support ledge - it's wider in the middle and tapered toward the outside edges. This freestanding slant board is very rugged with lots of adjustability.
Easily adjustable; angle range from 0° to 70°
Hand-crafted from strong Baltic Birch plywood
Non-glare, low-contrast polyurethane finish
Sets up in seconds almost anywhere and folds up flat for travel and compact storage
Smooth writing surface is easy on your forearm and wrist
Non-skid, non-mar rubber feet protects desktop
For more information on the Adjustable Writing Slant Board, see the Writing Solutions category in our online catalog.
IAPA Conference (April 20-22)/Toronto Road Show 2009 (April 22-23)
ErgoCanada is pleased to announce our Toronto Road Show at the Metro Toronto Convention Center on April 22nd and 23rd, 2009. We hope you will take advantage of this opportunity to get 'hands on' with our products and talk to our product specialists face to face. The road show will feature a presentation by our president Michael Craggs followed by a product exposition. As at our previous road shows, we will have some of our manufacturers at the event including Bakker Elkhuizen, Contour Design, Innovative Office Products and Kinesis. Attendance is free but registration is appreciated.

For more information go to our events page, or to receive an registration form, email us at roadshow@ergocanada.com
Subscribe to our new RSS feeds, which are updated regularly with the newest products added to our existing line of over 5000 products.
Add our newsletter to your RSS feed reader:
Add our new products to your RSS feed reader:
Check out our archived newsletters below:

December 2008
November 2008
October 2008
September 2008
August 2008
July 2008
June 2008
May 2008
April 2008
March 2008
February 2008