In this issue...
Featured Product: New Accessories for Freestyle Solo by Kinesis: Ascent and V3
Featured Promo: Mac Mini by DSI
New Products: Cricket Laptop Stand by Innovative Office Products, SmartFit Notebook Docking Station by Kensington
Ergonomic Workstation Tip of the Month: Posture-Related Injuries
Ergonomic Product Tip of the Month: How to Use a Laptop Stand for Maximum Benefit
News: Our New Office/Warehouse
Upcoming Events: ACE Conference and Ottawa/Gatineau Road Show - October 2008
RSS Feeds
Cricket Laptop Stand from IOP is Now Available!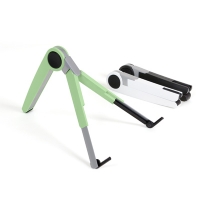 The Cricket Laptop Stand from IOP is a flexible, height-adjustable stand which allows you to raise your screen to an ergonomic viewing height. Add a full-size keyboard and mouse to recreate the comfort and productivity of a desktop computer, or use Cricket to share your screen for presentations and meetings. Cricket also enhances airflow around your computer, keeping it cool. Best of all, Cricket is extremely portable — it collapses to fit in your pocket or your computer bag. In addition, Cricket adjusts to support laptops of all widths, and supports weights up to 12 pounds. You can even use Cricket with tablet PC's, by raising the screen to a more comfortable writing and viewing angle.
Ideal for business travelers, students, and anyone who uses a laptop computer.
See the Cricket Laptop Stand in our online catalog.
---
SmartFit Notebook Docking Station with Stand from Kensington is Now Available!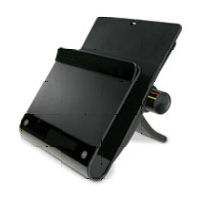 Slip your notebook into the SmartFit stand, plug in a single USB 2.0 cable, and you're ready to enjoy the ergonomics and productivity of a desktop. The built-in copyholder positions documents in line with the screen for easier viewing, while the screen itself can be height adjusted for optimal viewing comfort. There are five spaced USB 2.0 ports which allow you to connect multiple USB devices such as printer, external hard drive, or iPod, and the 10/100 Ethernet port maintains your Internet connection, avoiding wireless hangups or hassles. In addition, the USB ports are always-on, even when your notebook is turned off or disconnected, so that you can still charge your iPod or Smartphone overnight.
See the SmartFit Laptop Stand in our online catalog.
Posture-Related Injuries (Part 1)
Posture-related injuries can be the most difficult to identify, as the body is a system, and quite versatile in adjusting to adverse situations. A pain in your lower back may be caused by a phone which is placed at an uncomfortable distance, or an individual may change their workstation to work at an odd angle due to lighting conditions in their office. These guidelines will help to identify potential sources of injury and help ensure you are arranging your workstation (and your work habits) to maximize comfort and productivity and reduce the chance of injury.
I. Work Surface Considerations
The primary work surface (where the keyboard and mouse are located) should be just above the legs of the user and have a negative inclination. This should result in forearms (and hands) which are parallel to the ground or slightly negative while working. It is very important to have the keyboard and the mouse on the same work surface at the same height - as there is only one comfortable height when seated in an relaxed posture.
II. Monitor Considerations
Your monitor should be directly in front of you when typing with the top of viewing surface of the monitor at or below eye level. The monitor should be located at least 12" (preferably 18") and up to 36" from your eyes; if uncertain, place it a distance equal to the size of the monitor (i.e. if you are using a 17" monitor, place it at least 17" from your eyes when normally seated). Screen glare can be prevented by adjusting the screen angle and orientation of your workstation so that you are parallel to sources of light. If this is not possible, try using softer color schemes on your monitor or purchase an anti-glare screen.
Next Month: Location of Documents and Seating Considerations
How to Use a Laptop Stand for Maximum Benefit
Laptop stands can greatly improve the ergonomics of using laptops, since laptops have inherent design flaws that will eventually translate into potential work injures if unaddressed over time. Avoid such potential injuries by following these guidelines when using a laptop with a laptop stand:
Ergonomic Guidelines
1. Adjust the armrest of your chair to at least the height of table and keyboard, so that your shoulders are relaxed and slack, and the angle at your elbow is at least 90 degrees.
2. Select a viewing distance to the screen between 19.6"- 35.4", according the screen and character size.
3. Place the screen at an orientation which is tangential (i.e. 90 degrees when compared to the line of sight).
4. Place the top of the screen at eye height or just below (no more than 2" below).
5. When working with documents, use an inline document holder between the screen and keyboard.
Freestyle Solo Ascent and V3 Accessories by Kinesis
The new Freestyle Ascent accessory kit provides two multi-angle tenting modules which attach to the underside of the keying modules, plus a linking plate which may be used to connect the two keying modules if desired. Tenting angles may be independently set for each keying module in the range of 20° to 90°, in 10° increments. Left/right separation is limited only by the length of the keyboard's linking cable. The standard 8" separation is adequate for most users, but the 20" linking cable is recommended for greater flexibility.
The Freestyle V3 accessory attaches easily to the base of the Solo Keyboard allowing quick and reproducible slope settings of 5, 10 and 15 degrees without the use of integrated palm supports. Features include:
Left and Right V3 V-Lifters: the V3 V-lifter quickly and easily alternates the slope of the keyboard from 5, 10 & 15 degrees.
Unlike the VIP the V3 does not require the installation of palm supports prior to use.
Use with or without the pivot/tether. The pivot tether connects the two keying modules of the Solo keyboard together. Disconnect the pivot tether if greater separation is required.
Provides a highly stable typing platform with no "bounce".
See the Ascent or V3 accessory in our online catalog.
Our New Office/Warehouse Complex
Welcome to the new and greatly expanded home of ErgoCanada (Micwil Group of Companies). Our new facility is 16,000 sq ft with warehouse space to easily stock and meet customer demands for up to a 3 month period at a time. As well, there is a spacious showroom on site to display and demonstrate some of the many products we carry, both to residents and visitors of Saskatoon and area (please call ahead for an appointment to visit the showroom). Most important, a larger, two storey office area has allowed us to increase staffing levels by 50% and ensure that a customer service or product specialist is readily available to discuss the products that will best meet your needs. Quality of service is critical to us and we look forward to serving your ergonomic product requirements even better in the future.
ErgoCanada is pleased to announce our upcoming Ottawa / Gatineau Road Show Event at the Chateau Cartier on October 8th and 9th, 2008. We hope you will take advantage of this opportunity to get 'hands on' with our products and talk to our product specialists about any questions you have. We will have over 150 products on display, including the new Kinesis FreeStyle Convertible keyboard, the Deluxe LCD Monitor Mount with Internal Cable Management, Mousetrapper Advance Central Pointing Device and the Ergonomic Articulating Forearm Support with Gel Pads. Attendance is free.
For more information go to our events page, or to receive an RSVP form, email us at roadshow@ergocanada.com


Subscribe to our new RSS feeds, which are updated regularly with the newest products added to our existing line of over 5000 products.
Add our newsletter to your RSS feed reader:
Add our new products to your RSS feed reader:
Check out our archived newsletters below:

July 2008
June 2008
May 2008
April 2008
March 2008
February 2008