In this issue...
Featured Product: The Switch Mouse by Humanscale
Featured Promo: Cozy Products from Indus-Tool
New Products: McCarty's Sacro-Ease Products, Slimblade Media Notebook Set by Kensington
Ergonomic Workstation Tip of the Month: Posture-Related Injuries Part 2 (cont'd)
Ergonomic Product Tip of the Month: How to Use an Ergonomic Mouse
News: Our New Office/Warehouse Grand Opening
Upcoming Events: ACE Conference and Ottawa/Gatineau Road Show - October 2008
RSS Feeds
McCarty's Sacro-Ease Products are Now Available!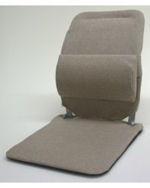 The McCarty's Sacro-Ease Seat Supports are an effective way to 'rebuild' an unsupportive seat by providing additional support under your hips and back. Made with an adjustable (bendable) steel frame, rubber strap supports, and soft fabric, the Sacro-Ease products come in a variety of models that are designed to suit your needs, whether you prefer no foam in the seat or back, or 1" polyfoam or memory foam in the back. Most models come with an adjustable lumbar pad that can be completely removed, and all fit most bucket seats and office chairs. Foldable and easy to transport.
See the McCarty's Sacro-Ease Products in our online catalog.
---
Slimblade Media Notebook Set from Kensington is Now Available!
The SlimBlade Media Notebook Set from Kensington is a wireless keyboard (with hotkeys), mouse (with Scroll Ball that provides 360 degrees scrolling), and magnetically attachable numeric keypad. The keyboard's keys are regular size, with arrow keys 3/4 size and function keys 1/2 size, while the keypad itself can be positioned either on the left- or right-handed side. The 2.5 GHz wireless device provides a range of up to 30 feet.
See the Slimblade Media Notebook Set in our online catalog.
Posture-Related Injuries (Part 2, cont'd from last month)
Posture-related injuries can be the most difficult to identify, as the body is a system, and quite versatile in adjusting to adverse situations. A pain in your lower back may be caused by a phone which is placed at an uncomfortable distance, or an individual may change their workstation to work at an odd angle due to lighting conditions in their office. These guidelines will help to identify potential sources of injury and help ensure you are arranging your workstation (and your work habits) to maximize comfort and productivity and reduce the chance of injury.
III. Location of Documents (Document Holders)
Reaching for documents and twisting your body to review documents can lead to overextension, posture problems, and eyestrain. Use an 'in-line' document holder which is located under your monitor and fills the space between the bottom of the monitor and the top of your keyboard. Now any documents you have to reach are just to the left or right of your 'comfort zone' and your eyes have a vertical corridor to work in with the monitor at the top, active documents in the middle and keyboard and mouse at the bottom.
IV. Seating Considerations
Adjust the height of your chair to achieve proper posture - your thighs from the body should be close to parallel to the floor. Adjust the backrest of your chair to provide support for the lower back. Proper posture can avoid strain on muscles and early fatigue and is achieved by 90 degree or higher angles at the hips and knees with feet supported by an angled footrest (the top of your thigh where it meets your body should be about 1" higher than the top of your thigh at the knee, and your ankle should be slightly further under the desk than your knee). Your chair should have three finger-widths of space behind your knees when seated properly with your back against the backrest to facilitate blood flow and prevent cramping. Arm rests (either on the chair or mounted on the worksurface) are useful as they will take the load from the weight of your arms off your shoulders, removing a source of bad posture to relieve the strain on shoulder and back muscles from supporting your arm weight.
How to Use an Ergonomic Mouse
Ergonomic mice come in many shapes and sizes. In fact, it's their shape and size which make them ergonomic, as opposed to ambidextrous mice, since their shape and size conform to your hand in its natural positioning, thus preventing injuries associated with unnatural hand and arm movements. Also, a good ergonomic mouse should be one which you don't need to grip to use properly.
Examples of ergonomic mice include Contour Design's Perfit Mouse Optical (PMO) and the new Humanscale Switch Mouse, our Featured Product of the Month.
Tips for Using an Ergonomic Mouse Properly:
1. Choose the right size: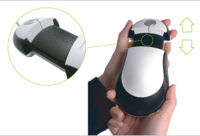 Ergonomic mice come in either multiple sizes (from small to extra large, like the PMO, in right or left handed versions) or accommodate different hand lengths by extending the mouse itself via some mechanism (like the Switch Mouse on the right). Follow the sizing guidelines of the manufacturer, but generally speaking, go with a slightly larger length if in doubt. It is important to get the right sized mouse to take full advantage of the unique shaping and angling of the mouse. If the mouse is too small, you will want to grip the mouse to move it; if it is too large, it will be too difficult both to click the buttons and to move the mouse without excessive nudging.
2. Let gravity do the 'gripping': If the mouse chosen is the right size, the gravity of your hand resting on the mouse should be enough to allow you to move the mouse easily without having to grip it. In the case of the PMO, the pit of your palm should be resting on top of the hump at the back of the mouse. With this ideal positioning of the hand on the mouse, gripping should be minimize or eliminated altogether.
3. Keep 'clicking' fingers overhanging buttons: Once the hand is in the correct position on the mouse (assuming you have chosen the proper size), your 'clicking' fingers should now be slightly overhanging the buttons, that is, you should not be clicking with the tips of your fingers but with the pads of the fingers. By doing so, there is less force required to click the buttons, and your finger can still rest comfortably between clicks, fully outstretched and relaxed.
If you employ these three tips when using an ergonomic mouse, the mouse will give you all the benefits of good ergonomic design, including reducing pronation of the wrist when the hand is resting on the mouse at a 15° or 20° angle.
The Switch Mouse from Humanscale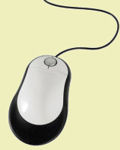 The Switch Mouse integrates two major innovations — a V-shaped base, which puts the wrist and forearm into a slightly more natural pronation for left or right-handed users, and length-of-mouse adjustability to provide some adjustment to the length (but not the width) of the mouse. Other features include a built-in palm support to prevent contact stress on the wrist, four-way scrolling dish to minimize repetitive motion, and programmable buttons for user-specified functions (note drivers are not yet provided or available and there is no ETA of when they will be available).
See the Switch Mouse in our online catalog.
Come Celebrate Our Grand Opening!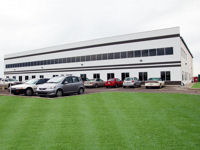 On Saturday, November 1st we are holding a Grand Opening Event. Please join us as we celebrate our recent move into our new warehouse facility. At the opening you will be able to view our most popular products in our newly designed, 1400 sq. ft showroom. You will also have the opportunity to meet our staff and win great prizes! Refreshments will be provided for this event so come hungry!
The Grand Opening Event takes place at 1:00 pm at our new location: 102 Wheeler Street, Saskatoon, SK (across from Silverwood Golf Course)

For more information please call us at (866) 335-3746 or send an email to events@ergocanada.com.
We hope to see you there!
ErgoCanada is pleased to announce our upcoming Ottawa / Gatineau Road Show Event at the Chateau Cartier on October 8th and 9th, 2008. We hope you will take advantage of this opportunity to get 'hands on' with our products and talk to our product specialists about any questions you have. We will have over 150 products on display, including the new Kinesis FreeStyle Convertible keyboard, the Deluxe LCD Monitor Mount with Internal Cable Management, Mousetrapper Advance Central Pointing Device and the Ergonomic Articulating Forearm Support with Gel Pads. Attendance is free.
For more information go to our events page, or to receive an RSVP form, email us at roadshow@ergocanada.com


Subscribe to our new RSS feeds, which are updated regularly with the newest products added to our existing line of over 5000 products.
Add our newsletter to your RSS feed reader:
Add our new products to your RSS feed reader:
Check out our archived newsletters below:

August 2008
July 2008
June 2008
May 2008
April 2008
March 2008
February 2008