Duopod LCD Dual Monitor Mount by IOP is Now Available!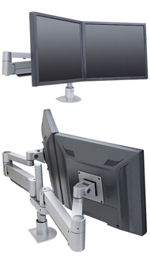 With the Duopod LCD Mount you can mount two flat panel monitors in any position you desire. The Duopod's articulating gas arms provide complete freedom of motion. The monitors float in place - simply nudge to the desired position. Position each monitor independently of the other, and quickly adjust pivot and placement as your needs change.
The Duopod mount saves valuable desk space by mounting both monitors to a single pole. Combine with an IOP slatwall or slatrail mount to completely free desk space.
Set arm height at any desired position along the included 12" pole. The Duopod can be configured for one user with two monitors, or can even serve two users working opposite one another.
For more information on the Duopod LCD Dual Monitor Mount, see the LCD/CRT Arms category in our online catalog.
The Advantages of a Separate Numeric Keypad
Traditional keyboards have always had a numeric keypad positioned on the right hand side of the keyboard's layout. This is because in the early days of computers, the keyboard was often used to enter large amounts of numeric data, and the numeric keypad functioned much like a pocket calculator does today in terms of data entry. This layout was fixed before the popularity of computer mice, at a time when ergonomics had little impact on design issues. With the passage of time, however, and with more workers using computers as part of their job, including the use of mouse-intensive applications, work-related injuries began to increase dramatically. It became apparent that the numeric keypad had become - quite literally - an obstacle when using a mouse to navigate through an application: users began experiencing shoulder or arm pain from having to reach over the numeric keypad to get to their mousing device. Since many computer jobs no longer required the entry of large amounts of numeric data by hand, the numeric keypad just got in the way, or at least at those times when entering numbers was not needed.
From an ergonomic standpoint, the extra distance required to reach for a mousing device is enough to cause serious injury in many people. To reduce this risk of injury, the most obvious solution is to remove the numeric keypad on the keyboard altogether, as less than 3% of users regularly require one. If one does need a numeric keypad, it should be a standalone unit that can be removed or placed elsewhere when not needed. The numeric keypad is thus really an optional device, and should be treated as such.
Even for those who use the numeric keypad often, getting a separate numeric keypad makes sense, since many standalone numeric keypads also have higher quality keyswitches that can withstand more finger pounding and abuse. Being separate discrete devices they can also be used (or reused) with other keyboards. If one device breaks down, the other need not be replaced. In terms of ergonomics (and economics), modularity in keyboard design is better than getting a fixed, single unit.
Overall, there are too many advantages to getting a separate numeric keypad than adhering to the classic keyboard that has one built-in. The only disadvantage for some might be the addition of an extra cable and connector to one's computer setup; however, many numeric keypads now have a hub included in the device, thereby saving an extra port for other uses. Although it may initially cost a bit more to get a separate numeric keypad, over the long term it will more than pay for itself. The cost of not doing so will not just be economic, but also could impact your well-being, comfort, and by extension, your productivity. It is therefore an investment worth paying for.
Types of Keypads and their Applications
There are two broad categories of keypads that are worth considering to supplement your computer setup: (1) Numeric keypads based on traditional keyboards and (2) programmable keypads. Which type you will need will depend, of course, on what kinds of work you do with your computer. Here is a brief outline of the two categories and why and when you should get either.
Separate Numeric Keypads
As mentioned earlier in our Workstation Tips of the Month, a separate numeric keypad is advised especially when one uses both a numeric keypad and a mousing device on a regular basis. Like a traditional keyboard, the layout on a separate numeric keypad is designed for quick entry of numeric data via an input device. In terms of layout, therefore, it is no different from what has been on the traditional keyboard for decades. Yet because it is also a separate device from your keyboard, it can be moved to the side (or put on the left hand side of the keyboard), so that you can then bring your mousing device closer to you when needed. As such the key benefit of a separate numeric keypad is its moveability/modularity. Examples of such devices are:
1.Low Force Tactile Numeric Keypad from Kinesis: Tactile, low-force keypad with extra editing keys and two USB ports (i.e. built-in USB hub).
The Kinesis keypad utilizes the same low-force and tactile key switch used in their Contoured keyboards - adding to both comfort and operating life.
The Kinesis keypad allows users flexibility in positioning the keypad to the right or left of the keyboard. It's perfect for reduced footprint keyboards like the Freestyle or in conjunction with your laptop. Use it in any situation where a stand alone keypad is preferred. The 2-port USB hub enables you to easily connect other input devices such as mice without having to access USB ports on your computer.
2.Smart USB Keypad with Tab from DSI: This keypad is for those who want to complete their work with ease. It has a low profile, so it's both portable and lightweight. It also has an extra tab button, ergonomically placed, making maneuvering in a spreadsheet that much faster, and comes with either a 3' or 6' integrated cable.
Programmable Keypads
More advanced keypads allow you to program different keystroke combinations or 'macros' into the keys themselves. This is a great way to save typing repetitive combinations of characters or keystrokes. For example, if you have to frequently copy and paste text, each of these functions can be assigned to any key on the keypad, making the keypad customizable to your particular tasks. Since the keypad itself is a separate device from your keyboard, it, too, can be set to one side when you no longer need it or prefer to use that space for mousing instead. Programmable keypads can thus save you both time and space when working on usual tasks. Examples of such devices are:
1.XKeys Desktop (20 Key) from PI Engineering: Whether you are a Graphic Designer, an Architect, a Web Manager, or a Two-finger Typist, proficiency in your software requires rapid input. Keyboard Macros and Hot Keys offer the shortest path to action, and the X-keys provides a clearly labeled, physical location for these complex or redundant functions so you don't have to think about them. The X-keys lets you focus on the project instead of the process.
There are two models of the USB version. The XD-293 come with pre-printed legends for commonly assigned tasks (on the bottom of the plastic keycaps), but these legends can be covered with the included blank labels to allow you to customize as needed. The XD-03 has blank plastic keycaps (i.e. nothing initially pre-printed on the units).
2.XKeys Stick from PI Engineering: Add 30 programmable function keys to your keyboard (16 single keys with 2 layers of programming capability using one key to toggle) with the XKeys Stick. Like the XKeys Desktop, the X-keys Stick provides a clearly labeled, physical location for these complex or redundant functions so you don't have to think about them. The X-keys lets you focus on the project instead of the process.
3.XKeys USB 84 Key Keypad from PI Engineering: The XKeys 84 Keys Keyboard from PI Engineering is a completely customizable keyboard, whose 84 keys in a grid layout can be individually programmed into your hard drive using MacroWorks II software to perform any key stroke action, combination or single, including macros, or any mouse action. It also includes an 8 position security key switch (not programmable) and power and function LED indicators.