In this issue...
Featured Product: Standard Atlas Book Holder by Dainoff by Design
Featured Promo: FlexDesk by Bakker-Elkuizen
New Products: Executive Filter, Universal Optical Mouse Bridge
Ergonomic Workstation Tip of the Month: Proper Monitor Height
Ergonomic Product Tip of the Month: Deluxe LCD Monitor Mount from IOP
News: Redesigned Products Menu - What do you think?
Upcoming Events: ACE Conference and Ottawa/Gatineau Road Show - October 2008
RSS Feeds
The Executive Filter from 3M is Now Available!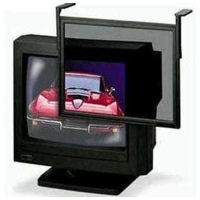 These new filters feature a two-sided anti-reflective coating that helps monitors perform better. Proven to provide exceptional glare reduction and contrast enhancement, the 3M Executive filters help to reduce symptoms of Computer Vision Syndrome (CVS) in a variety of lighting conditions. The stylish "Midnight" black frame co-ordinates with black LCD and CRT displays, while protecting valuable monitor screens from scratches and damage.
The enhanced contrast of the Executive filter makes text clear through its glass screen, which allows 45% light transmission and reduces glare up to 99%. It is available for 16" to 21" monitors and is also assembly free.
See the Executive Filter in our online catalog.
---
Universal Optical Mouse Bridge from Source One is Now Available!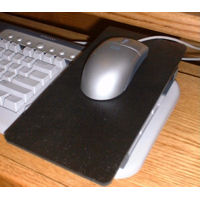 Designed to cover the numeric keypad of a keyboard, the Universal Mouse Bridge can be used with keyboards of varying sizes and shapes by adjusting the position of the detachable bars (attached by hook and loop tape) located underneath the bridge itself. In addition, it has a longer mousing area than most other mouse bridges, is made of durable hard plastic, and can even be used as an ordinary mouse pad with bars removed.
See the Universal Optical Mouse Bridge in our online catalog.
What is the Proper Monitor Height?
There are several competing schools of thought on this issue, however, we at ErgoCanada recommend that the top of the viewable screen of your monitor should be at the same approximate height as your eyes. Since most of the time you are focused in the middle of your monitor, you will be looking slightly downward at a 10° - 15° angle, on average.
And the monitor should be slightly tilted back (about 10° - 15°) so that when you are looking at the center of the screen your line of sight is perpendicular to the surface of the screen. At the very most the bottom of the viewable area of your monitor should never be more than 25° - 30° below your line of sight.
The biggest problem with locating the monitor at a lower elevation is that it will result in your eyes looking downward. When you look down, even slightly, your head will have an automatic tendency to tilt downward, putting strain on the neck muscles. If you maintain that position, over time you will start bend your entire body over and lean forward subconsciously to relieve the tension on your neck. This will put you in a poor posture which can lead to increased strain on other parts of your body (a back support on a chair can't help you if you are leaning forward in your chair).
A normal relaxed position for your head is anywhere from completely vertical to as much as 10° looking downward - any 'tilt' larger than that can lead to the issues noted above. While you may have a tendency to start leaning forward when looking as the taskbar at the bottom of the screen, that will correct itself when you need to target on a menu at the top of the screen if your monitor is at the correct height. However, when even the top of the viewable area is below your 'straight ahead' viewing angle there is nothing to correct the subconcious tendency to curl into a 'hunched' position which is anything but ergonomic.
Deluxe LCD Monitor Mount from IOP
Bifocals can significantly affect how your monitor should be positioned. If only the lower portion of your glasses will allow you to see the monitor in focus, then obviously the monitor should be located at a height that will allow you to maintain your head at a comfortable vertical position which does not go beyond 90° (i.e. bending your head back).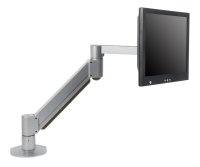 This will likely mean placing the monitor at a lower elevation than for someone with contacts or normal vision. An excellent option is to put an LCD monitor on an articulating arm and adjust it at a 45° angle so that the bottom of the monitor is just above the keyboard (likely hanging slightly over the front edge of the desk). Arms such as IOP's Deluxe LCD Monitor Mount with Internal Cable Management will permit this type of adjustment.
You can find out more about the Deluxe LCD Monitor Mount from IOP online here.
Standard Atlas Book Holder by Dainoff by Design
The Standard Atlas holds large, oversize books and documents with ease! The deep shelf comfortably accommodates three-ring binders, reference texts, manuals as well as short documents.
The attractive finish, rounded, user-friendly edges and convenience pencil well make this book holder a professional addition to any office.
Page stoppers and the included Spring Loaded Clip ensure that books and binders stay open and pages don't turn unintentionally. The Atlas is made out of vinyl coated medium density fiberboard in wood grain (birch, cherry or mahogany) or black finishes.


See the Standard Atlas Book Holder in our online catalog.
We have recently redesigned our products menu to make finding products easier and faster. You can compare this new menu with the old one (which is still found at this link) and tell us your thoughts about any further improvements you think can be made. The new menu should download a lot faster and be easier to read, since the categories are now more prominently displayed with product page links in bold white text (no image links). Hopefully, these two changes (no images and bolder text) will make a difference when it comes to quickly finding the product you need. In any case, if you still can't find the product you are looking for, just call us toll-free at 1-866-335-3746 (ERGO) and we will be happy to assist you.
Send any feedback or comments to:
ErgoCanada is pleased to announce our upcoming Ottawa / Gatineau Road Show Event at the Chateau Cartier on October 8th and 9th, 2008. We hope you will take advantage of this opportunity to get 'hands on' with our products and talk to our product specialists about any questions you have. We will have over 150 products on display, including the new Kinesis FreeStyle Convertible keyboard, the Deluxe LCD Monitor Mount with Internal Cable Management, Mousetrapper Advance Central Pointing Device and the Ergonomic Articulating Forearm Support with Gel Pads. Attendance is free.
For more information go to our events page, or to receive an RSVP form, email us at roadshow@ergocanada.com


Subscribe to our new RSS feeds, which are updated regularly with the newest products added to our existing line of over 5000 products.
Add our newsletter to your RSS feed reader:
Add our new products to your RSS feed reader:
Check out our archived newsletters below:

May 2008
April 2008
March 2008
February 2008