In this issue...
Featured Product: Contour Mouse Optical (CMO) from Contour Design
Featured Promo: Hoverstop Mouse by Hoverstop
New Products: Momentum and Ovation Sit-Stand Keyboard Arms by Waterloo
Ergonomic Workstation Tip of the Month: Eliminating Static Grip Force with Pointing Devices
Ergonomic Product Tip of the Month: Pointing Devices That Reduce or Eliminate Static Grip Force
News: Our New Office/Warehouse Grand Opening - Last Reminder!
RSS Feeds
Momentum and Ovation Sit-Stand Keyboard Arms from Waterloo are Now Available!
These latest Sit-Stand Arms from Waterloo are an improved keyboard arm

(replacing the old 7659D23 model) with increased height range from 8.25" above track to 5.88" below track. The reduced neck length allows users to be closer to the desk in seated and standing positions and also allows for full storage with most keyboard trays on a 21.75" track instead of 23". The new design has increased stability and improved accuracy of tilt position, along with a redesigned Lift-N-Lock mechanism for easy adjustments to height of keyboard tray.
For more information on the Momentum and Ovation Sit-Stand Keyboard Arms, see the Sit-Stand category in our online catalog.
---
FlexDesk 640 from Bakker Elkhuizen is Now Available!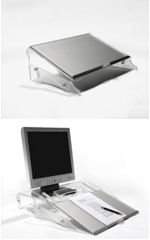 The new FlexDesk 640 from Bakker Elkhuizen is the only adjustable writing surface on the market which you can pull a full 7.0" towards you when you want to use it and then simply slide it back up to store it when not in use. The sturdy clear acrylic design is stable and does not require any cumbersome 'feet' when the surface is extended, making no demands on your worksurface. The easel is a sturdy heavy-duty acrylic that ensures a solid smooth writing surface. A thin hard foam strip prevents documents from sliding off the surface. Finally, there is a removable storage container hidden beneath the writing surface and a heavy magnet 'lock' that will keep the easel firmly in place when positioned upward.
For more information on the FlexDesk 640, see the Writing Solutions category in our online catalog.
Eliminating Static Grip Force in Pointing Devices
Conventional mice design requires that you 'grip' or 'pinch' the sides of the mouse in order to be able to accurately move the mouse to achieve functional, precise cursor movement. If an individual uses their mouse for only brief periods without intensity, this temporary non-neutral posture and muscle exertion probably will not cause any long-term hand condition. One cause for casual users to develop problems is that, even during periods of inactivity, people forget to take their hand off the mouse, which means they continue to exert this 'static grip force' even when they are not actively targeting the cursor or clicking the buttons. Of course, for any user who intensively uses the mouse for even an hour a day, or users who regularly perform mousing activities throughout the day, the cumulative pinching force necessary to grip a mouse can lead to serious hand problems. In extreme cases this can lead to a 'death grip' on the mouse, i.e. the situation where the static grip behaviour has become so entrenched that the user is now maintaining an excessive grip on the mouse out of habit. This will also often lead to a user's involuntary gripping or pinching of the fingers, even when not using a mouse or pointing device. Clearly, static grip force is a problem with pointing devices that needs to be reduced or eliminated entirely for users to prevent the risk of injury over the long term.
Several kinds of pointing devices have been designed with the goal of eliminating static grip force. Some pointing devices are designed to be 'gripped' more by gravity than by pinching force; others eliminate any kind of 'gripping' by being used in a stationary position while the user manipulates the pointing mechanism by fingers alone (e.g. a touchpad). While designs may vary from device to device, the underlying idea is to eliminate pinching force altogether. Constant pinching force overdevelops the flexor muscles in the hand, and unless there is something to balance this constant exertion (i.e. by using the extensor muscles to 'open up' the hand an equal amount), this static grip force must be minimized if the user is to avoid developing conditions like 'death grip'. In today's workplace, it is no longer acceptable to ignore such basic things as a user's comfort and health - particularly when ignoring these signs adversely affects not only the well-being of the individual but also their morale and performance.
Pointing Devices That Reduce or Eliminate Static Grip Force
Ergonomic pointing devices that seek to reduce or eliminate static grip use alternative designs to achieve that goal. Here is a list of some of the most common and effective ones available and how they work:
1. Contour Mouse Optical (or Perfit Mouse Optical) from Contour Design. This mouse is designed to fit your hand, sculpted so that your hand fits comfortably on top of the mouse with the weight of your hand providing enough downward force to effectively 'grip' the mouse. When you move your hand, therefore, the mouse should easily move with it. The result is a gripless mouse that moves seamlessly with your natural hand movements. The new Contour Mouse Optical, the Featured Product of the Month, in addition has a rubberized textured (in black) that helps prevent your hand from sliding off as you move your hand, thus further enhancing your 'grip' of the mouse.
2. Smart Cat Pro Touchpad from Cirque. All touchpads, including this, the 'premier' touchpad on the maket, are stationary, and as such no gripping force at all is required to move your cursor, since your fingers simply glide over the surface of the touchpad. A touchpad is therefore an ideal pointing device that completely eliminates static grip force.
3. Air02Bic Mouse (or Quill Mouse) from Designer Appliances. Static grip is eliminated in the Air02Bic Mouse by creating a 'vehicle' for your hand to use in order to move it.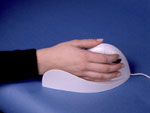 This 'vehicle', the mound and gully aspect to the design of the Air02Bic, forms the Gondola region of the Air02Bic. By placing your hand into the Gondola of the Air02Bic, you make the grip-less biomechanical connection between you and your computer.
The Gondola also makes moving The Air02Bic almost effortless (especially when combined with the lightweight high impact manufacturing materials) as both the hand and the wrist are supported in whatever direction you move the Air02Bic. The mouse therefore provides a surface to push with the bulk of your hand so there is no need to drag the mouse, otherwise requiring you to 'grip' or use your fingers or thumbs.
4. Hoverstop Mouse from Hoverstop. The Hoverstop Mouse helps prevent bad gripping habits from forming in the first place. It does so by detecting if your hand is on the mouse, monitoring if you are actually using it (clicking, scrolling). If you are not using it for more than 10 seconds, it will vibrate softly to remind you to take your hand away and relax. This will give you many (micro)breaks per hour. Meanwhile, you continue to work normally (thinking, reading), without being disturbed. If you need the mouse again, just pick it up to resume work. The Hoverstop mouse is this month's Featured Promo (see side column).
The NEW CMO from Contour Design is Now Available!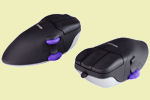 ErgoCanada.com is excited to announce the introduction of a new version of the proven Perfit Mouse Optical design from Contour Design - the Contour Mouse Optical! The Contour Mouse Optical (CMO) and Classic Plus (CMO5) are the latest extensions of the original Contour Mouse Product Line. The Product Line, previously referred to as the Perfit (the contraction of Perfect and Fit) Mouse has evolved since it was first introduced in 1995.
The patented CMO and CMO5 units offer the following distinct features:
Durable, rubberized surfaces for easier gripping.
Available in black and silver to complement the décor of most modern computer desktops.
This new version retains the proven design of the molded-to-fit-the-hand-perfectly contoured shape for which the Contour mouse is internationally known and for which it has received multiple awards for ergonomic integrity. Like the tried-and-true PMO and PMO5 before them, the CMO and CMO5 is available in three (3) left-handed (Small, Medium and Large) and four (4) right-handed sizes (Small, Medium, Large and Extra-Large).
For more information on the Contour Mouse Optical, see the Mouse - Ergonomic category in our online catalog.
Come Celebrate Our Grand Opening on November 1!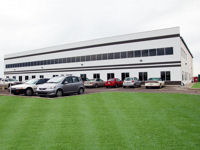 Just a last minute reminder: On Saturday, November 1st we are holding a Grand Opening Event. Please join us as we celebrate our recent move into our new warehouse facility. At the opening you will be able to view our most popular products in our newly designed, 1400 sq. ft showroom. You will also have the opportunity to meet our staff and win great prizes! Refreshments will be provided for this event so come hungry!
The Grand Opening Event takes place at 1:00 pm at our new location: 102 Wheeler Street, Saskatoon, SK (across from Silverwood Golf Course).
Throughout November ErgoCanada will be hosting free Product Information Sessions. These sessions last for approximately 2 hours with the first hour being a presentation by Michael Craggs (where he discusses the risk factors in the workplace and how ergonomic products are designed to address them). Afterwards you are free to wander our showroom and examine the products yourself with an understanding of what they are designed to accomplish. On hand will be product specialists to answer any questions you may have. Each session will follow the same format and are ideal for the OH & S committee of your company, as you will learn how to increase productivity while reducing repetitive strain injuries.


For more information please call us at (866) 335-3746 or send an email to events@ergocanada.com.
We hope to see you there!
Subscribe to our new RSS feeds, which are updated regularly with the newest products added to our existing line of over 5000 products.
Add our newsletter to your RSS feed reader:
Add our new products to your RSS feed reader:
Check out our archived newsletters below:

October 2008
September 2008
August 2008
July 2008
June 2008
May 2008
April 2008
March 2008
February 2008