In this issue...
Featured Product: RollerMouse Free from Contour Design
Featured Promo: All trackballs from Clearly Superior Technologies
New Products: HandshoeMouse from Hippus NV
Ergonomic Workstation Tip of the Month: A Solution to Overreaching for the Mouse
Ergonomic Product Tip of the Month: Central Pointing Devices
Upcoming Events: IAPA Conference/Toronto Road Show 2009
RSS Feeds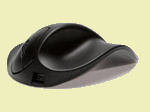 The HandshoeMouse from Hippus NV is Now Available!
The HandshoeMouse from Hippus is designed to fit your hand like a glove - no gripping, no pinching, no stretching fingers. The unique shape of the mouse allows your hand and fingers to relax while mousing, helping to reduce the risk of RSI. The design also provides full support of the hand and wrist, and comes in three sizes for the right hand. The recommended usage for this mouse is on your desk with your forearm fully supported by the desk or arm support of your chair.
There are two buttons with scroll wheel (three on the large model). The optical tracking is 800 DPI and no software is required - it works plug and play. Available in wireless (black only; USB cable charges battery) or wired (black or white models).
For more information on the HandshoeMouse from Hippus, see the Ergonomic Mice category in our online catalog.
A Solution to Overreaching for the Mouse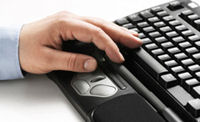 Almost all computer programs now require that people use the mouse more than the keyboard in an attempt to make them 'easier' to use. Invariably, prolonged use of this mousing device will add undue stress to the body, particularly the fingers, hand, wrist, arm, shoulder, and neck. Of these stresses, overreaching for the mouse is one of the biggest culprits, because it requires you to exert your arm muscles over a greater distance than, say, using your fingers while typing. The further the reach, the greater the potential for injury.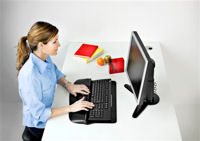 Several different remedies have been promoted to minimize or even eliminate the problem of overrreaching for the mousing device. One suggestion is to reduce the size of the keyboard, especially on the side with the mouse, so that the hand's distance from the mouse is reduced. This is an effective strategy. However, a potentially better strategy is to eliminate reaching entirely by placing the mousing device neither to the left nor right of the keyboard, but immediately in front of it, between the keyboard and user.
Devices designed for this purpose are called 'central pointing devices' and ideally locate cursor control just below the space bar on the keyboard. The key benefit of this strategy is the elimination of reaching either to the left or right of the keyboard. The user needs to simply draw the hands inward a little past the space bar on the keyboard to activate the mouse. What is great about this solution is that most central pointing devices also eliminate 'gripping' the mouse - another potential hazard when mousing over longer periods of time. Needless to say, they're a fantastic space-saver as well! (This makes them ideal for use on keyboard trays, provided the tray has sufficient depth.)
Central Pointing Devices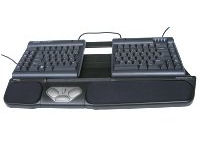 There are many central pointing devices available on the market today. The most popular employ either a rollerbar mechanism for cursor control or a steering pad mechanism similar to a touchpad. They usually have some way of elevating the keyboard or providing a stable surface on which it can rest. Because of the straight edge of the design nearest the keyboard, however, central pointing devices will best work with flat keyboards that are rectangular in shape; keyboards that have a built-in palm support or have a curved front will not work with these devices. Keyboards that tent can be used with a central pointing device in some circumstances.
This month ErgoCanada will add a new central pointing device to the well-known RollerMouse line of products from Contour Design, the RollerMouse Free (see Featured Product). Here is a listing of the most common devices we currently carry: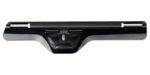 1. RollerMouse Free from Contour Design. As mentioned in the Featured Products section above, the new RollerMouse Free uses a 'dowel' control bar, or rollerbar, to control cursor movement. It has a smaller footprint and even lower profile than the earlier RollerMouse Pro and features a longer rollerbar - an improvement in design that will allow users to employ the device in smaller workstations or mobile setups, as well as allowing the hands to work further apart (reducing ulnar deviation) while still accessing the rollerbar with ease.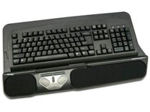 2. RollerMouse Pro from Contour Design. Until the launch of the RollerMouse Free, the Pro was the latest version of the RollerMouse line that incorporated its well-known 'rollerbar' technology into its low profile design. It includes palm supports, making typing and mousing more comfortable and less painful, and five programmable buttons, plus a scroll wheel and clickable rollerbar. Drivers are not required, except for reprogramming the buttons. Overall, an excellent central pointing device and one of the most popular.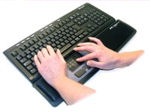 3. Mousetrapper Advance by Mousetrapper. The Mousetrapper Advance has all the essential features of an ideal central pointing device like the RollerMouse Pro or Free, but has a steering pad mechanism instead of a rollerbar. Some may prefer the relative stability and tactile feedback of the steering pad, which in many ways resembles a touchpad in shape and function, except that your fingers actually move a treadmill-like belt instead of moving over a static surface. It is easy to operate, however, and can move the cursor in all directions. The design also incorporates palm supports and five programmable buttons. There is no scroll wheel - instead, sliding one's fingers along the right edge of the steering pad allows one to scroll; the steering pad itself is clickable. All button functions, including the steering wheel, can be reprogrammed with a downloadable driver.
If you have any questions concerning any of these central pointing devices or their applicability to your particular situation, please contact one of our customer service specialists at our toll-free number: 1 (866) 335-3746 (ERGO).
The

NEW

RollerMouse Free from Contour Design is Now Available!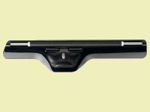 The RollerMouse Free by Contour Design is an alternative mousing device that uses a rollerbar to control cursor movement. It has been designed to fit immediately adjacent to your keyboard or laptop. This places the mousing controls just a few inches below the home keys, keeping your hands within a small work area, eliminating large reaching motions. This central pointing device eliminates the need for a traditional mouse. You control your cursor by rolling a 'dowel' control bar with your fingertips with very little effort, both up and down and side to side simultaneously.
The Free comes with detachable keyboard 'risers' to lift up thinner keyboards to an appropriate height (3 height settings), if required. Also, palm supports are provided and are removeable.

Key Features:
15.0" W x 3.5" D x 1.125" H (without pads)
17.25" W x 4.5" D x 1.25" H (with pads)
Optical resolution: 800 DPI
Number of buttons: 7 (including scroll wheel and rollerbar)
Type of button: tactile
Cursor control: 10.375" wide cylindrical bar
Embedded left click in cursor control: yes

For more information on the RollerMouse Free, see the Alternative Mice category in our online catalog.
IAPA Conference (April 20-22)/Toronto Road Show 2009 (April 22-23)
ErgoCanada is pleased to announce our Toronto Road Show at the Metro Toronto Convention Center on April 22nd and 23rd, 2009. We hope you will take advantage of this opportunity to get 'hands on' with our products and talk to our product specialists face to face. The road show will feature a presentation by our president Michael Craggs followed by a product exposition. As at our previous road shows, we will have some of our manufacturers at the event including SmartMotion Technologies, Contour Design, Innovative Office Products and Kinesis. Attendance is free but registration is required.

For more information go to our events page, or to receive an registration form, email us at roadshow@ergocanada.com
Subscribe to our new RSS feeds, which are updated regularly with the newest products added to our existing line of over 5000 products.
Add our newsletter to your RSS feed reader:
Add our new products to your RSS feed reader:
Check out our archived newsletters below:

February 2009
January 2009
December 2008
November 2008
October 2008
September 2008
August 2008
July 2008
June 2008
May 2008
April 2008
March 2008
February 2008