In this issue...
Featured Product: FreeStyle Solo for Mac Separated Keyboard
Featured Promo: Cozy Legs by Indus Tool
New Products: Compact Combo Backlit Water Resistant Keyboard with Touchpad, Cupertino Mousepad
Ergonomic Workstation Tip of the Month: Minimizing Finger Fatigue
Ergonomic Product Tip of the Month: Evoluent Mouse Friendly Left Handed Compact Keyboard
Customer Feedback/Comments
RSS Feeds
Compact Combo Backlit Water Resistant Keyboard with Touchpad by Sejin is Now Available!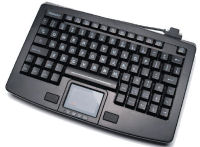 This keyboard with backlighting (for night-time use) was designed to endure extremely harsh or wet environments while maintaining excellent functionality. The keyboard can be used in industrial environments, hospitals, libraries, marine and boating applications...in fact anywhere where dust and liquids are present. The keyboard features splash-proof water sealing Turquoise EL backlighting (5 illumination levels) for night-time visibility with five brightness levels and a highly sensitive integrated touchpad.
There is a detachable coiled cable with thumb screws for easy transport and servicing / cleaning. Mounting screws on bottom of keyboard case allow tray mount in emergency, police and service vehicles. The Fn Key provides Secondary Legend Flexibility. Durable Legends will not wear out (permanent legends with molded resin).
See the Compact Combo Backlit Water Resistant Keyboard with Touchpad in our online catalog.
---
Cupertino Mousepad by Allsop is Now Available!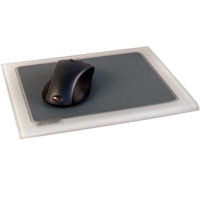 The Cupertino Mousepad from Allsop is a stylish mousepad made of clear, smooth plastic with rounded/tapered edges and a white underside, making it an ideal complement to similarly styled equipment, especially an iMac or iPod. The mousing surface area is grey in color and slightly textured, allowing you to use it with both rollerball and optical mice. The underside also has Sure-Grip padding, so that the mousepad won't slide or shift while using it.
See the Cupertino Mousepad in our online catalog.
Minimizing Finger Fatigue
Finger fatigue can be caused by a variety of factors. Excessive gripping of the mouse can tense up the fingers, even when you are not physically moving the mouse. This can lead to what is known as 'death grip'. Another source of finger fatigue comes from - not surprisingly - clicking buttons on the mouse. Fatigue can set in even when you aren't clicking. By just hovering your finger above a button in anticipation of the next 'click', you can tense your finger's muscles to the point of fatigue.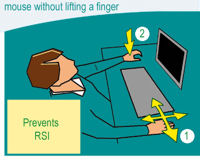 This kind of posture can lead to what is known as 'trigger finger'. Both these conditions are a result of the traditional design of the mouse as both a clicking and cursor control device. These risk factors can be eliminated (or greatly reduced) by changing the way you interact with the mouse.
The most natural solution is to decouple the clicking function from the cursor controlling function of the standard mouse. This basically means using the traditional mouse just for cursor movement and moving the clicking function to another device, like a footswitch or a mouse that clicks only with the palm or whole hand, similar to the Ergoclick. By clicking with your foot or the palm of your other hand, you no longer strain your fingers excessively but distribute the ergonomic workload over different parts of your body that are underutilized. This will in turn greatly reduce fatigue in your fingers without overstressing other parts of your body.
Evoluent Mouse Friendly Left Handed Compact Keyboard
Most standard keyboards have a built-in numeric keypad on the right-hand side of the keyboard. The problem with this positioning, especially for right-handed users, is that it makes reaching for your mouse on the right-hand side more difficult, since the distance will be greater than if there were no numeric keypad at all.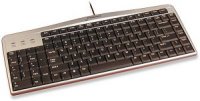 The Evoluent Mouse Friendly Left Handed Compact Keyboard solves this problem of overreaching by placing the numeric keypad on the left-hand side, thus freeing up the space on the right side so that your mousing device can be brought closer to you. The difference in distance from you to your mouse can make quite a bit of difference in terms of comfort, not to mention speed of mousing.
To take advantage of the ergonomic design of this keyboard, then, make sure that the alpha section of the keyboard (the letters) is located where it would normally be on a right-handed keyboard, so that the numeric keypad extends out on the left-hand side. Now you can put your mouse where the numeric keypad normally used to be. Your arm should now be almost perpendicular to the keyboard, or slightly angled outward, instead of twisted to the far right and overextended. This position is definitely more 'friendly' than having to reach out over the numeric keypad to get to your mouse.
An even better ergonomic solution would be to get a separate or discrete numeric keypad, and place it on either side of the keyboard, or wherever it feels best to you. In this way, you can easily optimize your workspace layout.
You can find out more about the Evoluent Mouse Friendly Left Handed Compact Keyboard online here.
FreeStyle Solo for Mac Separated Keyboard
This keyboard is likely one of the most versatile keyboards available on the market today. The FreeStyle Solo for Mac is the base model (the keyboard itself) which offers infinitely variable split and separation of up to 8".
By adding the VIP accessory (FreeStyle Mac VIP) to any of the above base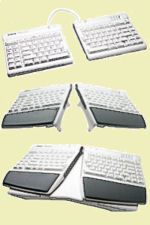 keyboards you can create variable lateral slope (10° or 15° 'tenting') and removable palm rests (and matching palm pads). The Incline accessory (FreeStyle Mac Incline) offers a fixed base of 10° and legended variable splay up to 30°. If you require a discrete numeric keypad, we recommend the Low Force Tactile Numeric Keypad by Kinesis (AC210MUSB-WHT), with built in USB 2 port hub. For more information see our Keypads category.


See the FreeStyle Solo for Mac Separated Keyboard in our online catalog.
"Yesterday, I received delivery of an Evoluent Mouse Friendly Compact Keyboard. I'm impressed with this product, and it seems to be the solution to various concerns. I am aging with a lifelong disability, cerebral palsy. I use only my right hand, and, as I get older (63), it's important to conserve energy and motion. This keyboard builds on my present capacity by: a) providing a shorter distance between the keyboard and trackball, b) granting ease of access with the Internet; using my thumb on the function keys along right side of keyboard and fingers for the trackball, and c) making number pad and spread sheet programs easily accessed with my thumb. The key sensitivity compensates for agility problems related to spastic and athetoid movements and the keyboard itself is sturdy and does not slip on my desk
All in all, I am grateful for this product..."
- James Hunsberger
Send us your feedback or comments to:
Subscribe to our new RSS feeds, which are updated regularly with the newest products added to our existing line of over 5000 products.
Add our newsletter to your RSS feed reader:
Add our new products to your RSS feed reader:
Check out our archived newsletters below:

April 2008
March 2008
February 2008