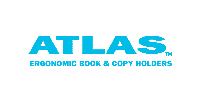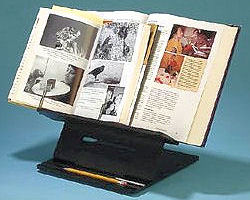 The Atlas Ultra is the newest product in the Atlas line:
It has all the height adjustability of the Atlas Standard, but only two angles of adjustability.
Like the Atlas Standard, the Ultra has a small 11" x 11" footprint, but will hold documents that are much larger and wider.
It's great for students, readers, academics, clergy, accountants, secretaries, data entry workers, writers, editors — almost anyone!
It's more portable, with fewer parts. Simple, sleek and strong!

No matter how tall or short you are, the Atlas Ultra book holder can be adjusted to display your documents at a comfortable viewing height, with two viewing angles.
This means you do not have to bend your neck for hours, thereby avoiding neck and shoulder pain.
To lessen eye fatigue, position the holder at the same distance from your eyes as your computer monitor, if possible.
Adjustable viewing height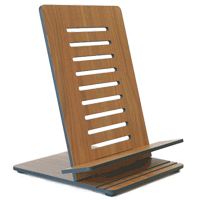 Adjustable viewing angle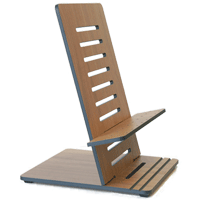 Colors & finishes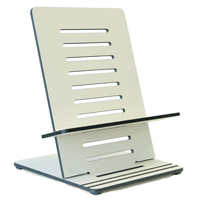 Ring binder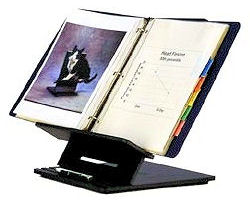 Dictionary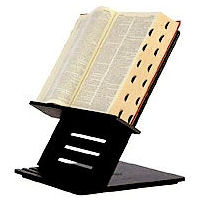 Envelope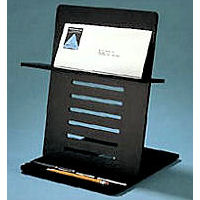 Optional line guide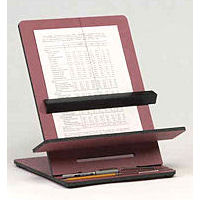 Components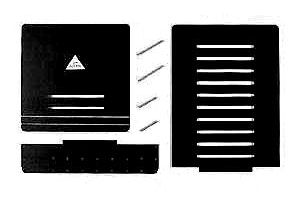 Adjustable Viewing Height
It's very important to adjust the height of your reading material to keep your neck straight, since constantly bending your neck to look down on your work surface often causes neck and shoulder pain. Document height can be adjusted by moving the support shelf up and down the holder, by inserting the tab on the rear edge of the shelf into any slot on the back. This simple adjustment takes only seconds to make and allows up to 11.25" of height adjustability.
Adjustable Viewing Angle
The back can be positioned at two viewing angles: 15° or 30° from vertical. This quick and easy adjustment allows convenient viewing for working and reading.
Versatile
The 14" wide, 3" deep shelf holds all kinds of documents — large, awkward, small, bound, loose-leaf, single sheet, fan-fold, stapled, etc. The page stoppers ensure three-ring binders and thick manuals are no problem!
Pencil Well
The handy pencil well provides convenient storage for page stoppers, pens and pencils.
Sturdy
The attractive yet heavy-duty construction allows the holder to support documents weighing over 25 lbs, so it will accommodate your dictionary, reference book, medical, law and other text books.
Durable
The manufacturer has been making book holders since 1994, so you can count on many years of reading comfort!
Available in 4 Colours
Click on colour below for picture of product in that finish:
Warranty
All products are guaranteed for one year against defects in material and workmanship. This warranty is limited to replacment or repair of the book holder.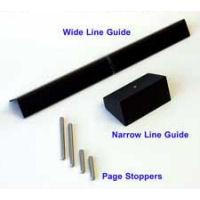 Page Stoppers
Keep the pages of your book or the sheets of your copy open at the page you want, for hands-free reading or working. The Atlas Ultra book holder always comes with page stoppers.
Reversible Line Guide
This optional accessory works with books, thick documents, and computer paper. Allows you to select the wide side for viewing across a page, or the narrow side for columns of text. The supporting cord of this counter-balanced device is nearly transparent. This is the only line guide on the market that can be easily used with thick documents or books.
Height adjustment
10 positions with 1.25" spacing for a total adjustment range of 11.25"
Angle adjustment
2 positions for a total adjustment range of 15°: 15°, 30°
(from vertical, ±1°)
Footprint
11" x 11"
Overall height
13.25" to 14.75"
Back
11" wide x 14.5" high x 0.3" thick (will hold documents larger than back dimensions)
Shelf
14" wide x 3" deep x 0.3" thick, 22 page stopper positions (will hold documents larger than shelf dimensions)
Shelf attachment to back
Tongue & groove
Weight
5.5 lbs
Capacity
Over 25 lbs
Materials
Trespa or Formica
Page stoppers
Metal dowels, 3/16" diameter, 2 short (1.25"-1.5") & 2 long (2.5")
Copyright © 2008 Micwil Group of Companies Ltd. — All Rights Reserved