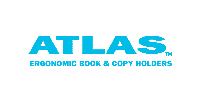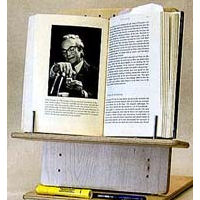 Atlas book bolders are available in three models:
This is the model that will do the most for most people. It's great for students, readers, academics, clergy, accountants, secretaries, data entry workers, writers, editors — almost anyone! It's often recommended for persons with physical limitations.
This model is the newest product in the Atlas line. It has all the height adjustability of the Atlas Standard, but only two angles of adjustability. Like the Atlas Standard, the Ultra only needs an 11" x 11" footprint.
This model is specifically designed for library cataloging, in cooperation with a major U.S. library. Its deeper shelf reflects the fact that cataloging requires primarily the first few pages of a book. The Atlas-LC is also useful for other extraordinarily heavy-duty tasks.
Feature
Atlas Standard
Atlas Ultra
Atlas-LC
Product picture
Synopsis
The most versatile for the most people, with full adjustability
More portable with fewer parts, but less angle adjustability
Extremely heavy duty, designed for professional library use
Weight capacity
Over 25 lbs
Height adjustment
10 positions over 11.25"
Angle adjustment
49° over 11 positions
15° or 30°
51° over 11 positions
Footprint
11" x 11"
12" wide x 11" deep
Overall height
8.25" to 15.25"
13.25 to 14.5"
8" to 15"
Back
11" wide x 14.5" high x 0.5" thick
12" wide x 14.5" high x 0.5" thick
Shelf picture
Shelf
14.5" wide x 3" deep x 0.5" thick
14" wide x 3" deep x 0.5" thick
14.5" wide x 4" deep x 0.5" thick
Shelf page stopper positions
26
22
32
Page stoppers
Metal dowels, 3/16" diameter, 2 short (1.25"-1.5") & 2 long (2.5")
Shelf raised page catchers
6
None
15
Shelf attachment to back
2 metal dowels
Tongue and groove
3 metal dowels
Weight
5.9 lbs
5.5 lbs
6.2 lbs
Materials
Vinyl coated MDF
Trespa or Formica
Vinyl coated MDF
Warranty
Guaranteed for one year against defects in material and workmanship. This warranty is limited to refund, replacement, or repair of the book holder. Further details appear in the Owner's Guide.
OPTIONS
Spring-loaded clip
Optional accessory
Not applicable
Optional accessory
Reversible line guide
Optional accessory
Colors
Birch, Black, Cherry, Mahogany
Birch, Black, Wild Pear, Silver/Grey
Black
Model
Option
Description
Standard
Color
No accessories
Order without the reversible line guide and spring-loaded clip (book holder always includes page stoppers)
Ultra
Color
LC
No options
Copyright © 2008 Micwil Group of Companies Ltd. — All Rights Reserved