Single Action Footswitch Savant Elite Accessory by Kinesis - Detailed Specification Sheet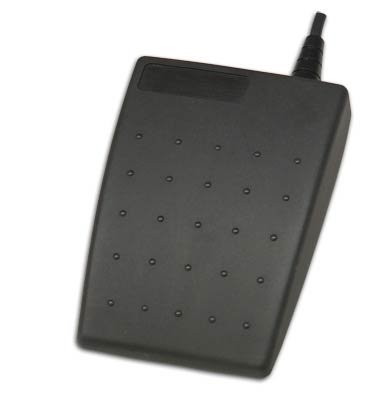 With a programmable Savant Elite Footswitch, the foot switch accessory may be configured to perform any user-defined keystroke or macro!
Give your hands a rest and increase your output!
This elegant, premium pedal is front-hinged and has a textured surface. For most users, it provides more comfort and control than the outer pedals of the Triple Action Foot Switch. It comes with a 10 foot cable and works with all models (past and present) of Kinesis Savant Elite Footswitches and SmartNav EG and AT. A self-adhesive, hook & loop tab is provided to anchor the pedal to the floor if desired.
Features:
Modifiers are often useful foot switch actions, to reduce the awkward reaches often required to produce key combinations.

Small footprint (2.5 x 3.5 inches) is ideal for confined spaces
Pedals are front-hinged and rounded for easy triggering, made from black, glass-reinforced nylon
Rounded, textured surface for confident control
10 foot cable for flexible positioning (can be extended with telephone-style modular cable)
Anyone who wants to offload work from their fingers will love this footswitch!
Specifications:
Height: 1.0 " (2.5 cm)
Width: 2.5" (6.35 cm)
Depth Front-to-Back: 3.5" (8.89 cm)
Cable Length: 10 ft (3.04 m)
Model:
FS005MP
Compatibility:
This pedal comes with a headphone jack Kinesis Savant Elite Footswitches and SmartNav EG and AT.
---
If you opened this page from our online catalog, close this window to return to it. If you opened this page from outside the ErgoCanada.com web site, click here to enter our online catalog.
Please bookmark this site and check back often, as we continuously add new products and update product information.
The Micwil Group of Companies
Ergonomics Portal: ErgoCanada.com
P.O. Box 9022 Saskatoon, SK, Canada S7K 7E7
Phone: (306) 382-5995 Fax: (306) 382-4995
Toll-Free: (866) 335-3746 (ERGO)
Email: sales@ergocanada.com
Check out our other portals:
ExtremeGamingDevices.com - Specialty gaming products for extreme gamers
ErgoLaptop.com - Ergonomic products for laptop users.
BirdXCanada.com - Bird control products
All materials copyright © 2007 The Micwil Group of Companies.