Trackball Roller II by Traxsys / Esterline (formerly Penny and Giles) - Detailed Specifications Page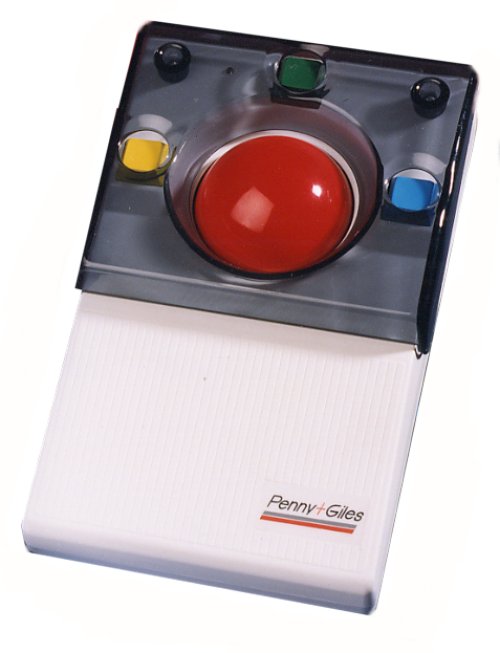 Traxsys Input Products have designed and produced this special trackerball to improve computer access where the user may have difficulties with a conventional mouse or prefer the ease of use of this product. A superbly engineered trackball, the Roller II offers value for money and has proved to be very popular with users of all ages. Captive fasteners in the base allow the device to be attached to a desk or a wheelchair tray.
Features:
Conveniently Positioned Keys: The buttons are positioned conveniently around the trackball for easy access.
Left and Right Keys: The left (yellow) and right (blue) keys operate as left and right mouse buttons.
Centre / Drag Key: The centre (green) key is used to select the left drag function. When the green key is pressed, a light indicator flashes and the drag key is latched on. A second press of the green key will release the latch and the indicator light will go off. When the green key is pressed the drag key can be used for dragging images on the screen which enables the operator to concentrate on steering the cursor with the ball without the need to hold the key in the 'on' position.
Coloured Buttons: Make it easier to communicate and spot which one to press.

YELLOW SWITCH - Left Mouse Button
GREEN SWITCH - Drag Lock Button for Left Mouse Button
BLUE SWITCH - Right Mouse Button

Left OR Right-Handed Button Configuration: In order to toggle 'left-handed' and 'right-handed' button configuration, press and hold the middle and left buttons.
Fast Mode: A 'fast mode' has been introduced when using iMac computers (USB only). In this mode, each count of the trackerball is multiplied by four. To toggle 'fast mode' on and off, the middle and right buttons must both be pressed and held pressed for three seconds. Upon a processor rest, the speed defaults to normal. Upon switching to 'fast mode' the unit generates four counts per edge instead of one.
Jack Sockets: Three 3.5 mm jack sockets allow external switches to be connected and parallel the function of the mouse switches.
Removable Finger Guard: Helps to locate the correct switch, supports the hand, and avoids pressing the wrong keys.
Captive Fasteners: Captive fasteners in the base allow the device to be attached to a desk or wheelchair tray.
Solid Construction: Keeps the unit in place.
Plug and Play: No drivers, no software to install. All features are hardwired into the unit.
Compatibility

IBM compatible
Macintosh compatible
USB connection with PS/2 adapter

Technical Specifications

Accessories Included

Width: 13.4 cm
Length: 21.5 cm
Height: 6.7 cm
Colour: Grey (case); Red (ball)
Case: ABS Plastic
Cable: 2 m, PVC sheath
Resolution: 1080 edges/revolution
Supply: +5V DC +/- 5% 50 mA MAX

USB to PS/2 adapter
Perspex Keyguard
Operating Instructions