Left Handed Keyboard by Sejin - Detailed Specification Sheet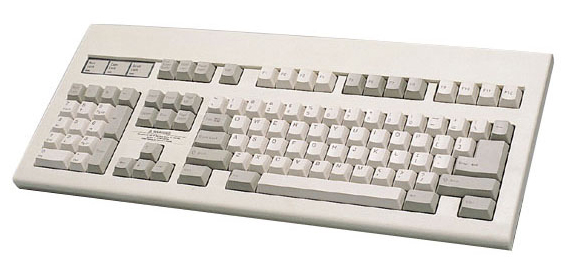 This left handed keyboard features non-tactile (no click) mechanical keyswitches and a non-mirrored numeric keypad.
There is also a black model available (no picture).
Keyboard Specifications:
Keyboard Dimensions:

Width: 18.66" (474 mm)
Height: 1.61" (41 mm)
Depth (front-to-back): 7.72" (196 mm)
Weight: n/a

Electrical Specifications:

FCC, UL, CSA, CE approved

Interface:

Key Action Specifications:

ALPHANUMERIC / FUNCTION KEYS:

101 keys
Switch: Mechanical Key Switch - Non-Tactile
Peak Force: 60 +/-25 grams
Total Travel: 3.8 +/- 0.5 mm
Key Pitch: Standard 19.05 mm
Travel to Peak: n/a
Switch Rating: n/a

WARRANTY:

12 Month Limited Warranty
---
If you opened this page from our online catalog, close this window to return to it. If you opened this page from outside the ErgoCanada.com web site, click here to enter our online catalog.
Please bookmark this site and check back often, as we are adding new products and services regularly.
ErgoCanada.com, a division of Micwil Computer Consulting
P.O. Box 9022 Saskatoon, SK, Canada S7K 7E7
Phone: (306) 222-3203 Fax: (306) 382-4995
Toll-Free: (866) 335-3746 (ERGO)
Email: sales@ergocanada.com
Check out our other portals:
Canadian Computer Buying Guide - Buying guide on how to buy or upgrade your computer system.
ECanadaWeb.com - Hosting and E-commerce solutions.
All materials copyright © 2003 Micwil Computer Consulting.