orbiTouch Alternative Keyboard by Keybowl - Detailed Specification Sheet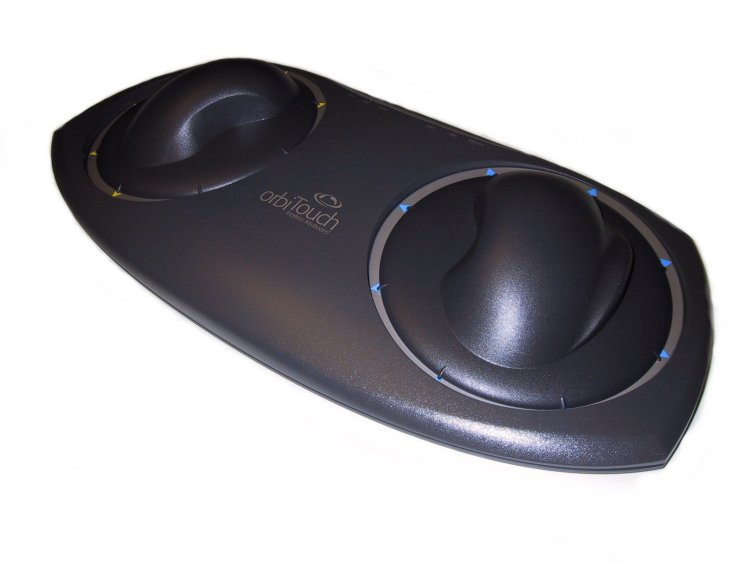 The orbiTouch is the first ergonomically designed, fully functional keyless keyboard with an integrated mouse. The patented design eliminates finger motion and significantly reduces wrist motion -- two major causes of typing discomfort and pain.
If you are challenged by...
Limited or no motion in your fingers or hands
Upper Extremity Disability
Carpal Tunnel Syndrome (CTS)
Repetititve Strain Injury (RSI)
The orbiTouch is not just another keyboard ... it represents the following:
Ten years of research and development
Patented, award-winning design which reduces harmful hand and wrist motion by 82% over standard keyboards and 60% over ergonomic keyboards
Fully functional 128 'key' capability and mouse
PC-compatible via PS/2 connectors
How It Works
Traditional keyboards can cause discomfort or pain. That's why the orbiTouch Keyless Keyboard doesn't build on any of the traditional keyboard concepts. The orbiTouch's award-winning design offers an entirely new method of input.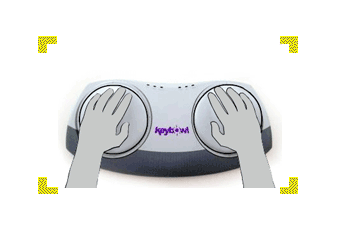 A keyboard and mouse
The orbiTouch creates a keystroke when you slide the two domes into one of their eight respective positions. You type the different characters by sliding the domes to create letters and numbers. The orbiTouch has an integrated mouse, so once you've mastered the layout, it's even easier to use than a traditional keyboard.
Switch to (and back from) mouse mode by moving the left dome south (down) twice.
Easy to use.
You'll be able to type characters in just a few minutes and become a proficient orbiTouch user in just a few days.
Want to see for yourself? Check out the orbiTouch in action at right.
To see the orbiTouch slide guide, which shows the positions of every key, click here.
Technical Specifications
Dimensions: 19.5" x 8.5" x 3.75"
Weight: 4.5 Lbs.
Operating temperature: 50º to 98ºF (9º to 37ºC)
Storage temperature: 50º to 98ºF (9º to 37ºC)
Operation humidity: under 85% RH
Storage humidity: under 95% RH
---
If you opened this page from our online catalog, close this window to return to it. If you opened this page from outside the ErgoCanada.com web site, click here to enter our online catalog.
Please bookmark this site and check back often, as we are adding new products regularly.
ErgoCanada.com, a division of Micwil Computer Consulting
P.O. Box 9022 Saskatoon, SK, Canada S7K 7E7
Phone: (306) 222-3203 Fax: (306) 382-4995
Toll-Free: (866) 335-3746 (ERGO)
Email: sales@ergocanada.com
Check out our other portals at the Micwil Group of Companies web site.
All materials copyright © 2005 Micwil Computer Consulting.