Kinesis Essential Contoured Keyboard - Detailed Specification Sheet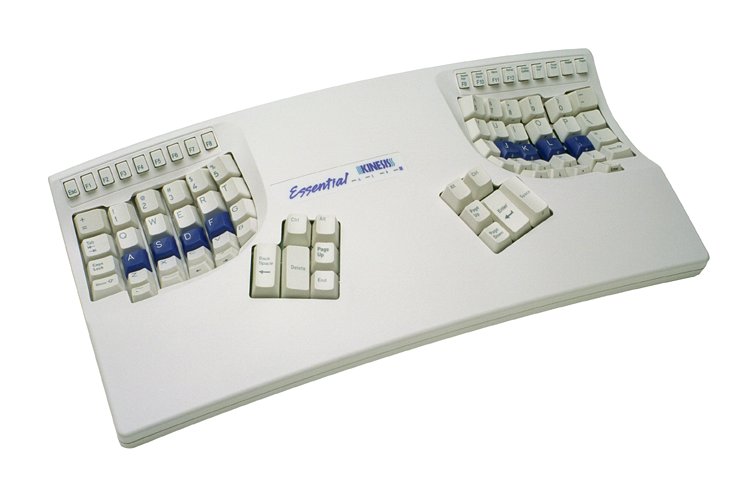 Kinesis contoured keyboards are based on a unique, patented design that minimizes the pain and strain typists experience from heavy use of conventional computer keyboards. Take advantage of the advanced ergonomic design of a contoured keyboard at an affordable price.
Information Sheet on the Kinesis Contoured Keyboard Line in PDF format.
The ergonomic design (Click here to review all the ergonomic benefits) resulted from two years of research and testing and has proven itself in over six years of commercial use. Kinesis contoured keyboards are prescribed by physicians and placed by physical and occupational therapists dealing with keyboard-related repetitive strain injuries. CLICK HERE TO READ A RESEARCH STUDY ON THE CONTOURED KEYBOARD LINE.
Designed for home and business computer users who do not need the extra flexibility afforded by on-board programmability.
The Essential (Non-programmable) for PC
The least expensive contoured keyboard, yet it is head and shoulders above any alternative. If you don't plan on customizing the keyboard, this is a great value. You can always upgrade later without even sending your keyboard back to ErgoCanada.

· Advanced ergonomics without programmability
· Lowest priced full-featured ergonomic keyboard
· Supports optional foot switches (ideal for number crunchers!)
· Field upgradable to Classic or Professional
Compatibilty
· PS/2 systems, Windows 95/98/2000/XP, ME and NT (includes Windows key actions)
· All models are Sun compatible when used with a Kinesis Interface II for Sun.
U.S. layout for the Essential contoured keyboard
· The familiar Qwerty key layout is standard.
· The embedded keypad offers maximum productivity and comfort for 10-key users, especially using a foot switch.
Model Number
· Essential Contoured Keyboard for PC, KB132PC
Keyboard Specifications:
Keyboard Dimensions:

Width: 16.5 inches
Height: 2.9 inches
Depth (front-to-back): 8 inches
Weight: 2.5 lbs
Front Slope: 10 degrees
Lateral Tilt ("thumbs up"): 20 degrees
Center Separation: 6.75 inches

FOOTSWITCHES (Optional; Single, Double or Triple actions)

Default is 'Keypad Shift' (numeric keypad mode is enabled until footswitch is released)
Second default footswitch action is 'Shift'
Programmable when used with programmable keyboards

ACCESSORIES INCLUDED

PS/2 Adapter (6-Pin Mini-DIN)
User's Manual
Adaptation Materials
Self-adhesive Palm Pads

Key Action Specifications:

ALPHANUMERIC KEYS:

Full travel, tactile mechanical keyswiches: 68
Low operating force (1.59 oz.) 45 grams
Pre-travel 2mm
Total travel 4mm
Life 50 million operations

FUNCTION KEYS:

Elastomeric keyswitches: 18
Soft Tactile action

EMBEDDED KEY ACTIONS:

Numeric keypad actions: 18
Windows 95 key actions: 3
International key actions: 2

WARRANTY:

Two Year Limited Warranty
---
If you opened this page from our online catalog, close this window to return to it. If you opened this page from outside the ErgoCanada.com web site, click here to enter our online catalog.
Please bookmark this site and check back often, as we are adding new products and services regularly.
ErgoCanada.com, a division of Micwil Computer Consulting
P.O. Box 9022 Saskatoon, SK, Canada S7K 7E7
Phone: (306) 222-3203 Fax: (306) 382-4995
Toll-Free: (866) 335-3746 (ERGO)
Email: sales@ergocanada.com
Check out our other portals:
Canadian Computer Buying Guide - Buying guide on how to buy or upgrade your computer system.
ECanadaWeb.com - Hosting and E-commerce solutions.
All materials copyright © 2003 Micwil Computer Consulting.