Kinesis Freestyle Separated Keyboard (KB700PB), Freestyle VIP Accessory (AC720-BLK) and Freestyle Incline Accessory (AC710-BLK) - Detailed Specifications Page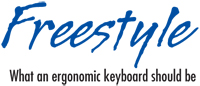 The Freestyle separated keyboard is the most versatile keyboard on the market today and represents a breakthrough in ergonomic design. The Freestyle adapts to the specific needs of every user with infinitely adjustable separation and splay and a design that will permit as much reduction in pronation as is required for most users. The layout incorporates unique features for performance and comfort, with almost no adaptation time. Featuring an undeniably modern contemporary look, this keyboard provides a stylish accent to any workstation.

The Freestyle Solo is intuitive to configure and use with simple, sturdy adjustment mechanisms (no more need for awkward or unwieldy adjustment levers, wheels or clamps) . Several interchangeable modular accessories provide features never before available from a single keyboard design.
Two optional accessory packages, the Freestyle Incline and Freestyle VIP can be purchased to provide additional capabilities. These three configurations allow the user to choose features that offer complete separation and/or adjustable front splay, adjustable or fixed tenting, plus integrated and removable, padded palm supports.
Features Found in All Configurations:
Sleek Low Profile - the keyboard has minimal height, effectively creating negative slope and reducing extension.
Compact Design - narrower than 'natural' style keyboards while maintaining full-size key spacing, minimizing adaptation time. In addition, the reduced footprint means your mouse is closer than with conventional keyboards.
Quiet, Tactile Full Travel Keyswitches - keyswitches provide a soft touch, reducing strain on your fingers while providing positive feedback required for touch typists and hunt-and-peck typists alike.
Embedded Numeric Keypad - simply toggle the keypad on with the left-front "Fn" key, or get an optional numeric keypad (pictured below).
Innovative Yet Familiar Layout - Familiar key layout provides for minimal adaptation time while adding driverless hot keys for commonly used mouse and keyboard actions to improve productivity and comfort (Cut, Copy, Paste, Page Fwd, Page Bk, Home, and Search).
Instant, reproducible setup - of both split and tenting features
Flexibility in Configuration - User 1 needs a conventional keyboard without a palm support, no problem. User 2 wants a 'natural' style left handed keyboard, add the AC210USB numeric keypad, put it on the left, tent the keyboard to 10° degrees and adjust the splay, and you have a left handed 'natural' style keyboard. User 3 wants to tent it higher and remove the palm supports...all options are available with the Freestyle and its versatile accessories
Optional Pivot Tether - Allows you to connect the two keying modules together, when desired
French Canadian Legended Version - A version with French Canadian legends is also available. On this version, the standard letters are legended in white, the embedded numeric keypad and keys for activating the embedded numeric keypad are legended in blue, and the Alt Car characters (i.e. the unique characters which you get when you hold down the right ALT key in the French Canadian layout) are legended in red. Click here to see a picture of the French Canadian Legended version of the Freestyle... 800 pixels wide or 3200 pixels wide.

Not sure how to use the French Canadian model to generate French Characters? Refer to this this helpful document, and if you still have questions, give us a call at 1 (866) 335-3746 (ERGO).
Configuration Breakdown:
Freestyle Solo - Perfect for individuals requiring greater separation than what is provided by other ergonomic keyboards.
Up to 8" of complete separation of both left and right keyboard modules

An alternate version of the Solo is available which features a 20" connecting cable providing far more separation if required - click here to see a picture.

Infinite adjustment of splay (split) angle
Adjusts for both shoulder width, arm and wrist to ensure complete alignment of the fingers, hands, wrists and forearms in a neutral relaxed position
Left and right keyboard modules can be attached with the included Pivot/Tether Pin while still allowing up to 90° of splay.
Freestyle with VIP (V-Lifter and Integrated Palm Supports) Accessory
The Freestyle VIP includes all of the features of the Solo and add the following features:
Left and Right V-Lifters are easily attached to the bottom of the Solo allowing the user to quickly alternate the slope of the keyboard from 10° to 15° whenever desired
Left and Right Integrated Padded Palm Supports simply attach to the front of the Solo, and are included to keep wrists in a neutral position while typing at either tenting slope
Use with or without the pivot/tether. The pivot tether connects the two keying modules of the Solo keyboard together. Disconnect the pivot tether if greater separation is required.
Provides a highly stable typing platform with no 'bounce'.
Freestyle with Incline Accessory
The Freestyle Incline is the ideal replacement for fixed split and tented keyboards such as the Microsoft Natural. The Incline accessory offers:
10° fixed tenting of both keyboard modules
Adjustable splay (up to 30°) of both keyboard modules
Padded palm supports
Keyboard modules may be unmounted from the base without tools for individuals that require greater separation but no tenting
November 30, 2006, Las Vegas, NV...


Freestyle Keyboard voted by NECE attendees as one of the most likely products to increase productivity and profitability, while improving workplace health and safety.

Summary of How the Embedded Numeric Keypad Functions

Legending:
The Navigation Keys are not legended but are supported as described below. The numeric keypad legends are on the top surface of the keycap, at the bottom right corner of the keycap (see picture at top of page).

To Activate the Numeric Keypad:

Press and release the Fn (Function) key. The blue light at the top right hand corner of the keyboard labeled Fn will turn on.

To Deactivate the Numeric Keypad:
Press and release the Fn (Function) key. The blue light at the top right hand corner of the keyboard labeled Fn will turn off.
With NumLock On:
If the Fn (Function) key is lit at the same time as NumLock is active, the numeric keypad will generate numbers.
With NumLock Off:
If the Fn (Function) key is lit with NumLock off, the numeric keypad will perform its normal keyboarding functions.
WHAT THIS MEANS
To Get Numbers:
Toggle Access (Press and Release Fn When Num Lock is on)
To Get Navigation:
Toggle Access (Press and Release Fn When Num Lock is off)

The Low Force Tactile Numeric Keypad connects via the USB port on your computer. An embedded 2 port USB hub allows you to plug your USB devices (including the Maxim keyboard or your USB pointing device) into the keypad, and then you have only 1 USB cable which needs to plug into your computer for all your input devices. A great productivity enhancement if you work with numbers!

Check out our Keypads section of the product catalog for more information on Numeric Keypads.

Compatibility

KB700PB-US - PC, Macintosh (not compatible with hot keys)*, Sun and Linux compatible
KB700PB-US-20 - PC, Macintosh (not compatible with hot keys)*, Sun and Linux compatible
KB700PB-CF - PC, Macintosh (not compatible with hot keys)*, Sun and Linux compatible

* When used with Macintosh systems, F12 key will eject CD.


Keyboard Layout Views

KB700PB-US - view of US English QWERTY key layout (PC)

KB700PB-FC - view of French Canadian QWERTY key layout (PC)

Technical Specifications

Available Models

| | | | | |
| --- | --- | --- | --- | --- |
| | Width | Height | Depth | Weight |
| Solo | 15.375" (no separation) | 1.1875" | 7.25" | 2 lbs (.907 kg) |
| VIP | 20.625" (max separation) | 2.5" at 10°, 3.0625" at 15° | 10.0" with palm supports | 2 lbs 5 oz |
| Incline | 15.375" (no separation) | 2.875" | 10.0625" | 2 lbs 15 oz |
| 20" Model | 35.375" (max separation) | 1.1875" | 7.25" | 2 lbs |

Keyswitches: High quality quiet tactile membrane, rated at 10 million keystrokes
Interface: USB only

KB700PB-US - Freestyle Solo Keyboard (US English Layout) with Pivot Tether

KB700PB-FC - Freestyle Solo Keyboard (French Canadian Layout) with Pivot Tether

KB700PB-US-20 - Freestyle Solo Keyboard, 20" cable

KB700PB-FC-20 - Freestyle Solo Keyboard (French Canadian Layout) with Pivot Tether, 20" cable

ACCESSORIES

AC720-BLK - Freestyle VIP Accessory

AC710-BLK - Freestyle Incline Accessory

ACCESSORIES INCLUDED

Quick Start Guide
Pivot Tether

WARRANTY:

Two Year Limited Warranty
---
If you opened this page from our online catalog, close this window to return to it. If you opened this page from outside the ErgoCanada.com web site, click here to enter our online catalog.
Please bookmark this site and check back often, as we continuously add new products and update product information.
Ergonomics Portal: ErgoCanada.com
P.O. Box 9022 Saskatoon, SK, Canada S7K 7E7
Phone: (306) 382-5995 Fax: (306) 382-4995
Toll-Free: (866) 335-3746 (ERGO)
Email: sales@ergocanada.com
Check out our other portals:
ExtremeGamingDevices.com - Specialty gaming products for extreme gamers
ErgoLaptop.com - Ergonomic products for laptop users.
BirdXCanada.com - Bird control products
All materials copyright © 2007 The Micwil Group of Companies.