Page last updated: Thu., 28-May-2020 14:39:08
ErgoCanada - Detailed Specification Page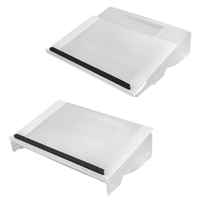 Back to Previous Page
MultiLite Adjustable Document Holder
by Posturite
Additional Resources Accessories
Product Summary
The MultiLite Adjustable Document Holder from Posturite is constructed of durable lightweight frosted acrylic for ease of movement. This stylish and lightweight desktop solution offers features and benefits very similar to the well-established metal-framed MultiRite Document Holder and Writing Slope. When placed on the desk between the keyboard and monitor, the MultiLite keeps reference materials and handwriting projects directly in front of the user. Because this reduces the need to twist or reach outside the Comfort Zone, while also providing stable support for the hand and arm, this multifunctional accessory offers significant ergonomic benefits to those whose job involves reading, handwriting or jotting down notes at a computer workstation.

The pull-down writing tray on the MultiLite supports sheets of paper, heavy binders or books, positioning them all at a comfortable angle for viewing. This surface is made of rigid frosted acrylic with a 0.5" high by 0.75" deep soft foam strip that serves both as a wrist pad as well as a document lip to keep loose papers in place. Gliding on smooth ball bearing tracks, the tray can also be pulled down towards the user up to 6.5" to provide a spacious, stable writing surface that floats above the keyboard, eliminating the need to reach over the keyboard when handwriting. When the handwriting task is complete, the tray easily slides back into its original position where it is secured in place by a magnet. Silicone rubber feet on the base prevent the MultiRite from shifting on the desk during use. A storage compartment integrated into the base beneath the tray keeps pens, pencils, paper clips and other small desk essentials close at hand.

The MultiLite offers 3 angle settings for the worksurface - 12°, 16°, and 21°. Those looking for a greater range of angle adjustment (up to 33°) may be interested in the metal-framed MultiRite Document Holder and Writing Slope which features the same adjustable writing surface and is available in 3 different widths.
Ergonomic Benefits
Reduces Strain on the Neck Muscles - The MultiLite Adjustable Document Holder allows users to keep reference and handwriting documents directly in front of them, between the keyboard and the monitor. This placement eliminates the need to keep turning the head to one side when reading or writing at a computer workstation. The result is a significant reduction in the risks of inflammation and overuse injury in the muscles of the neck.
Reduces Strain on the Upper Back Muscles - By allowing users to draw the writing surface up to 6.5" closer, the MultiLite eliminates the need to reach forward over the keyboard when handwriting. The more convenient position places far fewer demands on the muscles of the upper back and shoulder.
Keeps the Comfort Zone Clear
- The MultiLite Adjustable Document Holder corrals reading, handwriting and small office supplies into a single, compact footprint. This efficient use of space allows the user to ensure devices such as the phone, mouse, numeric keypad or calculator remain within or close to the Comfort Zone.
Learn More About the Comfort Zone.
Cushioned Lip - A 0.75" Deep foam wrist cushion runs across the bottom edge of the writing tray to eliminate any sharp or concentrated pressure points.
Features
Storable Writing Surface: The pull-down writing tray easily slides back to its stored position when the user is reading or typing, and can be pulled down over the keyboard to provide a closer surface for handwriting tasks.
Generous Work Surface: The 19.75" W x 12" D adjustable surface easily accommodates even binders (up to 4.4 lbs) and provides plenty of space for all applications.
Ability to Cantilever: Counterbalanced by the weight of the MultiLite, the writing tray remains stable and secure even when extended below the edge of a desk. Fold-out front extension feet can be deployed where additional stability is required
Variable Slope: The writing slope is easily adjusted to 12°, 16°, and 21&deg angles. The corresponding height at the rear of the MultiLite will range between 5.6" (14.3 cm) and 7.3" (18.7 cm)
Pen and Pencil Storage: A storage compartment incorporated into the base beneath the writing tray provides ample space to store office supplies such as sticky notes, pens, correction tape, and binder clips.
Images
(Click on any thumbnail to view larger image)

MultiLite Adjustable Document Holder - Pull Down Writing Tray


MultiLite Adjustable Document Holder - Multiple Viewing Angles


MultiLite Adjustable Document Holder - Cantilever Feet for Enhanced Stability


MultiLite Adjustable Document Holder - Adjustment Options


MultiLite Adjustable Document Holder


MultiLite Adjustable Document Holder - Writing Tray in Use


MultiLite Adjustable Document Holder - Convenient Storage Compartment


MultiLite Adjustable Document Holder
Technical Specifications
Width: 19.75" (50.2 cm)
Maximum Keyboard Width: Compatible with keyboards no wider than 18.75" (47.7 cm)
Height at Front: 3.5" (8.9 cm)
Angle Adjustment: 12°, 16°, 21°
Height at Rear: 5.6" (14.3 cm), 6.3" (16.0 cm), or 7.3" (18.7 cm)
Note: The degree of slope selected determines the height at the back of the MultiRite.)
Total Depth: 13" (33.0 cm)
Weight: 5.9 lbs (2.7 kg)
Forward Extension of Writing Tray: 6.5" (16.5 cm)
Height of Padded Wrist Support/Document Ledge: 0.6" (1.5 cm)
Dimensions of Storage Compartment: 3.75" (9.5 cm) tall, 9" (22.5 cm) wide, 1" (2.5 cm) deep
Maximum Weight Capacity: 4.4 lbs (2.0 kg)
Materials: 5mm Frosted Acrylic, Foam Wrist Rest
Warranty: 1 Year
Package Contents: MultiLite Adjustable Document Holder; Instruction Sheet
Usage Tips
When adding a MultiLite to your workstation you will want to ensure that your monitor is positioned high enough that you are able to view the lowest portion of your screen without interference from the MultiLite. At the lowest setting the top rear edge of the MultiLite is about 5.6" above the desk. As the writing surface angle is increased that height can increase to over 7.3". If you are of shorter stature your line of sight to the bottom of your monitor(s) is at a shallower angle and this may require that you elevate your monitor in order to retain full view of the screen. If your monitor stand offers height adjustment, that might be sufficient elevation. Otherwise you will need to consider adding monitor risers to increase the elevation as needed. A wide variety of monitor risers are available in height increments from 1" up to several inches high. The other possibility may be to consider a monitor arm which would permit the monitor to be easily positioned at any height as required. Taller users should not require as much elevation as their line of site is at a greater angle and they may be able to look down past the back edge of the MultiLite to view their screen. However, if the MultiLite is set to a higher angle setting even taller users will most likely need to increase their monitor elevation. Learn more about Correct Monitor Positioning.
Note: Users with multifocal lenses may find that raising the monitor is not an option as this can lead to RSI as a result of continuous neck extension. Neck tension and headaches are common problems which can occur as a result of this posture which can also have deleterious effects on the physical structure of the neck and upper back. In these cases alternative solutions for document placement should be considered, e.g. a Slantboard or Document holder positioned to one side of the user.
Your workstation needs to provide sufficient depth and width to accommodate your MultiLite. Generally the width of 19.75" will not be an issue but the extra depth required may need to be considered. With regards to depth, when a MultiLite is combined with an average keyboard positioned at the very front edge of the desk you will need, at the very minimum, 17.5" of depth. If you monitor is placed closer than that it will need to be moved further back on the desk.
If there are width restrictions or you required extra space for documents you may be interested in considering the MultiRite which is a sibling product to the MultiLite. It is available in a Narrow and Wide widths. The Large (wide) model will accommodate virtually all standard keyboard width but the Small (narrow) will require a Compact Keyboard no wider than about 13.5". You will also want to consider the type and placement of your mousing device as this may have bearing on which width you select.
When writing more than a quick notation be sure to draw the writing tray down towards yourself. This will enable your arm to be in as neutral a position as possible, with your elbow close to your side and positioned roughly below your shoulder. Doing this will ensure that you are not overreaching outside your Comfort Zone by reaching past the keyboard when performing more extended writing. Learn More About the Comfort Zone.
If you are using the MultiLite on a workstation with a secondary keyboard worksurface or kekyboard tray, ensure the front feet on the base of the MultiLite do not hang over the edge of the upper worksurface. Unsupported feet will decrease the stability of the MultiRite when the writing surface is pulled down towards you, making it prone to tipping when downward pressure is exerted on the extended writing surface.
Deploy the secondary front legs when doing extended writing. These will ensure that additional pressure when taking breaks does not cause the MultiLite to "tip".
Models
For pricing, availability or to order this product, visit our online store.
| Model # | Description |
| --- | --- |
| 982-0700 | MultiLite Adjustable Document Holder, Acrylic, 19.75" wide |