Page last updated: Thu, 14-Nov-2019 14:35:28
ErgoCanada - Detailed Specification Page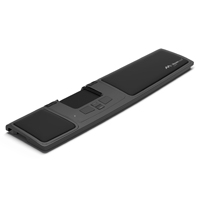 Back to Previous Page
Mousetrapper Prime
by MouseTrapper
Ergonomic Benefits Features Additional Resources Usage Tips
Product Summary
The Mousetrapper Prime from Mousetrapper is an inline / central pointing device that uses a steering pad mechanism (a hybrid touchpad/treadmill) for cursor control, scrolling and left-click actions. The silicone-coated, slip-free steering pad requires only finger-tip pressure and minimal dexterity to control the movement of the cursor. Cursor control is achieved on the Mousetrapper by using the fingertips to move the steering pad itself. This level of functionality can be contrasted with touchpads, where cursor control is achieved by moving the finger tip across a static surface.

The steering pad on the Prime offers two dimensional scrolling and rich secondary features such as vertical scroll. A left click can be activated by simply pressing down anywhere on the steering pad. Eight programmable buttons, plus the steering pad, provide quick access to double click, left click, right click, zoom out, zoom in, cruise (or scroll) down, cruise (or scroll) up, copy, and paste functions.

The Mousetrapper Prime features replaceable and wipeable palm supports and has an attached, flexible gray mat on which to place the keyboard. Like most central pointing devices, the Mousetrapper Prime requires no overextension of the shoulder joint, and can significantly reduce the risk of repetitive strain injuries to the muscles of the shoulder and upper back.

In addition to the above features, the functionality of the Prime is greatly enhanced by the downloadable MT Keys software, which includes the ability to paste text up to 254 characters long using a single button and to add user profiles. The wireless mode functions via USB with the included receiver, while the rechargeable battery has six months of battery life between charges. Cursor speed can be adjusted up to 2000 dpi.
Images
(Click on any thumbnail to view larger image)
| | | |
| --- | --- | --- |
| Mousetrapper Prime | Mousetrapper Prime | Mousetrapper Prime - Layout with USB Receiver |
Technical Specifications
Width: 18.875" (48.0 cm)
Depth (front to back): 4.5" (11.0 cm)
Height: 0.79" (2.0 cm)
Number of Buttons: 8
Button Type: Membrane
Cursor Control Area: 3.25" wide by 2.00" deep steering pad (8.3 cm wide by 5.1 cm deep steering pad)
Embedded Left Click in Cursor Control: Yes
Colour: Black
Compatibility:

PC: Windows 98 SE, ME, 2000, XP (32 and 64 bit), Vista (32 and 64 bit), Windows 7.0 (32 and 64 bit), Windows 8, Windows 10
Mac: Mac OS X 10.7 or later

Interface: USB
Warranty: 2 Years
Package Contents: Mousetrapper Prime, Instruction Manual
Models
For pricing, availability or to order this product, visit our online store.
| Model # | Description |
| --- | --- |
| MT111 | Mousetrapper Prime, USB, Wireless |
Accessories
| Model # | Description |
| --- | --- |
| TB201 | Mousetrapper Armrest for Advance 2.0 and Prime |
| TB204 | Mousetrapper Replacement USB Cable, Black |
| TB209 | MouseTrapper Replacement Dongle for Mousetrapper Prime |
| TB211 | Mousetrapper Replacement Palm Support for Prime |