Ergonomic Benefits Features Additional Resources Usage Tips Accessories
Product Summary
The natural flowing design of the WTRFL Sit-Stand Seat provides users with an angle-adjustable, contoured seating surface for both perching and leaning applications. The softly rounded front rises slightly to provide a "ledge" effect, keeping the user securely in position on the seat. The rounded waterfall front then drops down and away, eliminating uncomfortable sharp pressure lines against the back of the legs.

The firm polyurethane foam seat is waterproof and highly resistant to cuts or punctures. Formed channels facilitate cooling air flow. Height adjustment is accomplished with a gas spring that also serves as a shock absorber by providing a cushioning effect when the user sits down. The seat angle is adjustable from 0° to 14° allowing users to choose the most comfortable position. A convenient handle is integrated into the back of the seat for ease of movement about the workspace.
Images
(Click on any thumbnail to view larger image)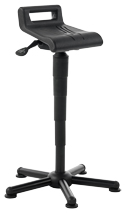 WTRFL Sit-Stand Seat
Technical Specifications
Seat Height Range: 23.2" - 34.4" (59 - 87.5 cm)
Seat Angle Adjustment: +0° - +14°
Seat Dimensions: 12.5" (32 cm) Deep x 14" (35.6 cm) Wide x 4.5" (11.4 cm) High (back)
Base Footprint: 23" (58.4 cm) Diameter
Weight: 18.9 lbs (8.6 kg)
Weight Rating: 264 lbs (120 kg)
Warranty: 5 Years
Package Contents: WTRFL Sit-Stand Seat, Assembly Guide Sheet
Models
For pricing, availability or to order this product, visit our online store.
Model #
Description
11351
WTRFL Sit-Stand Seat.
PLEASE SEE NEW PART NO: WPS-11351