Page last updated: Tue, 19-Feb-2019 14:56:56
ErgoCanada - Detailed Specification Page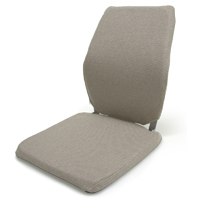 Back to Previous Page
Memory Foam Sacro-Ease Seat Support
by McCarty's Sacroease
Ergonomic Benefits Features Additional Resources Usage Tips Accessories
Product Summary
Considered the best model of Sacro-Ease that McCarty's has made to date, the Visco-Elastic Foam models provide the unique combination of firm support and plush comfort that "comfort memory foam" is widely known for. It adds a 1" layer of Comfort Memory foam to both the seat and back portions of the Sacro-Ease in addition to the rubber bands and bendable steel frame, making the Memory Foam model incredibly comfortable and supportive. As with all Sacro-Ease styles the core purpose is to provide an enhanced seating experience in an existing seat that has limited or no support. This can be a low cost office chair, a vehicle seat, or mass transit seating. The extra support provided by a Sacro-Ease is especially valuable for people who spend extended hours behind the wheel or at a desk. Like other Sacro-ease products, the seat is hinged for folding and easy of transport. It has a handle incorporated so that users can carry it with them throughout the day and use it to maintain proper back support wherever they are. The durable, non-skid bottom keeps the Sacro-Ease firmly in place on all seats. It is available with 3 different seat widths which will accommodate most vehicle bench and bucket-style seating.
Images
(Click on any thumbnail to view larger image)


Memory Foam Sacro-Ease Seat Support
Technical Specifications
Width: 15.0" (38.1 cm)
Depth (front to back): 14.0" (35.6 cm)
Height: 19.0" (48.3 cm)
Back: 1.0" (2.5 cm) of memory foam
Seat: 1.0" (2.5 cm) of memory foam
Available colours: Black, charcoal, light brown, grey
Models
For pricing, availability or to order this product, visit our online store.
| Model # | Description |
| --- | --- |
| BRSCMCF-BLK | 15" Seat width. Black model |
| BRSCMCF-CHAR | 15" Seat width. Charcoal model. |
| BRSCM-CF-LT-BRN | 15" Seat width. Light brown model. |
| BRSCM-CF-GREY | 15" Seat width. Grey model |
| BRSCM-CF-BLU | 15" Seat width. Blue model. |
| BRSCM-CF-RED | 15" Seat width. Red model. |
| BRSCM-CF-BRN | 15" Seat width. Brown model. |
| BRNC-CF | 12" Seat width. Colours Available: Black, Grey, Light Brown; Blue, Brown, Red, Charcoal. |
| BRC-CF | 19" Seat width. Colours Available: Black, Grey, Light Brown; Blue, Brown, Red, Charcoal. |