Page last updated: Tuesday 06 June 2023 1:43 p.m.
ErgoCanada - Detailed Specification Page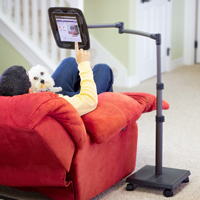 Back to Previous Page
LEVO G2 Deluxe Floor Stand for iPads, Tablets and eReaders with Power
by Levo
Additional Resources
Product Summary
The LEVO G2 Deluxe Floor Stand with Power is an adjustable iPad, tablet and eReader stand that allows users to sit comfortably, lie back, or relax in bed while securely using their tablet or eReader without having to use their hands. The sturdy materials and solid design minimize bouncing and significantly reduce the risk of tipping, ensuring uninterrupted viewing comfort. This unit is identical to the LEVO G2 Deluxe Floor Stand with Power (33768) but is also USB powered.

The LEVO G2 stand has a 5-axis articulating arm for easy positioning with adjustable tension for optimal movement in any direction. The user can also interchange platforms from tablets and eReaders to books, and back again (the book platform is sold separately as an accessory). The holder accommodates tablets and eReaders up to 8.7" x 12" weighing up to 4 pounds. Height range of movement is between 30" to 56" (measured from floor to center of tablet platform). It is mobile, durable, versatile, quick and simple to adjust, and no tools are required. The LEVO G2 Deluxe Floor Stand with Power is available in the original Gunmetal finish.

The Levo G2 Floor Stand has proven to be popular in hospitals, especially on pediatric and geriatric wards, and in special care homes. It is also ideal for those who like to read or watch videos while working out.

This powered model of the Levo G2 Floor Stand is designed to charge USB devices using the USB Charging Port that is built into the horizontal arm. The USB output is 2.1 amps and 5 volts for quick charging. A standard power cable is provided which has to plug into a standard 110V outlet.

Note: If the application is primarily an office setting over a desktop, the more affordable LEVO G2 Deluxe Tablet Clamp Stand for iPads, Tablets, and eReaders might be a more suitable alternative.
Ergonomic Benefits
Reduces Strain and Fatigue - The design of the G2 allows the user to sit or lie comfortably in the most comfortable position. This eliminates hunching and will reduce strain in the back, neck, shoulders, and arms.
Hands Free - No Need to Grip - The G2 is able to hold most tablets firmly in place allowing both viewing and using the touch surface of the tablet to type, access information, surf the web, etc. Normally using a tablet requires the user to exert constant grip force to hold it securely while typing and using the touch surface. The G2 gives users a second set of hands, freeing both their hands for not only using the tablet, but other activities as well.
Increases Overall Comfort - The versatile movements of the LEVO G2 allow users to avoid any awkward positions, maximizing comfort.
Adjustable Height - The user can quickly adjust the height to ensure an optimal ergonomic viewing angle and position.
Effortless Storability - The user can easily move the G2 arm out of the way when temporarily leaving their G2 tablet viewing setup, and quickly reproduce the position they were in upon their return as the tablet height and orientation are not impacted by the lateral arm movement.
Features
USB Charging Port: In order to conveniently recharge tablets, headphones, smartphones, bluetooth speakers, and more, the G2 Deluxe Floor Stand for iPads, Tablets and eReaders with Power includes a USB Charging Port in the stand's horizontal arm. The USB output is 2.1 amps and 5 volts for quick charging.
5 Axis Articulating Swing Arm: This allows the user to place their tablet in the most comfortable, ergonomic reading position. This reduces awkward positions, tired arms, and neck pain while reading.
Compatible With Most Tablets: Holds tablets and eReaders up to 8.7 x 12 inches and weighing up to 4 pounds.
360° Easel Rotation: Easel Rotation | Easel can spin between portrait and landscape orientation, making the LEVO G2 as suitable for viewing movies as for reading.
Mobile: Convenient wheeled base allows the LEVO to be rolled from room to room or any desired location.
Stable Robust Base Design: The heavy duty 20 pound cast-iron base makes the G2 a remarkably stable piece of furniture.
No Clearance Required: The cantilever design of the arm does not require any clearance under furniture.
Safe and Secure: Tablets strap firmly to the easel, the user does not have to worry about the security of their device.
Easy Height Adjustment At Two Points: The height is easy to adjust with quick lever height adjustment locks.
Precision Adjustment: Pivot point at the base of the tablet platform allows the user to position their tablet for optimum viewing comfort.
Can Be Used Lying Down: The Levo is able to hold tablets in an inverted position which allows the user to read lying in bed.
Optional Book Platform Kit: An optional easel which can take the place of the tablet holder to allow the user to read from a book weighing up to 4 pounds. NOTE: The button release to switch between Tablet and books requires significant force to release the easel. Individuals with weaker finger strength or arthritis may find it difficult to switch between the Tablet easel and the Book easel.
Adjustable Pivot Resistance: Allows the user to choose the resistance needed to hold the platform in position in front of the user. Typically more resistance is required when using a tablet as an input interface, while less resistance may be preferable for ease of adjustment when using it solely for viewing.
Height Range: Range of movement is between 30" to 56" (measured from floor to center of device).
Images
(Click on any thumbnail to view larger image)

Levo G2 Deluxe Floor Stand - Just Lie Back and Relax


Levo G2 Deluxe Floor Stand - Rolling Base Goes Anywhere


Levo G2 Deluxe Floor Stand - Office or Home


Levo G2 Deluxe Floor Stand - Taking the Load Off Your Hands


Levo G2 Deluxe Table Clamp Stand - Securely Holds Tablet or Reader With or Without Case


Levo G2 Deluxe Stand - Convenient Clamps for Height Adjustment


Levo G2 Deluxe Floor Stand - Versatile Adjustment


Levo G2 Deluxe Floor Stand - Optional Book Holder Accessory


Levo G2 Deluxe Floor Stand - Heavy Weighted Base for Stability


Levo G2 Deluxe Floor Stand - With Power Outlet
Technical Specifications
Usage Tips
Set your LEVO G2 Deluxe Floor Stand to a height which eliminates a bent neck (either up or down). This will reduce the risk of tension developing in your neck while viewing your tablet.
Since you want to be as relaxed as possible while reading, a pillow or neck support which lets you rest your head can be of great benefit. This gives the muscles of the neck and shoulders a break and can actually have a refreshing effect. As these muscles are usually occupied with supporting the head, especially when the neck is bent, this poor posture can put a constant heavy load on them.
Ensure that your tablet is at a height suited to your viewing capabilities. If you have progressive or multifocal lenses you will want to position it lower than those who do not require this type of corrective lens. However, when doing so always ensure that your neck is at a neutral alignment, directly above the shoulders.
When using your LEVO G2 Floor Stand ensure that you position it to reduce or eliminate glare from lighting or windows.
Monitor your usage as bedtime approaches. The "blue" light generally emitted from iPads, tablets, and eReaders (to a lesser extent) has been identified as having a negative impact on the production of melatonin, a hormone which induces sleep, and as a result can result in delays in falling asleep as well as lest restful sleep. It is recommended that in the later evening one should reduce their tablet screen brightness and/or their viewing time, or even eliminate it. That may be a period to switch to the optional Book Platform kit accessory and do some non-electronic reading under a more subdued "warm" or "yellow" lighting.
USE your LEVO - While it may be more convenient at times to just pick up your tablet or eReader, remember that what often starts out as a short session can easily turn into hours. Once you start you will probably be preoccupied with the reading or activity and won't think to place your tablet on the LEVO. As a result you would lose out on the benefits of your LEVO during that period.
Models
For pricing, availability or to order this product, visit our online store.
| Model # | Description |
| --- | --- |
| 33777 | LEVO G2 Deluxe Floor Stand for iPads, Tablets and eReaders with Power, Gun Metal Colour |
Accessories
| Model # | Description |
| --- | --- |
| 33701 | LEVO G2 Book Platform Kit |
| 33600 | Bungee Cord Set (4) |
| 33707 | LEVO Dual Clamp Cradle Accessory Kit for LEVO G2 (slide lock mechanism) |
| 33708 | LEVO Dual Clamp Cradle Accessory Kit for LEVO G2 with Key Lock |