Page last updated: Wednesday 20 September 2023 1:36 p.m.
ErgoCanada - Detailed Specification Page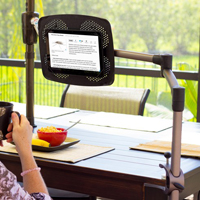 Back to Previous Page
LEVO G2 Deluxe Table Clamp Stand for iPads, Tablets and eReaders
by Levo
Additional Resources Usage Tips
Product Summary
The LEVO G2 Deluxe Table Clamp Stand is an adjustable iPad, tablet and eReader stand that allows one to use their tablet at their desk, surf the web while relaxing, or lie in bed while securely using their tablet or eReader at the most comfortable and ergonomic position. The LEVO can help to alleviate the stress of arched necks, fatigued hands, and pain in the back and shoulders from maintaining an awkward posture while using a device. The tablet holder easily clamps to desks or tables with an overhang as small as 0.25". Built of sturdy materials with a solid design, this stand has a 5-axis articulating arm for easy positioning with adjustable tension for optimal movement in any direction. Individuals can also interchange platforms from tablets and eReaders to books - and back again (book platform sold separately as accessory). Holds tablets and eReaders up to 8.7 x 12 inches with a weight under 4 pounds. Height range of movement is between 5.5" to 16.5" (measured from top of table to center of platform).

The LEVO G2 Deluxe Table Clamp Stand works well for those reading at a desk, referencing documents at their computer, or reading in bed. If the application is not office-based (i.e. use in the kitchen, living room, family room, etc.) or a greater range of height adjustment and positioning is required, considerable the more versatile LEVO G2 Deluxe Tablet Stand model.
Ergonomic Benefits
Reduces Strain and Fatigue - The design of the G2 allows individuals to sit or lie comfortably in the most comfortable position. This eliminates hunching and will reduce strain in the back, neck, shoulders, and arms.
Hands Free - No Need to Grip - The G2 is able to hold most tablets firmly in place allowing both viewing and using the touch surface of the tablet to type, access information, surf the web, etc. Normally using a tablet requires one hand to exert constant grip force to hold it securely while the other engages in typing and using the touch surface. The G2 serves as a second set of hands, freeing both hands for not only using the tablet, but other activities as well.
Increases Overall Comfort - The versatile movements of the LEVO lets individuals avoid any awkward positions. It also makes it possible for the them to choose the most comfortable set up.
Adjustable Height - Height is easily adjusted to ensure an optimal ergonomic viewing angle and position (for example, in an office setting that might be immediately to the left or right of the LCD monitor at the same height).
Effortless Storability - The G2 arm is easily pivoted out of the way when taking breaks or engaging in other activities, but can quickly reproduce the desired position as the tablet height and orientation are not impacted by the lateral arm movement.
Features
Compatible With Most Tablets: Holds tablets and eReaders up to 8.7 x 12 inches and weighing less than 4 pounds
360° Easel Rotation: Easel can spin between portrait and landscape orientation
Portable: Weighing only 8 lbs, the G2 can easily be moved from one workstation to another
Height Versatility: Can be used at heights between 5.5" and 16.5" above the desk which it is clamped. (measured from top of desk to centre of tablet platform)
Safe and Secure: Tablets strap firmly to the easel, the user does not have to worry about the security of their device.
Easy Height Adjustment: The height is easily adjusted by turning a screw knob which ensures that the tablet is at the correct height
Can Be Used Inverted: The LEVO is able to hold tablets in an inverted position which allows the user to read lying in bed
5 Axis Articulating Swing Arm: This allows individuals to place their tablet in the most comfortable, ergonomic reading position. This reduces awkward positions, tired arms, and neck pain while reading
Precision Adjustment: Pivot point at the base of the tablet platform allows precise tablet placement.
Optional Book Platform Kit: An optional easel which can take the place of the tablet holder to enable individuals to read from a book weighing up to 4 pounds.
Adjustable Tension: Allows the individual to choose the tension needed to hold the platform in place. Typically more tension is required when using a tablet as an interface, while less tension may be preferable for ease of adjustment when using it solely for viewing
Images
(Click on any thumbnail to view larger image)

Levo G2 Deluxe Table Clamp Stand - Just Lie Back and Relax


Levo G2 Deluxe Table Clamp Stand - Taking the Load Off Your Hands


Levo G2 Deluxe Table Clamp Stand - Home or Office - the Perfect Solution


Levo G2 Deluxe Table Clamp Stand - Lets You Recline While Reading or Browsing


Levo G2 Deluxe Table Clamp Stand (Natural Aluminum) - Use Almost Anywhere


Levo G2 Deluxe Table Clamp Stand - Securely Holds Tablet or Reader With or Without Case


Levo G2 Deluxe Table Clamp Stand (Natural Aluminum) - Compact Stowability


Levo G2 Deluxe Table Clamp Stand - Versatile Adjustment
Technical Specifications
Minimum Height: 6" (15.2 cm) measured from top of mounting surface to center of platform
Maximum Height: 17.5" (44.5 cm) measured from top of mounting surface to center of platform
Weight: 3.2 lbs (1.45 kg)
Materials: Aluminum, Strong nylon polymer
Portable: Yes


Warranty: 3 year limited
Maximum Clamp Depth: Up to 1.6"
Reach From Vertical Support to Centre of Platform: 23" (58.4 cm)
Models
For pricing, availability or to order this product, visit our online store.
| Model # | Description |
| --- | --- |
| 33764 | LEVO G2 Deluxe Table Clamp Stand for iPads, Tablets and eReaders, Gun Metal Colour |
| 33704 | LEVO G2 Deluxe Table Clamp Stand for iPads, Tablets and eReaders, Natural Aluminum Colour, Transluscent Plate |
Accessories
| Model # | Description |
| --- | --- |
| 33701 | LEVO G2 Book Platform Kit |
| 33600 | Bungee Cord Set (4) |
| 33707 | LEVO Dual Clamp Cradle Accessory Kit for LEVO G2 (slide lock mechanism) |
| 35411 | LEVO Pro Clamping Ends for Dual Clamp Tablet Holder (Compatible ONLY with LEVO Dual Clamp Cradle Accessory Kit for LEVO G2: model 33707) |
| 33708 | LEVO Dual Clamp Cradle Accessory Kit for LEVO G2 with Key Lock |