Page last updated: Mon., 30-Mar.-2020 14:15:56
ErgoCanada - Detailed Specification Page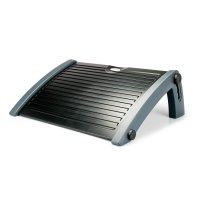 Back to Previous Page
Cozy Foot Rest
by Aidata
Additional Resources Usage Tips Accessories
Product Summary
The Cozy Foot Rest from Aidata bridges the gap between design simplicity and sound ergonomic benefits. The manually-adjusted locked-angle foot platform measures approximately 17.7" wide by 13.5" deep, and is secured to a gently sloping frame made of high-impact plastic. The platform's surface design of flat ridges alternating with shallow grooves keeps the feet comfotably in place. The angle of the platform can be set at 10°, 15°, 20°, and 25° and can be changed easily by hand. The height at the back of the foot rest varies with the angle selected; 3.5" at the lowest angle, to 6.5" at the highest. Rubber pads on the base keep the foot rest securely in place on both carpeted and hard floors.
Ergonomic Benefits
Reduces Risk of Plantar flexion - A common problem with chairs whose seats are positioned too high is that the feet of the user do not touch the floor or, if they do touch, force the feet into plantar flexion. A foot rest like the Cozy Foot Rest can reduce the risk of plantar flexion by not only raising the surface on which the feet rest (so that both legs and feet are adequately supported) but also by adjusting the angle at which the feet rest in relation to the direction of the legs (optimally at slightly more than 90°).
Improves Upper Body Posture - The Cozy Footrest offers greater stability and support for the feet of a user. The improved posture can reduce the risk of upper back, shoulder and neck pain.
Features
Large Platform: The large 17.7" x 13.5" surface on the Cozy Footrest provides sufficient surface for larger feet.
Textured, Comfort Surface: Raised non-slip bars on the Cozy Footrest aid in maintaining foot position and can provide a massaging effect for feet.
Locked Angle Adjustment: In order to provide both solid foot support and variable angles for foot positioning, there are 4 fixed angles that can be manually adjusted to suit the ergonomic requirements of the user at 10°, 15°, 20°, and 25°.
Images
(Click on any thumbnail to view larger image)


Cozy Foot Rest
Technical Specifications
Platform Dimensions: 17.7" (45 cm) Wide x 13.5" (34.5 cm) Deep
Total Footprint: Approximately 20" (50.8 cm) Wide x 14.5" (37 cm) Deep
Platform Angles: 10°, 15°, 20°, 25°
Platform Height Settings: 3.5" (8.9 cm), 4.5" (11.4 cm), 5.5" (13.9 cm), 6.5" (16.5 cm)
Colour: Black
Warranty: 90 Days. Manufacturer Direct Only.
Package Contents: Foot Rest, Assembly Instructions
Models
For pricing, availability or to order this product, visit our online store.
| Model # | Description |
| --- | --- |
| FR-1001G | Cozy Foot Rest |