Find the Perfect Fit
The table below is an aid to help you determine what Perfit Mouse Optical size you will need. You should measure your hand size using a ruler and compare the result to determine the recommended size.
Measure on the palm side of the hand, from the tip of the middle finger to the first wrist crease with your hand held flat, as shown in the figure below: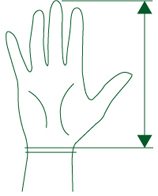 Note: If your hand measurement is between two sizes and you have a relatively thin hand, select the larger size. If you have a thick palm you should choose the smaller of the two.
Hand Size

Mouse
Size

Imperial

Metric

Under 6-3/4"

Under 17 cm

Small

6-3/4"to 7-1/2"

17 to 19 cm

Medium

7-1/2" to 8-1/4

19 to 21 cm

Large

8-1/4" and above

21 cm or greater

Extra Large