Page last updated: Fri, 15-Nov-2019 14:29:44
ErgoCanada - Detailed Specification Page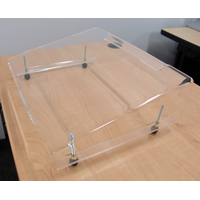 Back to Previous Page
Microdesk MINI
by The Good Use Company Limited
Ergonomic Benefits Features Additional Resources Usage Tips Accessories
Product Summary
The Microdesk MINI Document Holder and Writing Surface provides an elevated secondary work surface directly between the keyboard and the monitor. Formed from one continuous piece of transparent, heavy-duty Acrylic plastic, the Microdesk MINI is designed to straddle the rear edge of the keyboard, creating a stable, sloping platform for hand-writing tasks, as well as support for documents, books, mobile devices and other workstation essentials such as calculators or sticky notes. By allowing simultaneous inline access to materials and to the keyboard, this multi-function accessory enhances workstation comfort and convenience. Users can avoid the discomfort of twisting to the side, or of reaching over the keyboard to write; or the inconvenience of having to move the keyboard aside whenever they want to jot down notes.

The Microdesk MINI is intended for use with Compact Keyboards and will accommodate keyboards up to approximately 13.5" in width. The adjustable legs offer 2" of height adjustment that enables users to adjust both the angle and elevation of the writing/document surface.

The Microdesk MINI offers a minimum of 2.75" of clearance at the front of the writing surface. The Document Ledge is 0.75" high and 10" wide to minimize interference with writing.
Images
(Click on any thumbnail to view larger image)
| | |
| --- | --- |
| Microdesk MINI, Height Adjustable Legs | Microdesk MINI, For Compact Keyboards |
Technical Specifications
Dimensions:

Width: 16" (40.6 cm)
Depth: 12" (72.7 cm)
Minimum Height at Front (including document lip): 3.75" (9.5 cm)
Maximum Height at Front (including document lip): 5.75" (14.6 cm)
Minimum Height at Rear: 5.25" (13.3 cm)
Maximum Height at Rear: 7.25" (18.4 cm)

Clearance at front:

Minimum: 2.5"
Maximum: 4.5" (11.4 cm)

Angle: Default 20°, Adjustable legs permit customization above or below that angle (in conjunction with associated height adjustment)
Paper Ledge: 10" W x 0.75" H (25.4 cm x 1.9 cm)
Warranty: NO 30 DAY CSG or Manufacturer Warranty
Package Contents: Microdesk MINI, Legs (set of 4)
Models
For pricing, availability or to order this product, visit our online store.
| Model # | Description |
| --- | --- |
| MD-MINI | Microdesk MINI, 16" wide, Bent Acrylic, Height Adjustable Legs. Compatible with desktop use only. |