Ergonomic Benefits Features Additional Resources Usage Tips Accessories
Product Summary
The ClickIt-Basic from SmartMotion Technology features a heavy-duty steel track mechanism to achieve both height and angle adjustment so users are able to position the keyboard at the optimum height and angle necessary to achieve a neutral arm and wrist posture. The MDF tray is 26" wide x 11" deep and is capable of providing sufficient space for most full-size keyboards and most mice. As this is only a 17" track the tray will not fully recess below the desk. When stored the tray will project by 3-4 inches.Note: The Keyboard and Mouse Palm Supports shown are NOT INCLUDED. The wire Mouse Guard shown is also not available.
Note: WE ARE UNABLE TO OFFER A 30 DAY CUSTOMER SATISFACTION GUARANTEE OR WARRANTY ON THIS PRODUCT.
Images
(Click on any thumbnail to view larger image)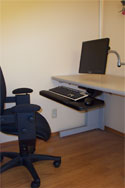 ClickIt-4ARM Basic - Storable Worksurface
Technical Specifications
Width: 26.0" (66.0 cm)
Depth (front to back): 11.0" (27.9 cm)
Tray Thickness: 0.625" (1.6 cm)
Storage Track Length: 17" (43.2 cm)
Package Contents: ClickIt-Basic Tray, Adjustable and Storable Arm, Mounting Hardware, Installation Instructions.
Models
For pricing, availability or to order this product, visit our online store.
| Model # | Description |
| --- | --- |
| CLICKIT-Basic | ClickIt-Basic |