Ergonomic Benefits Features Additional Resources Usage Tips
Product Summary
The Salli Classic is the most basic model of the Salli chair line, and provides the appropriate orthopedic support from the saddle seat design. The seat is a solid one-piece saddle design. A standard hand-controlled height adjustment lever for adjustment of the gas spring lift accommodates most adults. Available lift sizes and the corresponding heights they accommodate are as follows: Low (4'0" to 5'1"), Mid (5'2" to 5'11") and Tall (5'8" to 6'5"). The 5-star base and lift are available by default in an attractive chrome finish, black base and lift available by request.The total weight of the chair is 10.5 kg (23.1 lb), the seat is 7.5 kg (16.5 lb). The Salli Classic is only available by Special Order and can be purchased upholstered in either genuine leather or polyurethane faux leather, each available in a range of colours.
Images
(Click on any thumbnail to view larger image)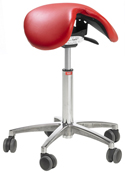 Salli Classic
Technical Specifications
Warranty: 10 years Manufacturer Direct for Salli chair components, including the seat, casters, tilt mechanism, lift, and base.

Not covered by warranty: leather-damaging liquids, falling or abrasion, piercing by sharp objects, abnormal wear and tear, animals or any other inappropriate use, corrosion in humid environments.
Models
For pricing, availability or to order this product, visit our online store.
| Model # | Description |
| --- | --- |
| SS-CL | Salli Classic Chair, non-divided i.e. solid saddle seat, medium pneumatic chrome lift, polished aluminum base, soft 65 mm casters, accommodates users up to 264 lbs (120 kg) |
Accessories
| Model # | Description |
| --- | --- |
| 43565H | Salli Hard Standard Caster Accessory, 65 mm, for soft floors or wall-to-wall thick carpets (Note: Price is for 1 unit, order 5 if you want a complete set for a Salli Chair). |
| 440 | Salli Hard Caster Glide Accessory, converts Salli chair for stationary use, permits chair to glide when not loaded (Note: Price is for 1 unit, order 5 if you want a complete set for a Salli Chair). |