Page last updated: Tue, 20-Aug-2019 15:25:25
ErgoCanada - Detailed Specification Page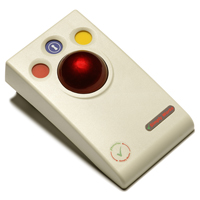 Back to Previous Page
SimplyWorks* Wireless Trackball
by Pretorian
Product Summary
The SimplyWorks Wireless Trackball from Pretorian combines the established technology and design of the Optima Trackball with the expanded capabilities provided by the SimplyWorks Wireless connection. The SimplyWorks Trackball employs optical sensor technology that eliminates mechanical parts which can fail from wear while still offering precise tracking and cursor control. Trackball movement is silky smooth and the stable low profile footprint makes the SimplyWorks Wireless Trackball suitable for a wide spectrum of computer users. The extended operating range (in excess of 10 metres) makes it ideal for use in multi-user settings and classrooms as it can be employed as a desktop or handheld trackball.

The SimplyWorks Wireless functionality means that this trackball can be combined with any combination of up to 5 other SimplyWorks equipped devices to communicate with a single computer through a SimplyWorks Wireless RECEIVE. This makes it an ideal solution for co-operative learning and interactive multi-user activities.

Colour-coded and recessed control buttons for Left Click, Right Click, and Drag-Lock are positioned above the trackball. The recessed location assists users in guiding their fingers to the appropriate buttons as well as preventing accidental activation that could occur with flush or raised buttons. In addition, the SimplyWorks Wireless Trackball is also equipped with dual ports which accommodate the attachment of external switches for activation of the left and right click functions. These can be used to offer users with limited motor control alternative methods of clicking.

Robustly manufactured, the SimplyWorks Wireless Trackball is virtually maintenance free (with the exception of battery replacement) and will give years of untroubled service.

* SimplyWorks is the world's first fully integrated wireless system designed specifically for users with motor skill difficulties.
Ergonomic Benefits
Reduces Strain on Arm, Elbow and Shoulder Muscles
- The SimplyWorks Wireless Trackball is a stationary mousing device. Moving the ball with the fingers moves the cursor on the screen but the device itself does not move. Limiting the repetitive movements of the arm and shoulder can greatly reduce the potential for injury and inflammation in these muscle groups. Many users who can benefit from the features of this trackball already have issues in these areas so any reduction of the amount or degree of movement is of benefit. The SimplyWorks Wireless Trackball assists the user in keeping the elbow, wrist and hand in a straight line, and to limit ulnar and radial deviation.
Learn More About Ulnar Deviation
Reduces Strain on the Hand, Wrist and Arm
- Trackballs effectively counter any tendency the user might have to grip the pointing device too hard. This often inadvertent static grip can cause pain and injury to the muscles and soft tissues in the back of the hand and in the wrist and forearm. Trackballs, by requiring a simple spinning motion accomplished with the fingers, eliminate static grip entirely.
Learn More About Static Grip Force
Assists in Button Access - The SimplyWorks Wireless Trackball offers inset buttons arcing across the top of the trackball. This design assists users with motor control weakness in targeting the buttons as well as having the accompanying effect of reducing the risk of accidental button activation.
Hardwired Drag Lock Feature Reduces Finger Fatigue - The hard-wired drag-lock feature allows users to activate drag-lock by a simple click. This eliminates the need to hold down the button while dragging the selected item on the computer screen. This greatly simplifies using applications that require significant click-and-drag actions such as locking onto the scroll bar.
Enables Load Balancing Between Left and Right Hands - The SimplyWorks Wireless Trackball feature an ambidextrous design and can be placed on the left or right side of the keyboard in the traditional desktop layout. Left and Right button functions can be switched through the OS control panel settings. The ability to distribute the workload as desired allows the user to reduce the strain on the muscles of the dominant side.
Large Diameter Weighted Ball - The 51 mm ball on the SimplyWorks Wireless Trackball is weighted to provide users with excellent response feedback. Although the weight of the ball requires that users actively choose to move the ball the force required for cursor control is still relatively low. The higher mass of a weight ball means that users can also 'spin' the ball to cover greater distances.
Wireless Design for Optimal Positioning - As the SimplyWorks Wireless Trackball relies upon a wireless connection the trackball can be placed where it best meets the needs of the user. There is no need to maintain a position close to the CPU since the Trackball is freed from the limitations of a cord.
Features
Wireless Convenience: The Pretorian SimplyWorks Wireless Trackball employs a wireless (2.4GHz) link with an interference-free operating range exceeding 10 metres.
Multi-User Environment Functionality: The unique SimplyWorks Wireless system permits up to 6 different SimplyWorks devices to be simultaneously connected to a single computer. This makes it ideal for cooperative learning or multiple user activities.
Replaceable Power Source: The SimplyWorks Wireless Trackball is powered by a single standard 9 Volt battery.
Ergonomic Design: Pretorian products are designed with the user in mind, providing appropriate button positioning, ease of control and necessary hand support for all-round ergonomic benefit.
Rugged Construction: Pretorian products are designed with the expectation that they may be subjected to less than ideal conditions. As a result their construction is intended to accept this type of usage without failure.
High Visibility Controls: The SimplyWorks Wireless Trackball features brightly coloured high-contrast buttons and trackball which act as visual aids to assist users who have vision or comprehension difficulties.
Large Footprint for Maximum Stability: All Pretorian products are designed to ensure stability. The large footprint of the housing ensures that the devices are not easily knocked off of the surface on which they are situated.
Symmetrical Ambidextrous Design: The housing of the SimplyWorks Wireless Trackball provides users with the freedom to easily switch between right or left-handed use. Left and Right click buttons can easily be switched without the need of changing computer settings
Integral Wrist Support: The SimplyWorks Wireless Trackball offers a large surface on which to rest the heel of the hand. This means that the wrist can be maintained in a neutral position, reducing the risk of wrist extension and also permitting users to relax and allow the wrist to rest.
Large Trackball: The large 51 mm, free-running ball ensures that cursor control requires nominal effort. Although the ball has significant mass it will still move with a minimal amount force. A speed control setting enables users to cycle through 4 levels of performance, choosing that which best meets their needs at any time.
Durable Optical Tracking: The SimplyWorks Wireless Trackball tracking system relies on optical technology, eliminating any mechanical wearing parts and ensuring precise and accurate cursor control
Silky Smooth Trackball Movement: The SimplyWorks Wireless Trackball offers exceptionally smooth movement.
Clearly Identifiable Controls: The large buttons on the SimplyWorks Wireless Trackball are colour-coded using primary colours with white legends. This is intended to meet the needs of a wide range of users, including those who may have limited vision and may not be able to discern the legending.
Assisted Access Buttons: All buttons are mounted sub-flush to prevent accidental activation. This positioning also serves as an aid to guide fingers directly to the buttons. This feature, combined with the wide positioning between buttons, greatly reduces the potential for accidental activation.
External Switch Support: Two 1/8" mini phono plug sockets provide for the attachment of external left and right click buttons for users who may have trouble targeting the inset buttons. Check out our selection of switches that can be used with the Ambidextrous Trackball.
Latching Drag Lock: The Latching Drag locks on until the button is activated a second time to release the latch. This releases the user to focus on the necessary cursor movement, be it selecting text or simply moving something on the screen.
Simple Connection via SimplyWorks Receive Modules: The SimplyWorks Wireless Trackball will work with any SimplyWorks Receive module. Before use it must be paired to the receiver, a process that generally takes less than a minute. Once paired, the device will remain paired to the RECEIVE on-board memory and will not generally need to be re-paired unless the pairing is overwritten by the attempted pairing of more than the maximum of 6 devices. Each RECEIVE can accept and hold the pairing for up to 6 SimplyWorks devices.
Low Maintenance: The SimplyWorks Wireless Trackball is virtually maintenance-free and should require a replacement battery only about twice a year based on average usage.
Images
(Click on any thumbnail to view larger image)
| | | |
| --- | --- | --- |
| SimplyWorks Wireless Trackball | SimplyWorks Receive Wireless Receiver | SimplyWorks Receive2 Compact Wireless Receiver |
Additional Resources
SimplyWorks Wireless Trackball User Manual: PDF


Technical Specifications
Width: 4" (10.2 cm)
Depth (front to back): 7.1" (18.0 cm)
Height (to top of trackball, highest point on mouse): 2.8" (7.0 cm)
Height (front of casing): 1.0" (2.6 cm)
Height (rear of casing): 2.4" (6.2 cm)
Height (from casing to top of trackball): 0.7" (1.8 cm)
Diameter of Trackball: 2.0" (5.1 cm)
Diameter of Buttons: 0.7" (1.8 cm)
Colours:

Middle Button: Blue
Right Button: Yellow
Trackball: Red
Casing: Beige

Interface:

Wireless - Requires SimplyWorks Wireless Receive Wireless Receiver (not included)
To switches: 2 x Mini-phono Jacks (1/8" or 3.5 mm)

Compatibility: PC, Mac, and Chromebook
Power Source: 9 Volt battery (not included)
Warranty: 2 Years
Package Contents: SimplyWorks Trackball, User Guide
Note: The SimplyWorks Trackball does not come with a wireless receiver. It requires the SimplyWorks Wireless Receive Wireless Receiver which supports simultaneous communication from up to six different SimplyWorks Devices.
Usage Tips
If you are new to a trackball expect that it will take a while to get accustomed to the different style of control. It is also a good idea to limit the amount of time you use it in the first while. Rather, build up to longer periods of usage by interchanging with a different mousing device or by Load Balancing (see next point).
Load Balance Your Use: The freedom of an ambidextrous trackball lets you easily switch between left and right handed use. Make a point of using it with your non-dominant hand. Not only is this good for your dominant hand, which gets a break from working, it can slowly build dexterity and endurance which your non-dominant hand generally does not have. As a bonus, it is also a way of stimulating the other half of your brain, which is never a bad idea.
Take Regular Breaks: If you find that you are experiencing discomfort in your fingers, especially in the learning stages - that is a good sign that you may want to take a break by switching to a different device or by swapping to the other hand. As with any device, make an effort to regularly change your usage, take breaks, and perform stretches. Some users find that the fingers can benefit from occasionally flexing them through a full range of movement, both extending and contracting them fully.
Remember to employ the Drag-Lock feature when selecting or moving text or when performing drag-and-drop functions.
Models
For pricing, availability or to order this product, visit our online store.
| Model # | Description |
| --- | --- |
| SWT | SimplyWorks Wireless Trackball |
Accessories
| Model # | Description |
| --- | --- |
| RCE | SimplyWorks Receive Wireless Receiver |
| RCE2 | Pretorian Receive:2 Wireless Receiver, USB |