Page last updated: Fri, 19-Jul-2019 14:31:53
ErgoCanada - Detailed Specification Page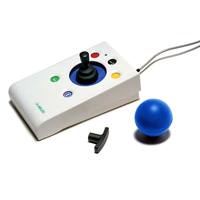 Back to Previous Page
n-ABLER Joystick
by Pretorian
Accessories
Product Summary
The n-ABLER Joystick from Pretorian is specifically designed to address the needs of computer users with limited hand control, motor skill difficulties, poor hand-eye coordination, lack of manual dexterity, and muscle spasms. This functionality is packaged in a heavy duty housing designed to survive heavy use. High contrast coloured buttons and control surfaces assist users in determining position and function of the controls.

The n-ABLER Joystick provides cursor control as well as single-click controls for left click, right click, double click, and drag lock functions. In addition the n-Abler Joystick also offers a "Locking Axis" function which locks the cursor to either vertical or horizontal movement, addressing the difficulty of cursor control for users who experience tremors or may struggle with fine motor control.

Cursor control on the n-ABLER Joystick is provided by a joystick control which can be equipped for the individual needs of a user. Included are a standard joystick, a T-Bar handle, and a soft-grip ball. Dual mini-phono jacks also permit the attachment of a variety of external switches to provide users with easier access to the Left and Right click functions. Users who find the traditional orientation unsuitable have the option of 'teaching' the trackball to orient itself at 90° increments, freeing the user to change the housing orientation for optimum usage and comfort. The n-ABLER Joystick also offers an optional buzzer setting which provides notification as specific functions are activated or deactivated.

The design of the n-ABLER Joystick offers precision control and requires only minimal hand movement. This can reduce wrist and elbow fatigue, as it requires noticeably less effort. The symmetrical design enables users to work with either hand without having to angle the wrist, and the unit can also be configured for 'left-handed' operation. Its large, integrated hand support/palm rest makes work posture more relaxed and less strained.
Ergonomic Benefits
Reduces Strain on Arm, Elbow and Shoulder Muscles
- The n-ABLER Joystick is a stationary mousing device. Moving the joystick with the hand or fingers moves the cursor on the screen but the device itself does not move. Limiting the repetitive movements of the arm and shoulder can greatly reduce the potential for injury and inflammation in these muscle groups. Many users who can benefit from the n-ABLER features already have issues in these areas so any reduction of the amount or degree of movement is of benefit. The housing of the joystick can oriented to any multiple of 90° and the trackball 'taught' which way is up. Allowing the user to keep the elbow, wrist and hand in a straight line, and to limit ulnar and radial deviation.
Learn More About Ulnar Deviation
Reduces Strain on the Hand, Wrist and Arm
- The three control surface options (Joystick, T-Bar, and Ball) mean that the n-ABLER Joystick can be effective in countering the tendency a user may have to grip the pointing device too hard. This often inadvertent static grip can cause pain and injury to the muscles and soft tissues in the back of the hand and in the wrist and forearm. The three options also ensure that users with strength and grip issues can equip the n-ABLER Joystick with a grip that is best suited to their needs.
Learn More About Static Grip Force
Assists in Button Access - The n-ABLER Joystick offers inset buttons surrounding the central 'stick'. This design assists users with limited motor control in targeting the buttons as well as having the accompanying effect of reducing the risk of accidental button activation.
Hardwired Drag Lock Feature Reduces Finger Fatigue - The hard-wired drag-lock feature allows users to activate drag-lock by a simple click. This eliminates the need to hold down the button while dragging the selected item on the computer screen. This greatly simplifies using applications that require significant click-and-drag actions.
"Axis Lock" for Simplified Cursor Control
- The Axis Lock button locks cursor movement to either the vertical or horizontal axis when activated. This can be of great benefit to those who experience involuntary tremors or muscle spasms which make fine cursor control difficult.
Note:
Those who experience only tremors may be interested in the
n-ABLER PRO Joystick
which includes an Anti-Tremor setting with multiple sensitivity settings while still retaining traditional Free-Axis cursor control.
Enables Load Balancing Between Left and Right Hands - The n-ABLER Joystick features an ambidextrous design and can be placed on the left or right side of the keyboard in the traditional desktop layout. Left and Right button functions can be switched 'onboard'. The ability to distribute the workload as desired allows the user to reduce the strain on the muscles of the dominant side.
Features
Ergonomic Design: Pretorian products are designed with the user in mind, providing appropriate button positioning, ease of control and necessary hand support for all-round ergonomic benefit.
Cursor Speed Control: The n-ABLER Joystick is equipped with a cursor speed control switch that permits users to cycle through 4 cursor speed settings. This lets them choose the speed with best serves their needs and is changeable at any time.
Easy Action, Soft-Start Cursor Control: The joystick on the n-ABLER provides users with excellent resistance feedback sufficient to ensure that users cannot accidentally activate the cursor movement. Minor displacement of the joystick will move the cursor very slowly, with speed increasing to the preset maximum as the joystick is moved further off-centre. Combined with the 4 available speed settings the n-ABLER can be configured to precisely meet the control needs of virtually any user.
Rugged Construction: Pretorian products are designed with the expectation that they may be subjected to less than ideal conditions. As a result their construction is intended to accept this type of usage without failure.
Large Footprint for Maximum Stability: All Pretorian products are designed to ensure stability. The large footprint housing ensures that the devices are not easily knocked off of the surface on which they are situated.
Industry Standard Mounting: A standard 3-point threaded mount is provided on the underside for securing to any mounting surface.
Symmetrical Design: The housing of the n-ABLER Joystick provides users with the freedom to easily switch between right or left users. Left and Right click buttons can easily be switched without the need of changing computer settings
Integral Wrist Support: The n-ABLER Joystick offers a large surface on which to rest the heel of the hand. This means that the wrist can be maintained in a neutral position, reducing the risk of wrist extension and also permitting users to relax and allow the wrist to rest.
Clearly Identifiable Controls: The large buttons on the n-ABLER Joystick feature primary colours with white legends in order to meet the needs of a wide range of users, including those who may have limited vision and may not be able to discern the legending.
Assisted Access Buttons: All buttons are mounted sub-flush to prevent accidental activation. This positioning also serves as an aid to guide fingers directly to the buttons. This feature, combined with the wide positioning between buttons, greatly reduces the potential for accidental activation.
Left to Right Switchable: On board programming lets users exchange Left and Right Click functions with no need to access or modify operating system settings.
Re-Orienting Function: Not all users may find the traditional placement of the trackball to meet their needs. For this reason the n-ABLER can be 'taught' to orient itself to any 90° orientation. This function is performed 'onboard' with no need for driver support.
External Switch Support: Two 1/8" mini phono plug sockets provide for the attachment of external left and right click buttons for users who may have trouble targeting the inset buttons. Check out our selection of switches that can be used with the n-ABLER Joystick.
Double Click and Latching Drag Lock: Accomplishing a double-click action is nearly impossible for users with any kind of motor skills limitation. Being able to perform this with a single click is of major benefit for these users. For the same reason, holding down a button for dragging while moving the cursor is just as frustrating. The latching drag locks on until the button is activated a second time to release the latch. This releases the user to focus on the necessary cursor movement, be it selecting text or simply moving something on the screen.
Axis-Lock Control: The Axis Lock button locks cursor movement to either the vertical or horizontal axis when activated. This can be of great benefit to those who experience involuntary muscle spasms or tremors which make fine cursor control difficult.
Audible and Visual Indicators: A mutable buzzer apprises of a selection change when moving between functions and a multi-coloured LED serves to notify of the currently active mode.
PS/2 and USB 'Plug and Play' installation: Installation is a breeze. Simply connect the USB and the joystick will automatically install. If a PS/2 connection is desired just attach the adapter, plug it in and start/restart the computer.
Wired Reliability: The Pretorian n-ABLER Joystick employs a wired USB connection which eliminates the potential for wireless to 'drop out' at a crucial moment. It also ensures the fastest communication - eliminating any potential for lag from wireless.
Images
(Click on any thumbnail to view larger image)
| | | |
| --- | --- | --- |
| n-ABLER Joystick | n-ABLER Joystick - button controls | n-ABLER Joystick |
Additional Resources
Technical Specifications
Case Dimensions:

Width: 5.1" (12.9 cm)

Depth (front to back): 9.2" (23.3 cm)

Height:

(front of casing): 1.8" (4.6 cm)
Height (rear of casing): 2.8" (7.2 cm)

Overall Height with Optional Controls:

Joystick: 4.25" (10.8 cm)
Ball: 5.6" (14.3 cm)
T-Bar: 4.45" (11.3 cm)


Elevation of Controls (from casing to top):

Joystick: 1.8" (4.5 cm)
T-Bar: 2.0" (5.1 cm)
Ball: 3.2" (8.1 cm)

Control Dimensions:

Joystick diameter: 0.7" (1.8 cm)
Ball: 2.4" (6.2 cm)
T-Bar: Width - 2.3" (5.9 cm), Depth - 0.7" (1.7 cm)

Weight: 2.4 lb (1.1 kg)
Diameter of Buttons: 0.7" (1.8 cm)
Cord Length: 80.0" (2.0 m)
Colours:

Left Button: Red
Middle Button: Blue
Right Button: Yellow
Casing: Beige

Interface:

To CPU: USB or PS/2 (USB to PS/2 adapter included)
To Optional Switches: 2 x 1/8" (3.5 mm) Mini-phono Jacks

Compatibility: PC, Mac, Chromebook
Warranty: 2 years. For use in domestic, educational, commercial, and light industrial applications. Use in other applications voids the warranty.
Package Contents: N-Abler Joystick, USB to PS/2 adapter, User Guide
Usage Tips
Using a joystick is a natural movement for most users since the cursor moves in response to the direction the joystick is moved. With the Soft-Start cursor movement the cursor will not 'jump' quickly and direction can easily be changed before moving too far in the wrong direction.
Select the Control handle that best meets your needs. Some users will prefer the full grip of the Ball to optimize their control while other will prefer the traditional Joystick or the T-Bar handle. The option which provides the greatest level of control is most probably the best option as it will generally also generate the least amount of stress.
Load Balance Your Use: If you are able, take advantage of the freedom of an ambidextrous mousing device to switch between left and right handed use. Make a point of using it with your non-dominant hand. Not only is this good for your dominant hand, which gets a break from working, it can slowly build dexterity and endurance which your non-dominant hand generally does not have. As a bonus, it is also a way of stimulating the other half of your brain, which is never a bad idea. The n-ABLER joystick permits 'onboard' switching of Left and Right button functions to better accommodate load balancing.
Take Regular Breaks: If you find that you are experiencing discomfort in your fingers or hand, especially in the learning stages - that is a good sign that you may want to take a break by switching to a different device or by swapping to the other hand. As with any device, make an effort to regularly change your usage, take breaks, and perform stretches. Some users find that the fingers can benefit from occasionally flexing them through a full range of movement, both extending and contracting them fully.
Employ the one-touch Double Click, Drag-Lock and Axis Lock buttons to optimize the value of the n-ABLER Joystick.
If you experience tremors or muscle spasms consider using the Axis-Lock button to better control the cursor. User with minor tremors may benefit from the Anti-Tremor function on the n-ABLER PRO Joystick
Models
For pricing, availability or to order this product, visit our online store.
| Model # | Description |
| --- | --- |
| NAJ | n-ABLER Joystick |