Page last updated: Thu., 27-Feb.-2020 16:09:23
ErgoCanada - Detailed Specification Page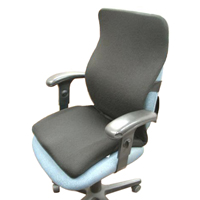 Back to Previous Page
Chair Makeover
by McCarty's Sacroease
Ergonomic Benefits Features Additional Resources Usage Tips Accessories
Product Summary
Tired of sitting in terrible seats and getting up with a sore back? That can be a thing of the past with the Chair Makeover from McCarty's Sacroease. This unique product combines two products into a unique package. The seat is a specially contoured and molded Visco Memory Foam (17" W X 16" D) designed to optimize your sitting comfort while the 24" H X 17" W back is designed with the same bendable steel frame, rubber webbing and Memory Foam as the Sacro-Ease Memory Foam Seat Support. Over all this there is a soft and flexible fabric covering available in a wide range of designer colours. The 24" high back enables you to custom bend the back to provide yourself with the lumbar and shoulder support that you require and provides a level of support not found in many office chairs. Like other Sacro-Ease Seat Supports, the Chair Makeover has a handle to enable you to transport it between locations and, also like other models, can be used in virtually all seating situations to vastly improve the back support which is so often lacking.
Images
(Click on any thumbnail to view larger image)


Chair Makeover
Technical Specifications
Width: 17" (43.2 cm)
Depth (front to back): 16" (40.6 cm)
Height: 24.0" (61 cm)
Back: 1.0" (2.5 cm) of memory foam over steel frame and rubber support bands
Seat: 1.0" (2.5 cm) of memory foam
Available colours: Black, charcoal, light brown, grey
Models
For pricing, availability or to order this product, visit our online store.
| Model # | Description |
| --- | --- |
| CM-BLK | 17" Seat width. |
| CM | 17" Seat width. Colours Available: Basil, Blue, Cappucino, Pebble, Chocolate, Smoke, Wine. |