Page last updated: Wed., 08-Jul.-2020 15:18:55
ErgoCanada - Detailed Specification Page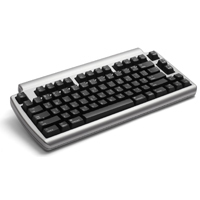 Back to Previous Page
Laptop Pro Keyboard
by Matias
Ergonomic Benefits Features Additional Resources Usage Tips Accessories
Product Summary
The Matias Laptop Pro Keyboard is the quietest mechanical compact keyboard currently in production. It features full size, full travel keys with standard key pitch all but eliminating adaptation time. The keyswitches are Quiet Click mechanical keyswitches, providing the speed, comfort and tactile feedback of a mechanical keyboard, without the typical accompanying noise. The bluetooth interface makes it easy to use with any bluetooth enabled device, and the reduced form factor makes it more portable than traditional full-size keyboards.

It has Mac friendly function keys ensuring full access to features on Macs, iPads, IPhones, iPod Touches and Apple TVs...but it will also work with bluetooth enabled PCs, Android 3.0+ smartphones and tablets. There are 2 USB ports on the keyboard which when plugged in allow you to either charge the keyboard or charge up to 2 other USB devices (while you are charging the keyboard).
Images
(Click on any thumbnail to view larger image)

Matias Laptop Pro


Matias Laptop Pro Compact Keyboard


Matias Laptop Pro - Side Profile


Matias Quiet Click Mechanical Keyswitch Specs
Technical Specifications
Dimensions: 13.26" x 6.5" x 1.38" (33.7 x 16.5 x 3.5 cm)
Weight: 2.15 lbs (974 g)
Keyswitch Type: Mechanical (Quiet Click)
System Requirements: Mac with Bluetooth, iPad, iPhone or iPod touch, Apple TV, Android 3.0 or higher
Cable Length: 6.5 feet (2 m)
Warranty: 1 year limited warranty
Accessing Print Screen on a PC: Press FN + F13 to generate a "Print Screen" keyboard action on a bluetooth enabled PC
Models
For pricing, availability or to order this product, visit our online store.
| Model # | Description |
| --- | --- |
| FK303QBT | Laptop Pro Keyboard, Legended for Mac/iPad, Bluetooth |