Page last updated: Fri., 14-Feb.-2020 15:22:19
ErgoCanada - Detailed Specification Page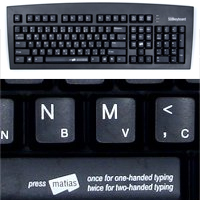 Back to Previous Page
508 Keyboard
by Matias
Ergonomic Benefits Additional Resources Usage Tips Accessories
Product Summary
The 508 Keyboard gives you the best of both worlds – one-hand and two-hand typing. It's a full-size, standard keyboard that allows you to touch-type with your left hand, your right hand, or both hands. Whatever's more convenient. You decide.
Features
Ideal for Hand Related Injuries:

Ideal for one-handedness, Hemiplegia, Carpal Tunnel Syndrome, and other hand-related injuries, Matias' innovative one-handed typing technology provides one-handed typists access comparable to two-handed typists, without undue burden.
It offers greater accessibility for disabled users, as well as productivity gains for other office workers. The added convenience of typing with one hand is ideal when using a mouse or a telephone with the other hand.

Comparable Speed: One-handed typing speeds in the 30 to 60 words-per-minute range are easily achievable using the Matias 508 Keyboard. This range is comparable to the performance of most two-handed typists, and more than sufficient for typical clerical tasks.
Comparable Skills:

One-handed typing is fast and easy on the 508 Keyboard. Since it uses your exisitng skills, the learning curve is very short.
An average touch-typist can start one-handed typing immediately, and will reach 34 words per minute after less than 10 hours of use.
For a non-touch typist, learning time is the same as learning two-handed typing.

Use Either Hand - or Both:

The Matias 508 Keyboard allows one-handed typing using either hand, left or right, or both hands, just like a standard keyboard.
One-handed typing can be switched on or off, using the "matias" key. Press once for one-handed typing, twice for two-handed typing.
One-handed typing on the 508 Keyboard is a lot like two-handed touch-typing:

Press the "matias" key once to turn on one-handed typing (pressing twice turns it off).
Place your hand in the standard home row position, and touch-type in the standard way.
For letters of the other (non-used) hand, hold down the space bar with your thumb, and use the fingers of your typing hand to do the same movements that the other hand normally does.
Tap the space bar to type spaces.
Tap the Shift key once to capitalize the next letter you type.

The Industry Standard:

Matias has proudly served the needs of the disability community for over 10 years. Its technology is the de facto standard for one-handed typing in the industry.
The surface of each key is clearly labelled with all of the characters and functions of both regular and one-handed typing modes, serving as an easy visual reference for the user.
Images
(Click on any thumbnail to view larger image)
| | | |
| --- | --- | --- |
| 508 Keyboard | 508 Keyboard - dual layered keys | 508 Keyboard - speed potential chart |
Technical Specifications
Width: 18.5" (47.0 cm)
Depth (front to back): 7.0" (17.8 cm)
Height: 1.0" (2.5 cm)
Keyswitch Type: High-quality rubber dome (quiet, tactile)
Colour: Black keys and casing, white legends
Compatibility: Windows 95, 98, 2000, NT, ME, XP
Mac
Interface: PS/2 (PS/2 to USB adapter included)
Warranty: 5 years
Models
For pricing, availability or to order this product, visit our online store.
| Model # | Description |
| --- | --- |
| FK508 | 508 Keyboard |