Ergonomic Benefits Features Additional Resources Usage Tips Accessories
Product Summary
The large 18" wide x 12" deep platform is fixed at a comfortable 10° angle. This footrest features an incredible height adjustment range of 3" above the floor to 16" above the floor. The textured rubber matting is slip-resistant, and this rest has a durable tubular steel design with matte-black finish.
Images
(Click on any thumbnail to view larger image)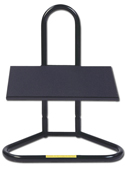 Industrial Foot Rest (Fixed Angle)
Technical Specifications
Width of platform: 18.0" (45.7 cm)
Depth (front to back) of platform: 12.0" (30.5 cm)
Height adjustability (above floor): Minimum: 3.0" (7.6 cm)
Maximum: 16.0" (40.6 cm)
Angle of platform: + 10°
Materials: Textured rubber matting, durable tubular steel frame
Models
For pricing, availability or to order this product, visit our online store.
| Model # | Description |
| --- | --- |
| 2097 | Industrial Foot Rest (Fixed Angle) |