Page last updated: Thu., 28-May-2020 14:38:19
ErgoCanada - Detailed Specification Page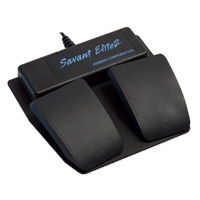 Back to Previous Page
Savant Elite2 Dual Action Foot Pedal
by Kinesis Corporation
Product Summary
The Savant Elite2 family of programmable USB foot pedals is available in configurations supporting up to four switches. These switches can be used to reduce the strain on the fingers by offloading repetitive actions such as mouse-clicks or keyboard shortcuts to either one or both feet. Programmed to function as modifier keys (such as Shift, Ctrl, or Alt) the switches can also help to maximize productivity by allowing the user to continue typing without interruption and to access the modifiers near-simultaneously with the feet.

Commands can easily be customized to the needs of the individual user or for specific purposes. Savant Elite2 foot pedals are also ideal for keying-intensive tasks such as programming, data entry, or word processing where repetitive sequences of characters are entered throughout the day.

The Savant Elite2 Dual Action Foot Pedal is an ideal option for a user who wishes to have an alternate clicking solution. Preprogrammed with Left and Right mouse clicks, the Dual Action Foot Pedal enables users to offload the most common mouse actions to one or both feet. The standard model features two front-hinged foot pedals secured to a solid steel base which serves well for users who wish to pivot their foot from the heel when moving between pedals. The FP20AJ model includes an additional input jack which enables the connection of another stand-alone foot pedal or other switch equipped with a 0.125" mini-phono plug. This can enable a user to locate the third switch remotely for access by the other foot (or hand) or it can be positioned adjacent to the primary pedals. See our range of switches in the Switches category.

Savant Elite2 products feature driverless programming for a wide range of operating systems, including Windows, Mac OS X, Android, Linux, or Chrome.
Ergonomic Benefits
Reduces Strain on Fingers - The highly repetitive action associated with mouse clicking can greatly increase finger fatigue and the risk of developing joint pain, especially for those who use non-ergonomic mice. A footswitch addresses these concerns by transfering mouse-clicking actions from the fingers to the foot.
Reduces the Potential for Trigger Finger
- "Hovering" a finger over a mouse button in anticipation of the next click can lead to the development of a condition known as
"Trigger Finger."
By transferring the left click--the most common mouse action--to a footswitch, the user can significantly reduce the risk of developing this problem. Transferring the left click to the footswitch also allows the entire hand to relax more completely, which may lead to better cursor control.
Reduces Awkward Reaching - Hands and fingers can be overstressed by constantly performing awkward combination keystrokes or by straining to reach a key on the outer edges of the keyboard. By programming a footswitch to perform the same functions with a single press of the pedal, users can give their fingers and hands a rest while at the same time potentially increasing productivity.
Comfortable Switch Positioning - All Savant Elite2 footswitch control modules with extra input jacks allow the accessory footswitch(es) to be positioned far away from the control module for optimal access by both feet.
Features
Pre-Programmed Default Actions: All Savant Elite2 footswitches come pre-programmed to activate right and left mouse clicks. For many users the pain associated with mousing is from the action of clicking, not from moving the mouse. The Savant Elite2 resolves this problem by relocating the clicking action to the foot.
Driverless Programming: The Savant Elite2 line of footswitches can now be programmed using the convenient preinstalled SmartSet App visual interface. This App offers an intuitive interface for quick programming of all functions available on a given devices. Since the SmartSet App loads directly from the device there is no need to install a driver or programming software. Both Windows (7, 8 & 10) and MAC (OS 10.5 and newer) versions are preloaded on new pedals.
Users of earlier versions of the Windows or MAC operating systems, or of alternative OS such as Linux, Android or Chrome are still able to fully program the footswitches by editing a simple text file. An Explorer window displaying the Foot Pedal as a flash drive (identified as: Kinesis FP) is automatically loaded to the computer when the unit is put into programming mode. The pedals.txt file stored here can be edited to perform the desired keyboard or mouse action, and then saved to the unit. In addition, multiple files can be created for specific uses, and programming files created on any system can be saved to the foot pedal flash drive. Download the Savant Elite2 Manual for detailed instructions on how to program by this method.
Double-Click Option: All Savant Elite2 footswitches now support the programming of a "Double Click" option. The triple action models (FP30A and FP30AJ) have the middle switch pre-programmed to perform this function.
Programmable Keys or Mouse Actions: The Savant Elite2 line of foot pedals can be custom programmed to perform virtually any combination of mouse or keyboard actions, including even complex multi-key macros.
Note:It is not possible to program a drag lock toggle with the footswitch (i.e. the footswitch must be held down in the same way you hold down your left mouse button to highlight and perform drag and drop operations)
Macro Programming: Macros are a great productivity tool for generating commonly used phrases, or combinations of key actions and modifiers. With a memory capacity of 1200 characters the Savant Elite2 will support the most complex macros.
Adjustable Activation Force: All pedals on the Savant Elite2 line of footswitches feature an activation force adjustment which enables users to determine the level of resistance that works best for them.
Images
(Click on any thumbnail to view larger image)

Savant Elite2 Dual Action Foot Pedal


Savant Elite2 Dual Action Foot Pedal - Relaxed Foot Position


Savant Elite2 Dual Action Foot Pedal - Side Profile


SmartSet App Programming Interface
Additional Resources
Savant Elite2 Features Overview:



SE2 SmartSet Tutorial for Windows:



SE2 SmartSet Tutorial for Mac:



Technical Specifications
Width: 6.5" (16.5 cm)
Depth (front to back): 7.0" (17.8 cm)
Height: 1.375 (3.5 cm)
Weight: 1.7 lbs (.7 kg)
Cable Length: 9'1" (2.78 m)
Operational Rating: 1 million actuations at 60 clicks per minute
Pedals: Dual Front-Hinged Pedals
Operational Rating: 1 million actuations at 60 clicks per minute
Compatibility: Windows, Mac OS X*, Android, Linux, or Chrome (See "Driverless Programming" under Features for more details)
* Macintosh OS X notes: OS X doesn't support middle mouse button without using a third party driver such as that found at www.usboverdrive.com. Also, modifier actions from one USB device cannot modify the input of a second USB device due to limitations designed into the Apple operating system (ie Shift, Control, Command, or Option keystrokes programmed into the foot pedal cannot modify the input of a separate USB keyboard or mouse. However, a key sequence like 'Cmd-W' or 'Cmd-Shift-left arrow' will work on a Macintosh if the entire sequence of keystrokes has been programmed into the foot pedal).
Interface: USB
Warranty: 2 years
Package Contents: Savant Elite2 Dual Action Foot Pedal, User's Manual
Usage Tips
Program the Footswitch to Your Needs - Determine which functions you need to program - then follow the detailed instructions in the programming guide PDF file which can be found in the Kinesis FP flash drive which is automatically loaded to the computer when the module is put into Programming Mode. Programming requires the editing of a simple text file. It is possible to create multiple files to address specific uses or circumstances. For convenience it is also possible to create files on a different computer and then transfer the file to the appropriate file folder on the host computer.
Position Switches For Comfort - Position the Switch (or Switches) where your foot is relaxed and you are most comfortable. You want to be able to permit your foot to rest naturally on the pedal, not be reaching for it or needing to hold your foot "up" to keep it from activating the switch.
Adjust Footswitch Sensitivity - Each footswitch has a sensitivtiy adjustment for fine tuning to your specific needs. Ensure that there is a high enough resistance, so that you do not accidentally activate the pedals. If not you will find yourself trying to "hold" the weight of your foot which will be tiring at best or could lead to issues from the constant state of tension in the lower leg muscles.
Work From a Seated Position - Foot pedals generally work best for users who are seated. Repeatedly activating a foot pedal while standing can be uncomfortable as the foot tends to be held in a state of extension which requires a constant tension of the lower leg muscles. This could be slightly mitigated by putting a raised support under the heel of the foot, raising the foot in relation to the pedal. This is not a recommended method of usage as it creates an imbalance that can result in other orthopedic issues.
Watch for Symptoms of Overuse - With any repetitive action, there is a risk of developing Repetitive Strain Injuries (RSI). The feet are capable of heavy usage and do tend to have increased bloodflow which may reduce this risk. However, if a user suspects that discomfort is at all related to the usage of a footswitch it would be wise to reduce, or even temporarily suspend, this usage in order to help identify the source of the discomfort. As with any device, care should be taken to ensure that potentail issues are addressed as soon as symptoms become evident, rather than ignoring the symptoms and permitting an addressable concern to be elevated to a serious problem.
Models
For pricing, availability or to order this product, visit our online store.
| Model # | Description |
| --- | --- |
| FP20A | Savant Elite2 Dual Action Foot Pedal |
| FP20AJ | Savant Elite2 Dual Action Foot Pedal with Input Jack |
Accessories
| Model # | Description |
| --- | --- |
| FS007MP | Single Pedal Accessory for Savant Elite2 |
| FS002HT8-UL | Savant Elite Hand Trigger Accessory |