Page last updated: Fri., 14-Feb.-2020 15:22:36
ErgoCanada - Detailed Specification Page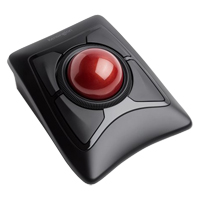 Back to Previous Page
Expert Mouse Wireless and Bluetooth Trackball
by Kensington
Additional Resources Accessories
Product Summary
Kensington has taken their venerable Expert Mouse Optical to a new level with the new Expert Mouse Wireless Trackball. Longtime or novice trackball users now have the freedom of wireless available in a full-size trackball with the additional option of selecting whether to connect via Bluetooth 4.0 LE or traditional 2.4 GHZ wireless using a USB nano receiver. This unique dual-connection feature makes the Expert Mouse Wireless Trackball a good choice for those with a limited number of USB ports or who wish to use the trackball on multiple systems, employing Bluetooth on one and using the RF Receiver on a second or non-Bluetooth compatible system.

The Expert Mouse Wireless Trackball employs Diamond Eye optical technology for smooth, precise tracking and features the well-known Kensington Scroll Ring for quick scroll access on web pages and within lengthy documents. Four large buttons provide easy access to primary functions and can be easily customized to personal preferences through the Kensington TrackballWorks software. The ambidextrous design easily accommodates both right and left-handed use and includes a detachable rest to aid users in maintaining a more ergonomic neutral wrist alignment.
Ergonomic Benefits
Reduces Strain on Arm, Elbow and Shoulder Muscles
- Like a touchpad, Expert Mouse Wireless & Bluetooth Trackball is a stationary mousing device. (Moving the ball with the fingers moves the cursor on the screen.) Limiting the repetitive movements of the arm and shoulder can greatly reduce the potential for injury and inflammation in these muscle groups. The housing of a trackball can also be angled in any direction, allowing the user to keep the elbow, wrist and hand in a straight line, and to limit ulnar and radial deviation.
Learn More About Ulnar Deviation
Reduces Strain on the Hand, Wrist and Arm
- Trackballs effectively counter any tendency the user might have to grip the pointing device too hard. This often inadvertent static grip can cause pain and injury to the muscles and soft tissues in the back of the hand and in the wrist and forearm. Trackballs, by requiring a simple spinning motion accomplished with the fingers, eliminate static grip entirely.
Learn More About Static Grip Force.
Reduces Reach for Buttons - Expert Mouse Trackballs have large oversized buttons surrounding the trackball, allowing users to use whichever finger minimizes reach and strain when pressing buttons. The driver allows assignment of functions to whichever button the user desires.
Easily Accessible Vertical Scroll Ring - By opting for a large easy-grip Scroll Ring around the entire trackball in lieu of a scroll wheel, any finger on the mousing hand can effortlessly perform a vertical scrolling action without forcing the user to move their hand off the trackball.
Enables Load Balancing Between Left and Right Hands - Kensington Expert Mouse Trackballs feature an ambidextrous design and can be placed on the left or right side of the keyboard in the traditional desktop layout. They can also be used between the two modules of a separated keyboard, on the arm of a couch, or wherever else the user might find convenient and comfortable. The ability to distribute the workload as desired allows the user to reduce the strain on the muscles of the dominant side.
Light Weight Ball - The trackball on the Kensington Expert Mouse Trackballs is lighter than some other similar-sized trackballs and features a silky, smooth movement. Although lighter than some other trackballs it retains significant enough weight that the fingers feel a level of feedback resistance which enables them to exert fine control without the sense of the ball being too light. This noticeably lighter load on the fingers can significantly reduce the potential for fatigue but does not lend itself as well to "spinning" the trackball for extreme acceleration when operating on large high-resolution monitors.
Frees Up Space on the Desktop - Since the trackball itself is the only moving part of this type of device, much less space is required for it on the work surface. A trackball may be the solution if restricted space on the desk top or on a narrow keyboard tray has prevented the mouse and keyboard from being used at the same level.
Software Driver for Increased Productivity - Users can take advantage of the powerful TrackballWorks Software package which can be downloaded from the manufacturer's website. This can be used to program keys to perform common functions with a single click, enter macros, or to totally reprogram the Trackball to fit the needs of the user. Functions can be assigned globally or as "program specific" commands.
Features
Dual Wireless Connection: The Expert Mouse Wireless Trackball can be connected via Bluetooth 4.0 LE or standard 2.4GHz wireless (USB nano receiver)
DiamondEye Optical Technology: Precise cursor control is provided through the Kengsington Diamond Eye Optical Tracking.
ScrollRing Vertical Scroll: Vertical scrolling is simple and accurate with the convenient ScrollRing which encircles the base of the trackball.
Large Trackball: The large 55 mm ball provides increased accuracy and control. The weight also enables rapid movement across large areas as it can be "spun".
Detachable Palm Rest: Provides a cushioned resting spot for the palm and wrist. It also elevates the wrist and reduces the degree of wrist extension for those who like to use their fingertips to move the trackball.
TrackballWorks Software: The optional TrackballWorks Software enables users to fully customize their trackball to their needs. Simple clicks, combination shortcuts, and multi-button options provide freedom to optimize performance and productivity. Functions can be assigned globally or as "program specific" commands.
Ambidextrous Design: The symmetrical, comfortable design means that both left and right-handed users will be able to enjoy the benefits of the Expert Mouse Wireless Trackball.
Images
(Click on any thumbnail to view larger image)

Kensington Expert Wireless & Bluetooth Trackball


Kensington Expert Wireless & Bluetooth Trackball - Top View


Kensington Expert Wireless & Bluetooth Trackball - Large Diameter Trackball


Kensington Expert Wireless & Bluetooth Trackball - Palm Rest Attached


Kensington Expert Wireless & Bluetooth Trackball - Side Profile


Kensington Expert Wireless & Bluetooth Trackball - Bluetooth and 2.4GHz Wireless Options


Kensington Expert Wireless & Bluetooth Trackball - Convenient USB Receiver Storage


Kensington Expert Wireless & Bluetooth Trackball In Use
Technical Specifications
Width: 4.5" (11.4 cm)
Depth (front to back):

5.75" (14.6 cm)
With Palm Rest attached - 8.75" (22.2 cm)

Trackball Diameter: 2.17" (55 mm)
Height at Peak of Ball: 2.5" (6.4 cm)
Height of Housing: 1.75" (4.4 cm)
Weight:

0.85 lbs (385 grams)
With Palm Rest Attached - 1.05 lbs (477 grams)

Compatibility:

With USB Nano Receiver

PC: 7, 8, 8.l, 10
Mac OS X 10.8 and later

With Bluetooth 4.0 LE

Windows 8.1 , 10
Mac OS X or later

Note:

 for Apple Mac users, TrackballWorks customization is only available when you use the 2.4GHz USB receiver.

Interface: Bluetooth 4.0 LE or 2.4GHz USB
Drivers Available: TrackballWorks Customization Software

Note:

Current Trackball Works software is certified for the following OS.

Windows: 10 (32/64), 8/8.1 (32/64), 7 (32/64)
Mac: OS X 10.11 El Capitan, OS X 10.10 Yosemite, OS X 10.9 Mavericks, OS X 10.8 Mountain Lion

Warranty: 3 years. Manufacturer direct only.
Package Contents: Kensington Expert Wireless Trackball, detachable wrist rest, two AA batteries, wireless USB 2.4 GHz receiver, documentation.
Usage Tips
Optimize Your Value. If you have multiple computers systems and one is Bluetooth-equipped, you can gain extra value from this trackball by connecting to one via Bluetooth and leaving the standard USB Wireless Receiver connected to the second system. This lets you simply slide the selection switch on the trackball to change the device to which your input is directed.
If you are new to a trackball expect that it will take a while to get accustomed to the different style of control. It is also a good idea to limit the amount of time you use it in the first while. Rather, build up to longer periods of usage by interchanging with a different mousing device or by Load Balancing (see next point).
Load Balance Your Use. The freedom of an ambidextrous trackball lets you easily switch between left and right handed use. Make a point of using it with your non-dominant hand. Not only is this good for your dominant hand, which gets a break from working, it can slowly build dexterity and endurance which your non-dominant hand generally does not have. As a bonus, it is a also a way of stimulating the other half of your brain, never a bad idea.
Take Regular Breaks. If you find that you are experiencing discomfort in your fingers, especially in the learning stages - that is a good sign that you may want to take a break by switching to a different device or by swapping to the other hand. As with any device, make an effort to regularly change your usage, take breaks, and perform stretches. Some users find that the fingers can benefit from occasionally flexing them through a full range of movement, both extending and contracting them fully.
Avoid "wrist flicking". There can be a tendency to flick the wrist to the left or right in order to spin a large trackball to cover greater distances quickly. This exerts undesirable levels of stress upon the soft tissues of the wrist and has potential to cause damage. One means of eliminating these sudden jolts would be to Increase the pointer speed. Another would be to purchase a trackball which incorporates "dynamic acceleration" which can greatly reduce the amount of rotation to cover those larger distances while retaining a high degree of pointer accuracy.
Consider installing the TrackballWorks Programming Software available from Kensington. It provides a wide range of options for customizing the capabilities of the Expert Mouse Trackballs, including button reassignment, macro commands and program-specific command assignments.
Models
For pricing, availability or to order this product, visit our online store.
| Model # | Description |
| --- | --- |
| 72359 | Kensington Expert Mouse Wireless & Bluetooth Trackball |