Page last updated: Wed., 08-Jul.-2020 15:19:50
ErgoCanada - Detailed Specification Page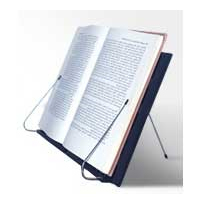 Back to Previous Page
BookPod Ultra-Portable Book Holder
by Genio
Ergonomic Benefits Features Additional Resources Usage Tips
Product Summary
The BOOKPOD book holder from Genio is a versatile and portable book holder for everything from textbooks to sheet music to cookbooks. When closed, it's small enough to fit in a backpack or laptop bag, and can be used for storing pens, pencils, calculators and other essential items. It opens quickly and easily, providing ergonomic positioning superior to laying documents on a flat surface. The page holders are sturdy enough to keep hardcover textbooks open, and will securely anchor single sheets of paper as well.
Available in black, light blue, bright pink, beige, and gray
Holds books up to 2.25" thick, hardback or softcover
Organizes workspaces and study areas
Regular Price (BookPod): $29.99 each
Sale Price: Two for $24.99 each
Images
(Click on any thumbnail to view larger image)
| | | |
| --- | --- | --- |
| BookPod Ultra-Portable Book Holder | BookPod Ultra-Portable Book Holder - closed | BookPod Ultra-Portable Book Holder - applications |
Technical Specifications
Width: Closed: 6.625" (16.8 cm)
Open: 13.25" (33.6 cm)
Depth (front to back): 1.375" (3.5 cm)
Height: 9.0" (22.9 cm)
Available colours: Black, blue, pink
Models
For pricing, availability or to order this product, visit our online store.
| Model # | Description |
| --- | --- |
| SP-PNK | Pink model |
| BP-BGE | Beige model |
| BP-GRY | Gray model |
| BP-BLK | Black model |
Accessories
| Model # | Description |
| --- | --- |
| SP-BLK-2 | Black, second BookPod in a pair |
| SP-BLU-2 | Blue, second BookPod in a pair |
| SP-PNK-2 | Pink, second BookPod in a pair |
| BP-BGE-2 | Beige, second BookPod in a pair |
| BP-GRY-2 | Gray, second BookPod in a pair |