Page last updated: Fri, 12-Jul-2019 14:46:03
ErgoCanada - Detailed Specification Page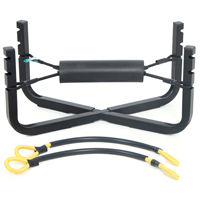 Back to Previous Page
Office FootFidget
by FootFidget
Ergonomic Benefits Features Additional Resources Usage Tips Accessories
Product Summary
The FootFidget is an innovative device which addresses the desire for movement in order to assist in maintaining focus on a task, something experienced by many people, young and old alike. The FootFidget provides a discrete means of releasing energy as users unobtrusively "bounce" their foot. The resistance bands offer immediate tactile feedback, notifying the muscles that activity is occurring. The included bands offer two levels of response or can be combined to create a third higher level of resistance - more suited for activity while in a standing position at a counter or sit-stand desk. Requiring no more space than a traditional footrest, the FootFidget can also serve as a footrest while offering the additional benefits of encouraging circulation. With 3 height settings users are able to position the Fidget Bar at a height that meets their particular requirements.

The FootFidget is by no means restricted to the office environment. It can also be used for a variety of other purpose, including improving circulation in the legs for users such as those who have limited mobility or may be restricted to a chair or seat, balance training, to aid in addressing "restless legs syndrome", or even as a passive means of burning calories through casual use while relaxing at home.

The FootFidget is lightweight (2.5 lbs) and is easily moved to where it is needed.
Images
(Click on any thumbnail to view larger image)

Office FootFidget


Office FootFidget - Sitting


Office FootFidget - Standing Application


Office FootFidget - Students


Office FootFidget - Promotes Circulation


Office FootFidget - Balance Training


Office FootFidget - Closeup View
Technical Specifications
Width: 18.0" (45.7 cm)
Depth (Front to Back): 10" (25.4 cm)
Height: 9.5" (24.1 cm)
Fidget Bar Height Settings (unstretched): 6.25" (15.9 cm), 7.75" (19.7 cm), 9.25" (23.5 cm)
Colour: Black Frame, Black Fidget Cylinder, Black Bands (High Tension Bands have Yellow Ends for ease of identification)
Weight: 2.5 lbs (1.1 kg)

Package Contents: FootFidget Frame, Padded Fidget Cylinder, 2 Sets of Resistance Bands, Assembly and Usage Instruction Sheet
Models
For pricing, availability or to order this product, visit our online store.
| Model # | Description |
| --- | --- |
| OFFYB1717 | Office FootFidget, Dual Tension Bands |