Page last updated: Wed, 16-Jan-2019 16:11:18
ErgoCanada - Detailed Specification Page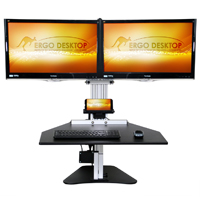 Back to Previous Page
Electric Kangaroo Elite
by ErgoDesktop
Usage Tips
Product Summary
The Electric Kangaroo Elite is an electric motorized version of the standard Kangaroo Elite. Like the standard Kangaroo Elite, the Electric Elite is a desktop add-on unit which converts any ordinary desk into a sit-stand desk. It is free-standing (no clamping required) and easily moved to any position on your desk. The main keyboard platform adjusts up or down by an electric motor (activated by a button switch), and is 28" wide and 24" deep with height-adjustability up to 20.5" above the desk, which will accommodate individuals who are up to 6' 8" tall. Monitors are attached to the monitor mounts using the standard VESA plates requiring 75 mm x 75 mm or 100 mm x 100 mm hole patterns. These monitor mounts allow for panning, tilting, or rotating the monitors from landscape to portrait positions. In addition, the monitors can be height-adjusted 6.5" independently of the keyboard platform using the gas cylinder mechanism.

Note: All units come with one stabilization leg. For extra tall individuals over 6' 1", request the extra tall leg. Colour options (Black, Cherry, Maple) and additional accessories are also available.
Ergonomic Benefits
Sitting and Standing while Working - Sitting (and even standing) for prolonged periods of time has been shown to be a risk factor for health by numerous studies. For those who work at stationary workstations, a desk where the user can both sit AND stand at different times throughout the day will help break up those prolonged periods of unhealthy stationary work. Desk add-on units like the Kangaroo are designed to do just that, by allowing the user to adjust the height of the workstation to accommodate both sitting and standing positions whenever desired.
Proper Monitor Height Adjustment
- One of the key risk factors for injury in an office setting is an
improperly positioned monitor
. A good sit-stand desk will help eliminate that problem by having independent height adjustment for the monitor relative to the worksurface where the keyboard and mouse are situated. The Electric Kangaroo Elite has 6.5" of independent adjustment to play with, making it easier to adjust the monitor height to its optimal position for the user whether standing or sitting.
Large Worksurface - Unlike many other retrofit sit-stand solutions, the Kangaroo provides a generous 20" x 28" worksurface which provides plenty of real estate for the keyboard, mouse and any other devices required while working (phone, tablet, etc.).
Features
Sits on your Desk (No Clamping or Drilling): Ideal for desks where clamping or drilling into the desk are not options. The Electric Kangaroo Elite has a heavy solid steel base that allows the user to position the unit anywhere on the desktop securely without creating a tipping risk. Pads on the underside of the base also prevent any scuffing or scratching of the desktop.
Motorized Worksurface Height Adjustment: Individuals who find adjusting even a gas cylinder (or spring) mechanism cumbersome or difficult due to injury or weakness will find the electric motor mechanism the easiest of all to use for height adjustment; just press up or down on the button switch. The maximum height raised by the Kangaroo is an impressive 20.5" above the desktop.
Gas Cylinder Monitor Height Adjustment: Most users will have to adjust the monitor height relative to the keyboard platform only once to get it into the optimal position. The gas mechanism used to do this with the Electric Kangaroo Elite is therefore entirely appropriate. There is 6.5" of such independent height adjustment available.
Dual Monitor Mounting: If the user has or needs two monitors on their workstation, the Electric Kangaroo Elite allows two monitors to be mounted via the VESA plate tilters. Monitors must be VESA compatible with a hole pattern of 75 x 75 or 100 x 100 millimeters, and also less that 25" wide (not diagonally).
Stabilization Leg: Each Kangaroo unit comes with one stabilization leg, which greatly increases the stability of the main worksurface platform. Because of the increased height adjustment on the Electric Kangaroo, for users over 6' 1" an extra tall stabilization leg is also available upon request.
Work Extension Accessories: If the 28" by 24" deep main worksurface platform is not large enough to accommodate all your desktop products, optional worksurface accessories can be purchased which extend the worksurface on the sides and front.
Multiple Colour Finishes: All Kangaroo units are available in four colours: Black, Putty (Special order only), Cherry, and Maple. Additional accessories purchased can be also matched with the same finish.
Images
(Click on any thumbnail to view larger image)

Electric Kangaroo Elite


Electric Kangaroo Elite - Lowered Position


Electric Kangaroo Elite - Raise Profile View


Electric Kangaroo Elite - Lowered Front View


Electric Kangaroo Elite - Raised Front View


Electric Kangaroo Elite - Lowered Profile View


Electric Kangaroo Elite - Surface Mounted Activation Button


Electric Kangaroo Elite - Colour Options


Kangaroo with Optional Worksurface Extensions
Additional Resources
Electric Kangaroo Elite Video:



Electric Kangaroon Elite Assembly Instructions: PDF


Technical Specifications
Keyboard Platform: 28" wide x 24" deep
Platform Height Adjustability: Up to 20.5" above desktop
Adjustment Mechanism: Electric motor with buttons
VESA Mount: 75 x 75 or 100 x 100 (millimeters)
Monitor Adjustment Range: 6.5"
Distance from Middle of Monitor to Keyboard Platform: 13" (minimum), 19.5" (maximum)
Maximum Monitor Size: 25" wide (not diagonally) each
Base Plate Material: Solid steel
Base Plate Dimensions: 17.5" wide x 16" deep
Stabilization Leg: Included (For extra tall individuals over 6' 1", request extra tall leg)
Optional Worksurface Accessories: Side and front extensions available
Colour Options: Black, Maple, and Cherry (Putty is available as Special Order only)
Warranty: 1 year limited
Models
For pricing, availability or to order this product, visit our online store.
| Model # | Description |
| --- | --- |
| ELEC-KE-BLK-17-22-S | ErgoDesktop Electric Kangaroo Elite, Black |
| ELEC-KE-CHE | ErgoDesktop Electric Kangaroo Elite, Cherry Control switch at rear of platform |
| ELEC-KE-MAP | ErgoDesktop Electric Kangaroo Elite, Maple |
Accessories
| Model # | Description |
| --- | --- |
| ED-OW-CHE-2x | Optional Worksurface Accessory (pair), 11.5" x 11.5", Cherry |
| ED-OW-MAP-2x | Optional Worksurface Accessory (pair), 11.5" x 11.5", Maple |
| ED-OW-PUT-2x | Optional Worksurface Accessory (pair), 11.5" x 11.5", Putty |
| ED-OW-BLK-2x | Optional Worksurface Accessory (pair), 11.5" x 11.5", Black |
| ED-EW-CHE | Keyboard Extension (28" x 9"), Cherry |
| ED-EW-MAP | Keyboard Extension (28" x 9"), Maple |
| ED-EW-BLK | Keyboard Extension (28" x 9"), Black |
| LG | Stabilization Leg |
| LG-TALL | Extra Tall Stabilization Leg |